You are here
Jordan ranked 81st on Fragile States Index
By Khetam Malkawi - Jun 20,2015 - Last updated at Jun 20,2015
AMMAN — Jordan ranked 81st and was placed in the "warning" zone on the Fragile States Index 2015.
Developed by the Fund for Peace, the index ranks 178 nations based on their levels of stability and the pressures they face.
Jordan falls in the middle of the ranking, which indicates it is not one of the most fragile, but still needs further improvement.
The Kingdom is in the "Warning" group with countries such as Algeria, India, Morocco, Turkey and Saudi Arabia.
Oman, Kuwait, the United Arab Emirates and Qatar were the only Arab states listed in the group of stable countries, with Oman and Kuwait classified as "Less Stable" and the UAE and Qatar as "Stable".
The UAE was the top among the Arab countries, and 144th in the overall ranking.
South Sudan topped the Fragile States Index for the second year in succession. The country is joined at the most fragile end of the index by Somalia, Central African Republic, Sudan, and D.R. Congo.
Meanwhile, Finland ranked 178th as the most stable country in the world, followed by Sweden and Norway.
Several Arab countries affected by revolutions or conflict were ranked as fragile, with Yemen, Iraq and Syria listed in the "High Alert" group.
"Reflective of the spiraling insecurity in the post Arab Spring world, marred by complex local ethnic and social-economic tensions overlaid with sectarian Sunni and [Shiite] divides and regional power plays, Libya, Syria, Yemen and Iraq all made the top 10 in the Most Worsened for 2015," the report said.
It added that although each has its own conflict dynamics, political fragmentation and humanitarian crises, the deepening fragility across the four states over the past year is reshaping the whole regional landscape.
The index is based on the Fund for Peace's proprietary Conflict Assessment System Tool analytical platform.
Scores are apportioned for every country based on 12 key political, social and economic indicators and over 100 sub-indicators that are the result of social science research.
The 2015 Fragile States Index, the 11th edition of the annual index, comprises data collected between January 1, 2014 and December 31, 2014.
The index's ranks are based on 12 indicators of state vulnerability — four social, two economic and six political.
Related Articles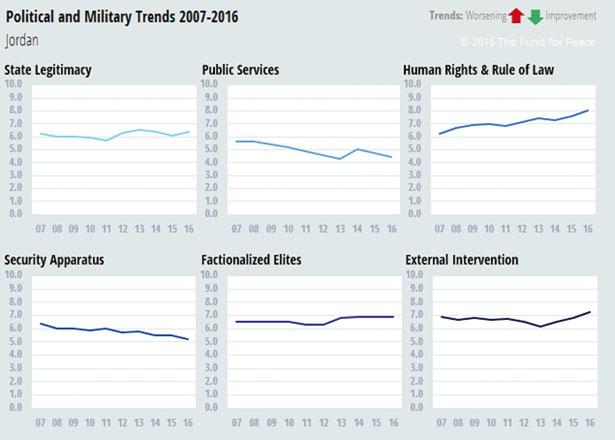 Nov 12,2016
AMMAN — Jordan has dropped four places on the Fragile States Index in the "elevated warning" group compared with its ranking in 2015.Jordan,
Mar 02,2018
AMMAN — The Jordanian passport has been ranked 92nd in the world out of 199 passports, with its holders enjoying visa-free access to 45 coun
Dec 14,2016
AMMAN — Jordan was ranked 56th among 137 world countries and 8th among Arab countries on the Global Entrepreneurship Index 2017.The global i
Newsletter
Get top stories and blog posts emailed to you each day.