You are here
Jordan training Iraqi officers under NATO-funded programme
By Khetam Malkawi - Apr 09,2016 - Last updated at Apr 09,2016
AMMAN — The first group of officers from Iraq's national security forces started the NATO training course at the King Abdullah Special Operations Training Centre in Amman on April 2, 2016.
According to a statement sent to The Jordan Times by NATO, this training is part of NATO's effort to help Iraq build up its defence capacities, reform its security sector and increase its ability to contribute to regional stability.
In the next six months, NATO said 350 Iraqi officers will be trained in the course. Training will begin with focus on military medicine, civil military planning and on countering improvised explosive devices.
It added that a similar NATO defence capacity building cooperation is also ongoing with Jordan.
State Minister for Media Affairs and Communications Mohammad Momani said this programme is part of the cooperation between Jordan and NATO that is ongoing and continuous.
"We consider training and enhancing the capabilities of those fighting terrorism as one of our essential weapons," the minister said.
"We have the best training centres in the world; we train thousands of personal every year from several countries," Momani told The Jordan Times, adding that this programme implemented with NATO is "consistent with our vision to help and empower Iraqis and others to fights terrorist organisations in their countries".
The minister, who is also the government's spokesperson, added: "We view this as one of the main cooperation programmes and one of the main steps that we take in order to fight terrorism, and to empower and build the capacity of those in the field who are fighting terrorism in their villages and town, being targeted by terrorist organisations".
According to the NATO statement, this initiative is part of NATO's Defence Capacity Building programme for Iraq, launched in response to a request by the Iraqi government.
"It will include advice on security sector reform, military training, explosive ordnance disposal, de-mining, cyber defence, civil emergency planning, civil-military planning, countering improvised explosive devices, military medicine and medical assistance," the statement explained.
Building the capacities of inclusive Iraqi defense and security forces is one of the ways in which NATO can help project stability to partner countries, and the programme has been designed to complement efforts by individual NATO Allies, by the Global Coalition to Counter Daesh, along with the EU and UN, the statement said.
Related Articles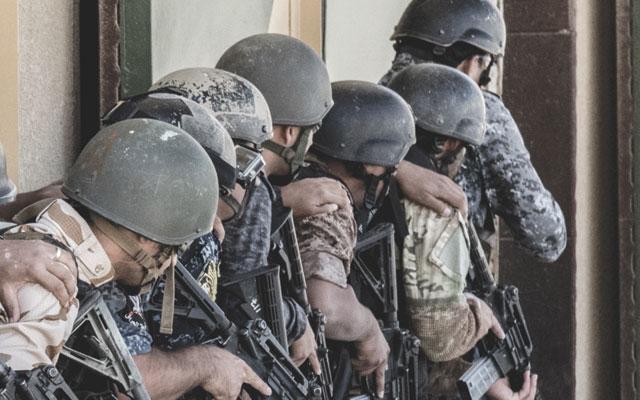 Oct 02,2016
AMMAN — As the Iraqi army gears up to liberate Mosul from the terrorist group Daesh, First Lieutenant Samir Mansour hopes his training in Jo
Dec 07,2017
BRUSSELS — NATO has approved a new defence capacity building package for Jordan, Jens Stoltenberg, secretary general of the 29-nation allian
Sep 26,2016
BRUSSELS — Some 350 Iraqi officers will have received defence training in Jordan under a specialised programme by the end of November, a NAT
Newsletter
Get top stories and blog posts emailed to you each day.