You are here
Jordanians report 'pleasant' Damascus experience after border reopening
32 clearance firms at crossing back to business as usual
By Mohammad Ghazal - Oct 21,2018 - Last updated at Oct 21,2018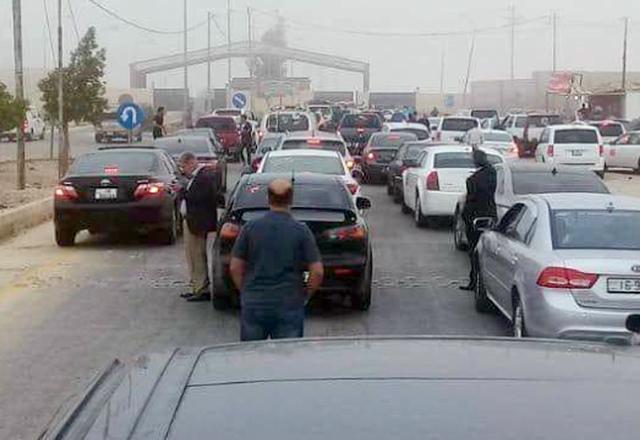 A long line of cars heading for Syria is seen on Thursday in this photo shared on social media (Photo courtesy of Facebook)
AMMAN — The number of Jordanians travelling to Syria is rising every day with majority of passengers travelling to buy commodities using their personal cars.
Since the reopening of the Jaber/Nasib border crossing last week to date, the number of Jordanians who crossed into Syria exceeded 1,000 and counting, a custom's officer at the crossing said on Saturday.
"On Thursday, many [Jordanian] motorists returned to their homes as the border crossing closed at 4:00pm and there were dozens of cars queuing to enter Syria but because of the long line, many had to go back," the officer, who preferred anonymity, told The Jordan Times on Saturday.
Jordanians travel for tourism and for buying products that are cheaper in Syria such as fruits, dairy products and cigarettes.
"The majority of Jordanian passengers drive their cars to Syria. When they are back, their cars are fully loaded with potatoes, pomegranates and cigarettes as the prices are much cheaper in Damascus," the officer said.
Hazem Atieh, who drove five passengers to Damascus from Amman last Wednesday, said he did not face any difficulties on the trip to Damascus.
"It is safe. I was not worried at all… It takes around one hour and thirty minutes to reach Damascus from the border. Some parts of the road are not in a good shape on the way to Damascus," Atieh, who works with a transport company located in Abdali, told The Jordan Times on Saturday.
"When I first arrived in Damascus along with the passengers last Wednesday, we were a little bit worried about how we would be received [in the Syrian side, but everybody was welcoming, smiling to us and friendly all the time," he said.
"The situation is normal and I saw many Jordanians shopping in Al Hamidieh Mall and other markets in Syria…It is like there was no war at all in Syria," he said.
Workers at several transport companies that operate buses and cars on the Amman-Damascus route said they were relieved they resumed work on the route, adding that majority of the passengers were Jordanians.
"Those who drive their cars to Syria wanted to buy products to sell them in Jordan…but more than 90 per cent of those who travel with transport companies go to Damascus for fun," Mohammad Erbeihat, a worker at one of the transport companies in Abdali, told The Jordan Times on Saturday.
Tickets to Damascus by bus range from JD10 to JD15, but by cars the price per ticket is JD20 to JD25 per person, he said.
"Around 2-3 cars from our company leave to Syria every day and we hope it will go up soon… people are very eager to go to Damascus," Erbeihat said.
Jasem Abu Taha, a worker at another transport company, said: "We get phone calls every day with people asking if the road is safe and if there are any difficulties. They are concerned about safety first and many have made up their minds and taken the trip," he said.
"Many of our passengers are [Jordanian] young people and some have relatives who live in Damascus…. The number of Syrians is very modest," he said.
According to the custom's officer, around four trucks laden with vegetables from Syria entered Jordan since the reopening of the borders, but no Jordanian trucks entered the border crossing yet.
Deifallah Abu Aqouleh, president of the Association of Owners of Clearance and Transport Companies, said in an interview with the Jordan Times on Thursday that the number of clearance offices that reopened their doors at the crossing reached 32.
"We expect cargo movement to start in a week. We need to work on several papers and complete licences. Traders are very eager to start business with their Syrian counterparts and it needs some more time before we see Jordanian commodities going to Syria and importing from Syria in large qualities," he said.
Over the weekend, Jordanians shared photos and live videos of themselves in Damascus, saying they were warmly welcomed, posting pictures of several markets and shops in the Syrian capital.
Some others posted videos of their drive to Damascus after crossing the Jordanian borders showing damaged buildings and roads on the way to Damascus.
Newsletter
Get top stories and blog posts emailed to you each day.