You are here
Jordan's contractors see direly needed opportunity in Iraq reconstruction
Construction sector weighed down by years of decline in housing
By Maram Kayed - Jan 14,2019 - Last updated at Jan 14,2019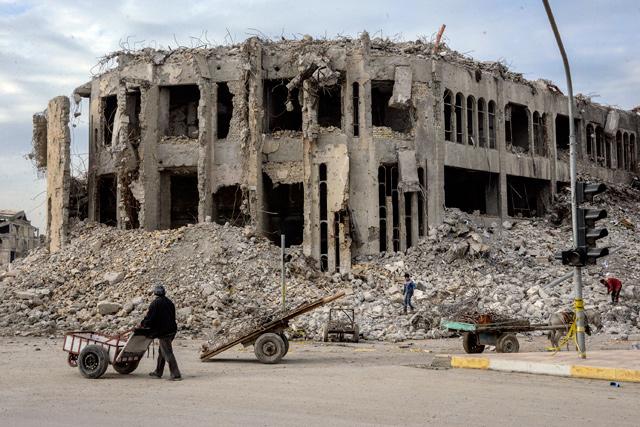 An Iraqi pushes his cart past the rubble of the destroyed seven-storey Chadirji building, designed by celebrated Iraqi architect Rifat Chadirji in the 1960s, on Sunday, in the city of Mosul (AFP photo)
AMMAN — Iraq's $88.2-billion reconstruction plans to illuminate its country's post-Daesh future could simultaneously be the direly needed breath of life to Jordan's deteriorating construction sector.
A recent agreement between Iraq and Jordan to grant the latter's construction contractors equal footing as their Iraqi peers was described as "a God-sent miracle" by engineer and board member of the Jordan Construction Contractors Association (JCCA) Abdel Haleem Bustanji.
"It has only been two days since we signed the agreement, but I already received calls about the necessary papers. Contractors are thrilled to be working again," he added.
Last year witnessed a 14 per cent decline in the housing sector in Jordan, which took the construction sector by affiliation down with it.
"If no one is buying houses then no one is building them, that is common sense. The last three years have been the slowest for business in 15 years since I have been a contractor," Bustanji pointed out.
JCCA President Ahmad Yacoub echoed his members' sentiments, saying in a recent statement that "Jordan's construction sector will witness a qualitative leap after this agreement".
According to statistics presented at a donor conference to raise funds for Rebuild Iraq Project, in which only a third was raised, $22 billion was said to be needed for "urgent reconstruction".
The conference, which barely covered the plan's urgent needs, was weighed down by donor countries' reservations to corruption levels in war-ravaged Iraq according to various post-conference reports, which cited the NGP Transparency Ranks' positioning of Iraq as the 10th most corrupt country globally.
Unlike the countries at the conference, whose expected role was to donate to or loan Iraq, however, Jordan will be providing concrete assistance, which is why its 3,000 construction firms are having less misgivings about political financial and security issues in Iraq.
"We are going to be bringing in our own material and our own workers, so I am not too worried about being exploited or cheated," said Mustafa Ennabi, an owner of a construction firm who intends on applying for a validation certificate.
Under the agreement, the Iraqi Contractors Federation has the right to ban any Jordanian company from implementation any construction work in Iraq unless it has a valid classification certificate issued by the Ministry of Public Works and Housing, and is registered at the JCCA.
"Having a classification certificate is in itself a form of insurance. If we are ever to encounter any problems in Iraq, the ICF would take the role of our own JCCA and protect our interests," added Ennabi.
After three years of bloody and destructive battles to oust Daesh from the northern third of its territory, "Iraq's need for Jordanian expertise in the construction, water management and sanitation fields" was highlighted by ICF's President Ali Sanafi.
Meanwhile, the JCCA is "more than happy" to put their resources to good use in Iraq, as pointed out by board member Saed Shayeb, as the association estimated that the government owes some JD100 million in overdue payments for its assistance in public projects.
"The sector is suffocating and we have been asking the government for our money since 2016. We were searching for the possibility of creating an agency where we offer our services to neighbouring countries to revive the sector, so it looks like our prayers have been answered," Shayeb concluded.
Newsletter
Get top stories and blog posts emailed to you each day.