You are here
Jordan's social entrepreneurs to network with global speakers in pop-up event
By Camille Dupire - Aug 25,2018 - Last updated at Aug 26,2018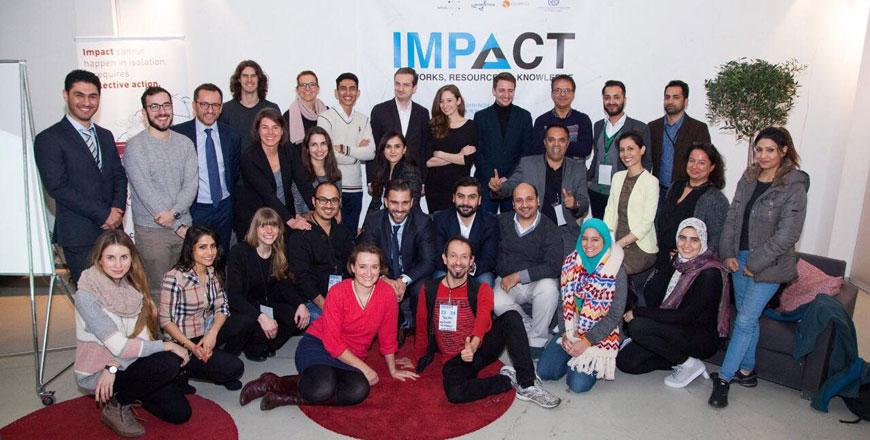 Social entrepreneurship events are organised in various cities across the globe, including Berlin (Photo courtesy of impACT)
AMMAN — For the three founders of impACT, a platform promoting a global movement towards social impact through entrepreneurship, "anyone with an entrepreneurial spirit should have access to networks, resources and knowledge in order to create a social impact for communities".
The platform is scheduled to come to Amman at the end of the month, where it will bring together social entrepreneurs and international speakers, with the aim of highlighting the local entrepreneurs' work and opening them the doors to meeting global experts in the field, said leader of impACT in Amman Mohammed Salah.
"With this first Amman edition, we seek to highlight the achievements of social entrepreneurs in Jordan and let people know what they are doing across the country," Salah, who is also the co-founder of impACT's partner organisation Social N' Tech, told The Jordan Times on Saturday.
The event, which will include "power talks", discussion panels and a networking component, aims to be "a starting point for educating, inspiring and connecting with social entrepreneurs", according to its organisers.
"Social entrepreneurship has in many parts of the world become a buzz word, having been narrowed down to social business. But it is much more," said impACT co-founders Afghani Ahmad Fahim Didar and Matiullah Rahmaty and German Nicole Bogott, adding "more than just starting new businesses, we need people to change the systems that are causing the need for social change".
The three came together in 2017 in the aftermath of a series of attacks in Afghanistan, when they noticed that "Afghanistan is a county that has continuously been portrayed very negatively in the media with one-sided stories on war, violence and hardship. Although it is part of the story, Afghanistan also has another side to it, which is equally real", they were quoted on the impACT website as saying.
"We want to change the narrative on fragile states by highlighting entrepreneurial approaches that address societal challenges. This goes through facilitating collaborative and social innovation on all levels of the global social startup ecosystem, especially in fragile environments, through the exchange of networks, resources and knowledge," the co-founders continued.
Built on the vision that cities play a great role in attracting entrepreneurial actors, generating and implementing innovative ideas, impACT has held a series of events in Beirut, Kabul, Delhi, Hamburg, Geneva and Cairo, among many other cities, Salah said.
"Each city hosts two events per year, a pop-up and an international conference," Salah said, adding: "We will start in Amman with the pop up event, which will include general talks about Jordan's ecosystem, the importance of social entrepreneurship and the UNDP Social Development Goals' implementation in Jordan."
The event will also entail panel discussions covering various social entrepreneurs' perspectives on challenges, strategies and successes, in addition to promoting global networking with speakers from various countries including Syria, he continued.
The event, free of charge, is slated for August 29, and can be accessed at https://www.sajilni.com/cart-new/checkout/5918
up
40 users have voted, including you.
Newsletter
Get top stories and blog posts emailed to you each day.