You are here
King opens EBRD's meeting, forum, highlights dynamic partnership
His Majesty says he would not be satisfied until better living conditions are created for Jordanians
By Mohammad Ghazal - May 10,2018 - Last updated at May 10,2018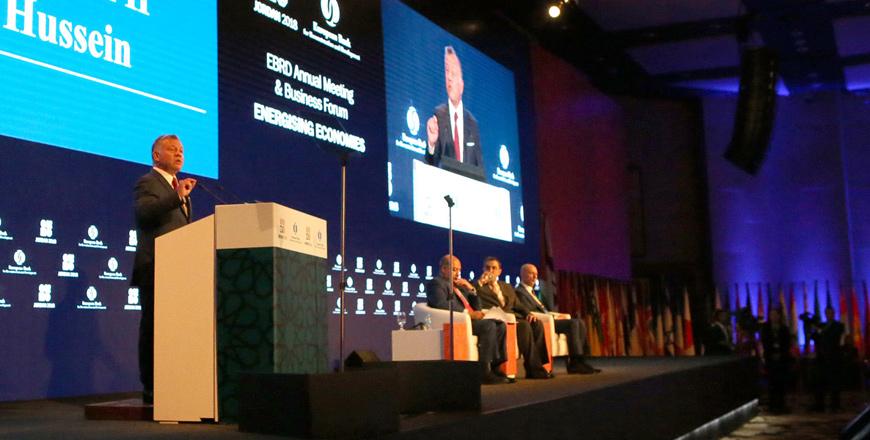 DEAD SEA — His Majesty King Abdullah on Wednesday said his highest priority is achieving a better life for Jordanians and that he would not be satisfied until better living conditions are created for his people.
He made his remarks at the opening of the European Bank for Reconstruction and Development's (EBRD) 27th annual meeting and business forum, which brought about some 2,000 visitors to the Kingdom, including government representatives, businesspeople, policymakers, academics and opinion leaders from the four corners of the globe.
"For decades, Jordanians in government, business, education and civil society have worked together for consensus-driven change, change that will last," said the King at the event in the presence of Her Majesty Queen Rania and HRH Crown Prince Hussein.
In his address, the King highlighted that Jordan's talented human resources as well as the country's geostrategic location were the key pillars for Jordan's economic growth.
"Our economic programme rests, first, on our greatest national asset, the talented, aspiring Jordanian people, the vast majority of whom are young. We see inclusion, gender equality, and the entrepreneurial spirit as vital to our development. National investments in education aim at equipping our young men and women with the right tools to compete on a global level," the King said.
His Majesty added that investment in Jordanian youth, together with the strong encouragement for innovation, has helped Jordan become a pioneering regional leader in ICT, start-ups and the creative industries.
The Monarch highlighted Jordan's geo-strategic, gateway position connecting Asia, Europe, and Africa as the Kingdom's second great asset.
"Multiple free-trade agreements give our private sector and its partners access to more than a billion consumers worldwide, including 350 million people right here in the MENA region. Our investment in port facilities and other infrastructure supports global, regional and national opportunities," he said.
King Abdullah added that Jordan's forward-looking economic growth plan focuses on high-value-added sectors across the country.
Jordan, he said, has identified close to $15 billion in public-private partnership opportunities, in fields as diverse as renewable energy, ICT, infrastructure, construction, healthcare, tourism and financial services.
"Whether it is free-trade-access manufacturing, or green-economy projects, or professional services or an entirely new opportunity that you create: Jordan is open for business," said the King.
Highlighting challenges Jordan faces, the King said Jordan's resilience is sustained and energised by a heritage of consensus-building and national unity, along with strong values of moderation, tolerance and mutual respect.
"So our history has led us to turn challenges into opportunities, and turn opportunities into more opportunities. This is the path to our future, and the hope for our region as well", said the Monarch, commending EBRD as a true partner in Jordan's economic journey, investing in economic growth and private-sector participation, as well as providing critical assistance for the Kingdom's refugee response plan.
"This year, Jordan and EBRD will move forward with dynamic new initiatives, in green development, a one-stop innovation hub, and much more. Our Investment Climate and Governance Initiative will nurture the environment for business growth. For these and many other partnerships, we thank the Bank, and all of you who support its important global role," said the Monarch.
In an address at the meeting, EBRD President Suma Chakrabarti said the EBRD expanded into the southern and eastern Mediterranean (SEMED) region at the request of the international community following political upheavals in the Arab world in 2011 and began investing there in 2012, initially in Egypt, Jordan, Morocco and Tunisia.
In Jordan alone, the EBRD has invested more than 1 billion euros, he noted.
"Our work in the Kingdom has been an amazing success story. We have invested over 1 billion euros in just over five and a half years. "That we have done so is testament to the outstanding leadership and vision of His Majesty, his guidance of an excellent ministerial team and the bold entrepreneurial culture for which Jordan is celebrated across this region and beyond," the bank's chief said.
"Nor should we forget that this, our common achievement, has been secured notwithstanding the conflicts in your neighbourhood and the arrival of so many refugees in your country," Chakrabarti said at the EBRD's meeting, which is the first to be held in this new region.
"The EBRD is … delivering significant impact in today's world. But to pursue the 'business as usual' approach risks missing a great opportunity to do everything we can for the world of tomorrow. An opportunity that should be seized," Suma said.
He outlined a possible approach the bank would follow as it seeks immediately to do more in its countries of operations.
Most recently, the EBRD has expanded its operations to Lebanon and also in 2017 it started investing in the West bank and Gaza.
The EBRD president pointed out an impressive performance across all of the bank's regions in 2017, with record investments of 9.7 billion euros in a total of 412 projects.
Minister of Planning and International Cooperation Imad Fakhoury stressed the importance of hosting the EBRD's meetings in Jordan, adding that the institution's investments in the SEMED region have exceeded 7 billion euros since 2012 to date, with that including financing investment projects and infrastructure. Of the total projects, around 70 per cent were implemented through public-private partnerships.
EBRD's investments, especially in the field of renewable energy, has had a significant impact, he said, highlighting EBRD's support to reduce pressure caused by the presence of large number of Syrian refugees on water and municipal services.
Fakhoury called on the business sector to explore investment opportunities in Jordan, highlighting the country's business climate and the incentives offered.
Related Articles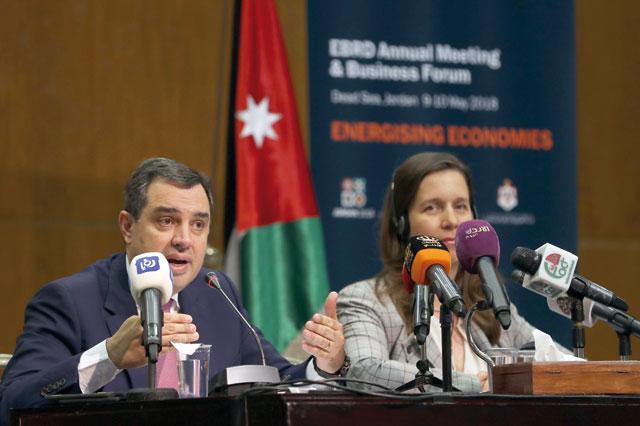 May 03,2018
AMMAN — A total of 2,500 participants from across the globe are registered to take part in the European Bank for Reconstruction and Developm
Mar 10,2014
The European Bank for Reconstruction and Development (EBRD) on Monday officially launched a special unit to help the Kingdom's small- and medium-sized businesses, which according to a government official struggle to access finance. 
May 14,2016
AMMAN — The European Bank for Reconstruction and Development (EBRD) has made "an exceptional decision" to provide Jordan with a share in a 1
Newsletter
Get top stories and blog posts emailed to you each day.