You are here
Late US runner's race gives young girls chance to run towards success
By Camille Dupire - May 05,2018 - Last updated at May 06,2018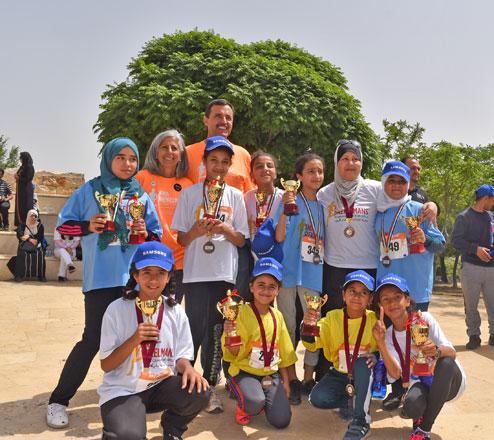 Young girls aged between eight and 14 years old compete in the Nina Brekelmans Race at Al Hussein Park on Saturday (Photo courtesy of Nina Brekelmans Running Camp for Girls)
AMMAN — Seeing the 80 young girls supporting each other outside of the bus that brought them from various parts of Jordan to take part in a race honouring his late daughter Nina Breklemans was "the most powerful tribute to her legacy", Nico Breklemans said on Saturday.
Him and his wife Gail came from the United States to attend the capstone race of the five week running Camp for Girls conducted at Al Hussein Park to honour the memory of Nina Breklemans, a passionate American runner and Arabic scholar who passed away in 2015.
"Nina absolutely loved the Arab world and its language. She studied Arabic for years before moving to Egypt and Jordan for her studies," Nina's childhood friend and president of the Nina Breklemans Foundation, Mary Grace Pellegrini, told The Jordan Times at the end of the 1.5km race.
"During her time here, she won several running championships including the Dead Sea Ultra Marathon in 2014, and got involved in the running community, where she made a lot of close friends. She also volunteered with Reclaim Childhood, seeking to improve the lives of refugees and young women through sports," Pellegrini continued, noting that "this is what pushed Nina to apply for a Fulbright fellowship to research the experience of female distance runners in Jordan".
The Nina Breklemans foundation was formally established as an NGO in 2016, aiming to "continue Nina's dream of fostering sports opportunities for young women in the Middle East by supporting running programmes in Jordan to encourage healthy living, women's empowerment and altruistic values", according to its president.
Eighty young girls aged between eight and 14 years old on Saturday morning took part in the final race, after attending weekly trainings throughout the month of April.
"The Running Camp was not only about athletics, but also about teaching these girls the values that Nina cherished, such as honesty, solidarity and integrity in sports," said Sophie Zinser, a volunteer at this year's event and a Fulbright fellow herself, adding "we spent five weeks coaching these girls about self esteem, healthy living and good character traits".
"We had speakers talking about motivation, fitness, or opportunities through sports etc., and the girls would write a journal with feedback and thoughts on the sessions," she recalled, stressing "it really made an impact on their lives and their behaviours".
She cited some young girls who "had never run before" while others "were already quite experienced". "It didn't matter as what we tried to foster at the camp was a sense of solidarity, kindness to others and goal setting by talking about the example of Nina," Zinser highlighted, voicing her happiness to see girls support and mentor each other through the race.
"It is not about who wins anymore. At the beginning, they saw that as a competition, but, as we cheered for them this morning, it was clear that they only felt pride and happiness in completing the race anyhow, not about who finished first," remarked Qais, a Syrian refugee who volunteered at the race.
"When I see so many girls from all parts of Jordan and from so many nationalities [participants included refugees from Sudan, Palestine, Syria…] bond over what my daughter lived for, I am so grateful and proud," said an emotional Gail Breklemans, adding "this is the third consecutive year we come to see this race in Jordan, and it is an amazing testimony to our daughter's legacy."
After the race, the young runners listened to speeches by Nina's family and friends, organisers and coaches who supported them throughout their training. They received hats and water bottles from Run Jordan, whose director, Lina El-Kurd, knew Nina from her time racing in Jordan.
Supported by Fulbright, the Nina Brekelmans Memorial Foundation, Reclaim Childhood, and the US embassy in Jordan, the race included young girls from Mafraq, Zarqa and Amman Governorates.
"Even though it is still a small scale race and I know that Nina would have been able to gather many more people, it is a first step in carrying out her ambition of expanding opportunities for women and girls through sports in the Middle East," Pellegrini concluded.
Related Articles
Jun 14,2015
AMMAN — Run Jordan organised a special run in memory of American runner Nina Brekelmans who passed away in a tragic accident on June 3 in th
Sep 30,2015
AMMAN — Jordanian trail runner Salameh Al Aqra is expected to participate in the 100km Ultra-Trail Cape Town race on Saturday in South Afric
Jul 25,2015
AMMAN — Jordanian ultra-marathon runner Salameh Al Aqra came in 11th overall at the 1st MSIG Singapore Action Asia run on Saturday in the ma
Newsletter
Get top stories and blog posts emailed to you each day.