You are here
'Logistic reasons' delay deportation of 800 Sudanese
By Khetam Malkawi - Dec 17,2015 - Last updated at Dec 17,2015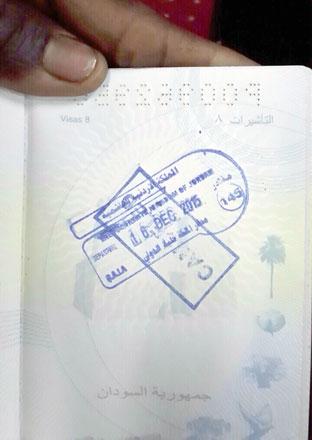 A Sudanese man shows a cancelled departure stamp at Queen Alia International Airport on Thursday. The government decided to delay a move to deport 800 Sudanese due to 'logistic reasons' (JT photo)
AMMAN — Jordanian authorities on Thursday morning postponed deporting 800 Sudanese minutes before they were to be sent back home after one month of protest in front of the UNHCR building in Amman calling on the UN agency to expedite their resettlement.
"After stamping the departure stamp on our passports and we were about to depart, authorities cancelled this stamp and took us back to the air cargo area in the airport [Queen Alia International Airport]," one Sudanese told The Jordan Times early on Thursday, before they were transported to an accommodation, which is 10 minutes drive from airport late on Thursday.
Minister of State for Media Affairs and Communications Mohammad Momani, who is also government's spokesperson, said there is no change in the government's decision, attributing the delay to "logistic reasons".
"The logistics of this are being worked out. We are in contact with the Sudanese authorities and UNHCR to make sure that we implement the decision properly," Momani told The Jordan Times.
Authorities on Wednesday morning escorted some 800 Sudanese to the airport, where they were later to be deported to their country.
Hundreds of Sudanese had demonstrated for nearly a month outside UNHCR offices in Amman demanding to be granted refugee status.
Momani said the protesters were to be deported to Sudan as they came to Jordan for medical treatment but then "they started demanding to be recognised as refugees."
Meanwhile, Aoife McDonnell, external relations officer with UNHCR Jordan said: "We are gravely concerned regarding the possible deportation of some 800 Sudanese nationals, some, if not many of whom we expect are registered with UNHCR as refugees and asylum seekers and therefore have international protection needs."
She added that UNHCR is aware of the fact that the main demand from the Sudanese protesters is resettlement, and that they want their cases to be processed quickly. "Resettlement is not a right. We submit refugees for resettlement to third countries based on their level of vulnerability," McDonnell told The Jordan Times by e-mail.
She explained that the percentage of Sudanese submitted for resettlement is 2.9 per cent and is higher than among Syrians (2.3 per cent).
"In addition, resettlement is based on quotas provided by the countries who will accept them, not by UNHCR," the UN agency official added.
Related Articles
Feb 12,2017
AMMAN — Aqaba's "logistics city" project, which is expected to open within a couple of months, will enable the port city, 330km south of the
Dec 19,2015
AMMAN — Efforts of international agencies and Sudanese refugees who resisted deportation did not work out, as Jordanian authorities on Frida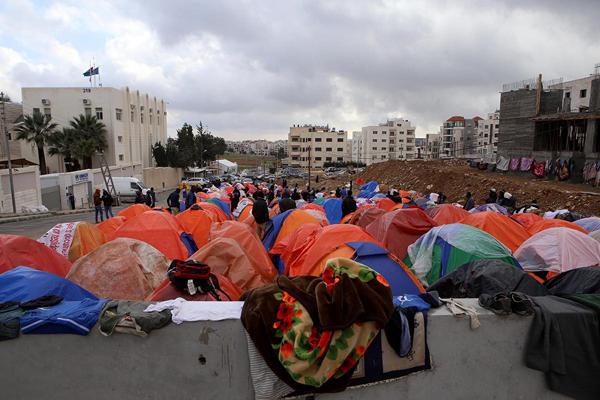 Dec 03,2015
AMMAN — For the 17th consecutive day, more than 200 Sudanese refugees are still camping in front of the UNHCR building in Amman with calls f
Newsletter
Get top stories and blog posts emailed to you each day.