You are here
Long awaited border opening will boost many economic sectors, experts say
By Mohammad Ghazal - Oct 15,2018 - Last updated at Oct 15,2018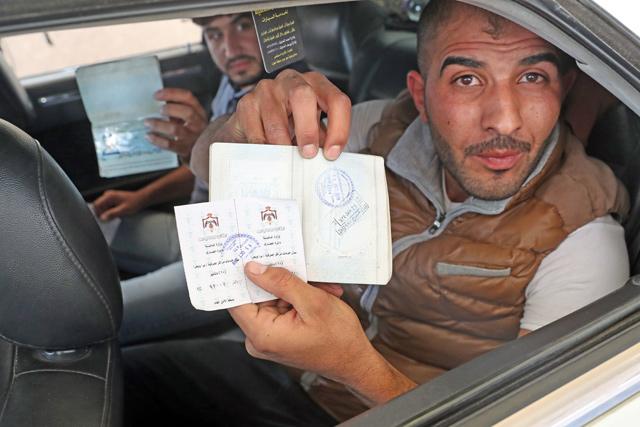 Jordanians residing in Syria can enter the Kingdom through the border centre, while Syrians residing in Jordan or in a third country may also travel to Syria via the border centre (Petra photo)
AMMAN — As the Jaber/Nasib border crossing between Jordan and Syria was officially reopened on Monday, experts have hailed what they labelled as the "long-awaited and much-needed" step to boost many sectors to drive economic growth.
They said that the reopening of the crossing is not likely to result in immediate rebound in trade exchange, but expected the Kingdom's exports and trade exchange with Syria and Lebanon to rise significantly in the next few months.
"This a very positive step that for long we have been waiting for…Syria is not only a major market for our fruits and vegetables, but also a strategic pathway to our exports to Turkey, Russia and east European countries," Zuhair Jweihan, vice president of the Jordan Exporters and Producers Society for Fruits and Vegetables, told The Jordan Times on Monday.
Before 2011, Jordan's fruits and vegetables exports exceeded 200,000 metric tonnes per year, according to Jweihan, who voiced hope that Syria's border crossing with Turkey "will also be opened as that is also important for us".
"We used to export more than 60,000 metric tonnes of fruits and vegetables to Russia, east European countries and Turkey before the border closure… We are optimistic, but it needs some time," he noted, adding "as the borders are open, it will cost less for Syrian, and Lebanese and Turkish exporters to export their commodities including fruits and vegetables to our market via trucks, which will increase competition."
"We had many agreements signed with Romania, Russia, Bulgaria and other countries before the border closure and we hope the opening of the borders will be soon followed by the opening of the border crossing with Turkey which will help activate these agreements and reflect positively on our farmers," Jweihan continued.
Jordan Chamber of Commerce President Nael Kabariti echoed similar remarks, saying "this is a long-awaited and much-needed step to help businesses to recover as Syria is a major market for Jordanian businesses."
Trade exchange between Syria and Jordan exceeded JD600 million annually before 2011 and it was a route for business to many countries, he told The Jordan Times, saying he expects "a modest trade exchange at the beginning but in the next few months volumes are expected to increase".
Once the borders with Turkey are open, our exports will further benefit, Kabariti stressed, saying "there will be increased trade exchange with Lebanon and Syria after the reopening of the border crossing, but this will be gradual as the crossing will not be open 24 hours around the week."
"We expect to be exporting new commodities such as construction materials for the rebuilding process in Syria…Jordan can be a hub for the rebuilding process with the reopening of the borders and companies wishing to take part in the process can benefit from Jordan's location," he added.
On Monday, the government announced the terms of the agreement reached by Jordanian-Syrian technical committees to reopen the Jaber/Nasib border crossing between Jordan and Syria, which indicated working hours on both sides of the borders being from 8:00am until 4:00pm and allowing Jordanian citizens to leave for Syria using their vehicles or as passengers.
Jordanians residing in Syria can enter the Kingdom through the border centre, while Syrians residing in Jordan or in a third country may also travel to Syria via the border centre, provided they hold valid travel documents, the Jordan News Agency, Petra, reported.
Syrians coming to Jordan from Syria are allowed to enter the Kingdom after obtaining prior security approval, and Syrian transit passengers are allowed to cross into Jordan, provided they present residency permit or entry visa to the country they are coming from or going to.
The agreement also allows Syrian trucks to enter the Kingdom after conducting applicable inspection procedures and Syrians holding investor cards are allowed to enter the Kingdom with their vehicles without prior approval.
Syrians are also allowed to bring in their own vehicles that do not carry a Syrian plate, provided they present complete legal documents in accordance with the customs laws, whether they are coming to Jordan or just passing through its territories.
According to the agreement, drivers of Syrian public vehicles are also allowed to enter the Kingdom carrying passengers without prior approval and in accordance with the mechanism agreed upon between the two sides.
Passenger vehicles queued at the Jabir Border Centre to complete inspection and departure procedures following the re-opening of the crossing which was closed for nearly three years, according to Petra.
Meanwhile, Governor of Mafraq Yaser Adwan and a number of security directors inspected the workflow at the Jaber border crossing following its official reopening.
The first day of the reopening was limited to the movement of a number of citizens and investors, while cargo movement remained unchanged as clearance offices at the Jaber crossing were not operational and owners of these offices are working on relicensing them.
Also on Monday, a Syrian economic delegation arrived at the Jaber crossing for talks with the Jordanian side.
Amman Chamber of Industry Chairman Senator Ziyad Homsi reiterated that the reopening Jaber/Nasib border crossing will strengthen Kingdom's commercial ties with Syria.
He added that the re-opening of the border crossing would facilitate the Jordanian exports to the Balkans, Turkey and Lebanon, as well as facilitating the process on Jordanian industrialists to import raw materials necessary for their industries from Syria and other countries.
Newsletter
Get top stories and blog posts emailed to you each day.