You are here
For many underprivileged, snow forecast brings no cheer but fear of biting cold
By Rayya Al Muheisen - Jan 26,2022 - Last updated at Jan 26,2022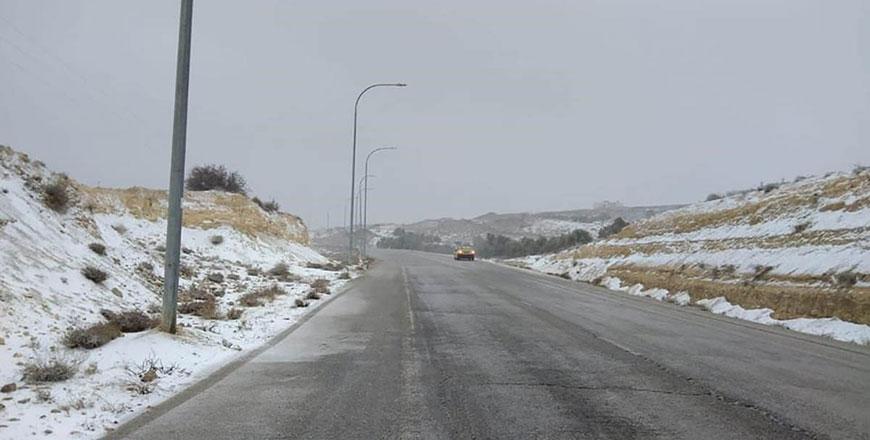 A light layer of snow is seen in area in the southern part of the Kingdom on Wednesday (Petra photo)
AMMAN — While many Jordanians expressed excitement for the forecasted snow storm, others less-fortunate worried about the freezing temperatures and lack of work.
A statement by Makana 360, a data driven communication firm, reported that the majority of conversations last week were positive regarding the upcoming snowstorm.
Makana 360 analysed conversations, posts and dialogues from social media platforms and websites, the statement added.
The most talked about topics among users were: Snow accumulation in the Kingdom, supporting Syrian refugees, public agencies' readiness to deal with weather conditions and the effect of frost on crops, according to the statement.
"Turn schools into shelters for refugees" was the leading hashtag for the past week, the statement added.
"Facebook, remains the dominant platform for self-expression in Jordan," according to the statement.
Almost 40 per cent of Jordanians expressed their happiness and excitement for the expected snow storm, meanwhile a little over 20 per cent said they felt bad for refugees and people with no shelter, the statement added.
Um Jawad, a woman in her 60s living in an under-privileged neighbourhood, said in a conversation with The Jordan Times that snow is perceived in a different way in "less fortunate" neighbourhoods.
She said that she felt unprepared during snowstorms in past years and this year is "no different".
"When I heard there's a snow storm coming, I sort of went into panic mode," she stated.
Um Jawad said that while the more wealthy enjoy snowy days and get excited hearing that a snowstorm is coming, the less fortunate feel trapped inside their "freezing" houses, which often lack any sort of heating.
She added that they are often "counting days with no income because most of our household providers work on a daily basis".
"Snow in poor neighbourhoods looks nothing like snow in rich neighbourhoods," she added.
However, she added that, "there is still a lot of beauty and liveliness that comes from the frequent snowfalls."
But unfortunately, snow looks different here, "it's not warm and cozy", she added, "it's windy and freezing".
up
21 users have voted, including you.
Newsletter
Get top stories and blog posts emailed to you each day.