You are here
MIT supports Arab innovators in creating e-learning solutions for refugees
By Camille Dupire - Jan 22,2018 - Last updated at Jan 22,2018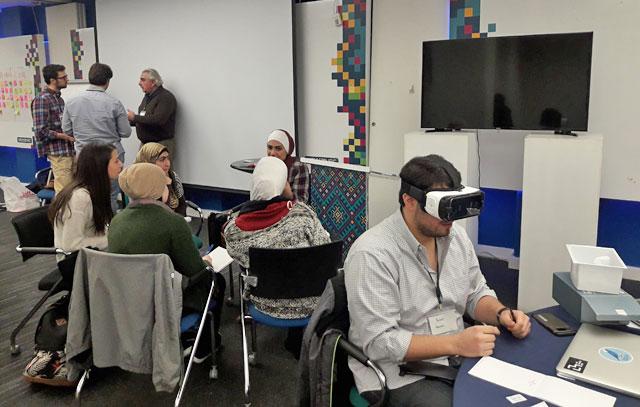 Teams of innovators exchange with representatives of NGOs while Yazan Fanous demonstrates the eyewear device used in his team's project in Amman on Monday (Photo by Camille Dupire)
AMMAN — Innovators from across the region on Sunday convened in Amman to take part in the Refugee Learning Accelerator (RLA), a MIT led incubation programme aimed at helping Arab engineers and computer scientists develop innovative e-learning solutions for refugees.
"When we look at learning solutions currently being developed for refugees, we realise that, despite being cutting edge in terms of science and technology, they are completely detached from the realities of the ground," said Philipp Schmidt, director of Learning Innovation at the MIT Media Lab, adding "We wanted to shift from solutions developed by American and European experts to people who are more familiar with the refugees' daily needs and challenges."
Ibrahim Maan, a 27-year-old industrial engineering student who had to flee Syria six years ago when the crisis erupted, knows very well what Schmidt is referring to. "I first spent a year in Algeria, but I was not allowed to study there, so I came to Jordan," he recalled.
Along with his partner Habib Nassar, 22, and two other team members who could not attend the training, Ibrahim has worked to develop a vocational training online platform for drop-out students aged between 15 and 25 years old.
"In Jordan, even if you have the best degree in the world, from the moment you are a Syrian refugee, you cannot get any decent job," explained Maan, who stressed that "many of my friends who are extremely talented people with the most prestigious certificates end up being waiters at restaurants and work full time to sustain their family".
The team therefore came up with the idea of an online professional training course, to help refugees acquire skills in plumbing, carpentry, electricity, among others, in order to enable them to get better paid opportunities.
"We are still in the development phase, so it is very useful to meet with NGOs who can help us in understanding how to create future partnership with local universities and organisations like Luminus to create a more sustainable project," Nassar told The Jordan Times at one of the RLA events on Monday.
The "speed geeking", as the organisers dubbed it, offered the 13 teams of young innovators the chance to interact with local and international NGOs working in the field of education and technology, and to share their concerns and challenges in developing contextually adapted learning solutions.
For Yazan Fanous and Mohammad Tuqan, two Jordanian students, this accelerator is a way to exchange ideas with other innovators and explore new inspirations for their project.
"We realised that refugee learners are sometimes crammed under tiny tents and have barely any room for their notebooks, let alone individual desks," explained Mohammad, a 23-year-old mechanical engineering student, adding "We tackled this issue of space that most refugees are facing through an augmented reality system that will help expand the learning space of students."
Equipped with his eyewear device, which he said can be purchased for as little as $5, Yazan goes on to demonstrate how to use these glasses, which he said "are scientifically proven to have no harmful effect on children's health and eye sight if used accordingly".
"These sessions give the teams not only a chance to get feedback from professionals but also to 'be seen' and meet a network of experts who might be able to help them in the next phases of their project," said Genevieve Barrons, the RLA project lead, noting that over 10 organisations were represented on Monday, in addition to the other NGOs the youth met the day before.
Some teams, like that of Patrick Habib, Yorgui Beylouni and Florian Muller, architecture and communication students from Lebanon, already had a project in mind when entering the incubator.
"As part of our work with the Lebanese Alternative Learning NGO, we started focusing on creating a system of network nodes, meaning a network of offline servers that would just need to be connected to the Internet for a small period of time to share data with one another. This would help refugees save a lot of time and efforts when they subscribe to online courses," explained Yorgui, highlighting how students tend to lose the benefits of any e-course they undertake as soon as they relocate to a new area.
"We want to set up a database that would save up the achievements and progress of students in any online class they take, so they can validate entire academic blocs, such as mathematics or English without having to start from scratch every time they go online," Habib continued, voicing the team's hope to see such classes obtain international accreditation in order to help refugees benefit concretely from this e-learning.
The organisations present to share their expertise with the innovators included global institutions such as the International Rescue Committee, No Lost Generation/World Vision, the Norwegian Refugee Council, Centreity, the Jamiya project and the Jesuit Refugee Services, but also regional and local entities like Bareeq Education, Molham, Ruwwad, Kiron and Souriyat Across Borders.
Lasting from October 2017 to April 2018, the accelerator aims to "provide capacity building rather than help set up start ups", explained Schmidt, who stressed that the skills acquired by these youth through the programme will help them implement future projects in the future or join organisations already working in the field.
up
67 users have voted, including you.
Related Articles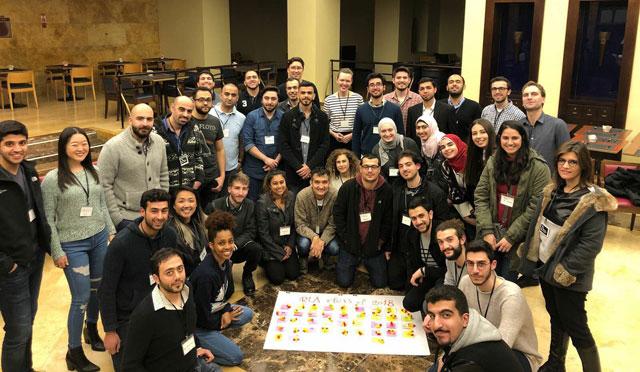 Jan 27,2018
AMMAN — A mobile app aimed at bringing together refugee children and volunteers across the globe to share bedtime stories was featured on Fr
Dec 14,2017
AMMAN — Three Jordanians have concluded the first phase of the Refugee Learning Accelerator (RLA), a six-month programme aimed at helping Ar
May 02,2017
AMMAN — It is Saturday morning in Al Kufrain, a little village in the Jordan Valley.
Newsletter
Get top stories and blog posts emailed to you each day.