You are here
Nakhwa spirit 'evident' in selfless deeds of Kingdom's volunteers
By Muath Freij - Jan 20,2016 - Last updated at Jan 20,2016
A member of the Jordan 4x4 Club works with the Civil Defence Department to assist Jordanians during a snowstorm last year (Photo courtesy of Jordan 4x4 Club)
AMMAN — When Civil Defence Department (CDD) officer Othman Dheimesh was asked why he rushed on his day off to help four children who were trapped in a fire, he simply replied: "Out of my nakhwa."
Dheimesh said any Jordanian involved in helping those in need might likewise attribute his or her actions to nakhwa, which translates into "gallantry".
"This is part of our culture and it is in my blood. For me, if I hear that someone needs any help, I do not think twice and I go immediately to help," he told The Jordan Times in a phone interview on Wednesday.
"It simply took me around three minutes to finish the whole job [save the four children]. I was so happy to help them," he recalled.
Dheimesh's action is an example of, a "positive trend" evident in Jordanian society that entails immediate willingness to help people in need, according to Salem Balawi, president of Thabet Bin Aqram Al Balawi charity society in Zarqa.
Balawi attributed this passion for aiding others to the example of the Hashemite family, pointing to a 2013 video, which went viral on the Internet, showing His Majesty King Abdullah pushing a car stuck in the snow on the capital's Gardens (Wasfi Tal) Street during a snowstorm.
"All members of the Jordanian community follow the Royal example. The Kingdom has been hosting many communities that fled the horror of war to a safe place where they found people full of nakhwa to help them," he added.
University of Jordan sociology professor Majd Adeen Khamash said the word nakhwa expresses a balance between economic and social benefit, in which social benefit encourages citizens to finally sacrifice economic benefit for the sake of helping people.
"We [Jordanians] are still an agricultural community that stays together, helps people and does not sacrifice common benefit to individualism — a trend that is obvious in industrial communities, in which people are forced to move to cities, stay away from their family members and follow work requirements," the professor told The Jordan Times.
"You can feel it [nakhwa] during difficult weather conditions, when people start posting their phone numbers in case other individuals need any help," he added.
Adel Lambaz, the spokesperson of the Jordan 4x4 Club, cited his organisation's efforts to provide transportation to stranded people during snowstorms.
The group, which now consists of 130 vehicles, "became registered as an official voluntary group for the CDD", he told The Jordan Times.
Sanad Abu Assaf, founder of the volunteer organisation Spirit of Jordan, highlighted the prevalence of such groups doing good work in the Kingdom, but said these efforts need support from official institutions.
"You can help a poor person who needs food or clothes, but you cannot end poverty, so all the institutions, companies and sectors need to work together with volunteers to help end the hardships people face," he added.
Balawi agreed that if nakhwa becomes more systematic and is embodied in institutions, the outcomes will be more tangible.
Meanwhile, Warrant Officer Omar Balawneh's main concern is to keep the "positive spirit" ongoing.
Balawneh, who rescued two Iraqi children at the Dead Sea, swimming for 12 hours to save Maryam, 13, and Maher, 11, last year, was honoured by His Majesty King Abdullah with the Order of Dedication and Sacrifice.
"It is a beautiful feeling. This was one of many incidents I have faced and I will do my best to continue such actions."
Related Articles
May 22,2018
AMMAN — During the time when most Jordanians were enjoying their Iftar meal with their families, a group of Jordanian youth on Sunday volunt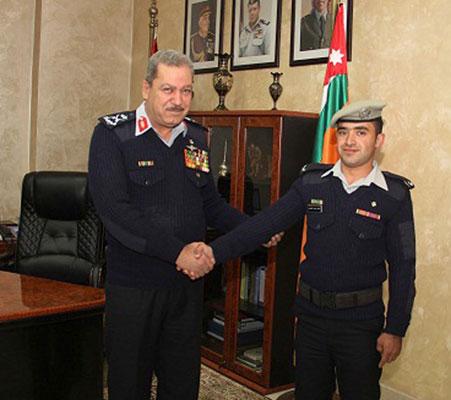 Jan 05,2016
AMMAN — Although Civil Defence Department (CDD) officer Othman Dheimesh was on leave last Thursday, that did not stop him from coming to the
Oct 19,2016
AMMAN — Residents of the capital's Hai Nazzal neighbourhood have collaborated in giving a hand to a homeless man recently found at a public
Newsletter
Get top stories and blog posts emailed to you each day.