You are here
NGO Ruwwad Al Tanmeya marks 10 years of community empowerment in Jabal Al Natheef
By Hind Joucka - Jun 18,2015 - Last updated at Jun 18,2015
A boy plants an evergreen sapling at Heina Garden in Jabal Al Natheef during a recent celebration marking the 10th anniversary of the Ruwwad Al Tanmeya NGO (Photo courtesy of Ruwwad Al Tanmeya)
AMMAN — Ruwwad Al Tanmeya celebrated its 10th anniversary this week under the slogan "Build It Up."
The nonprofit community development organisation — which works with disenfranchised communities through education, youth volunteerism and the grass roots — held its fifth "Ruwwad Day", bringing local community members, entrepreneurs and social activists to participate in a variety of interactive activities related to the theme of the event at Jabal Al Natheef in Amman.
The theme, according to Samar Dudin, regional director and head of programmes at Ruwwad Al Tanmeya, is derived from the organisation's aim to build and create opportunities for underprivileged societies.
"To 'build it up' either means to create something that did not exist, or to mend something broken," Dudin said.
"Ruwwad organised interactive functions that featured community members and guests assembling a large jigsaw puzzle signifying the organisation's 10-year journey and its subsequent impact on children, youths, women and families alike," according to a statement released by the NGO.
Led by Ruwwad volunteers, the guests visited two stations in Jabal Al Natheef titled "Build It Up" at Ruwwad Community Centre and "Generations" at the Atikah Bint Zayd Primary School, which was the first to be renovated by the organisation in 2006.
Ruwwad also continues to implement its Child Development Programme on a weekly basis at the school.
At the stations, participants engaged in various activities and discussions, where children, women and graduates shared stories of how programmes offered by the organisation have helped them throughout the years.
Guests were also invited to join in with their own stories of hope and inspiration.
Mousab Khorma Youth Education and Empowerment Fund's (MKYEF) young beneficiaries gave a performance titled "Voice of Youth", highlighting their dreams, challenges and obstacles, according to the Ruwwad statement.
MKYEF — one of the NGO's main programmes — annually grants 450 university and college scholarships to students from Jabal Al Natheef, Tafileh and Beidha in Jordan, as well as from Lebanon, Egypt and Palestine, the NGO said.
In exchange for the scholarships, students are required to volunteer four hours per week in community service, which is equivalent to a total of 84,600 volunteer hours every year.
"Since its inception, 946 students have benefited from MKYEF's scholarships in Jordan alone, with 588 already graduated," the statement said.
The nonprofit organisation, which was founded by Jordanian businessman Fadi Ghandour and a group of local entrepreneurs, works in community development through education and youth volunteerism.
It is currently supported by Aramex and Cairo Amman Bank.
Dudin said the organisation works with three main principles — child development, community support and creating opportunities for young people.
"We work on empowering youths who will in turn empower the communities they live in. Which is where the Mousab Khorma Youth Education and Empowerment Fund's programme comes in."
Dudin also highlighted the numerous ways in which the private sector, civil society, the government and the community can empower marginalised societies.
"Having the private sector engaged in our organisation, not only financially but also through its support in providing the relevant expertise helps make our programmes all the more beneficial and sustainable," she said.
Also during Saturday's event, 150 evergreen trees were planted at the Heina garden in Jabal Al Natheef.
The organisation's community centre works "with a number of beneficiaries who are all partners in Ruwwad's work" — specifically with 150 young people, 1,400 children, 500 adolescents, 100 women and 250 families, the statement said.
Related Articles
Dec 04,2016
AMMAN — Ruwwad Al Tanmeya community empowerment organisation has recently celebrated 45 Jordanian graduates who completed their higher educa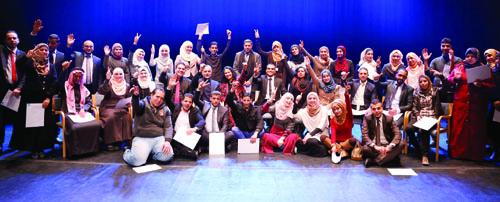 Dec 02,2014
Ruwwad Al Tanmeya this week celebrated the graduation of 50 young scholars who successfully completed their education at local universities and vocational colleges this year.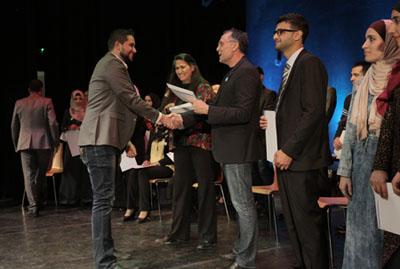 Nov 29,2015
AMMAN — Fifty-two new university graduates were honoured on Saturday at a ceremony recognising their completion of Ruwwad Al Tanmeya's schol
Newsletter
Get top stories and blog posts emailed to you each day.