You are here
'No student passed Tawjihi in 349 public, private schools'
By JT - Aug 01,2015 - Last updated at Aug 01,2015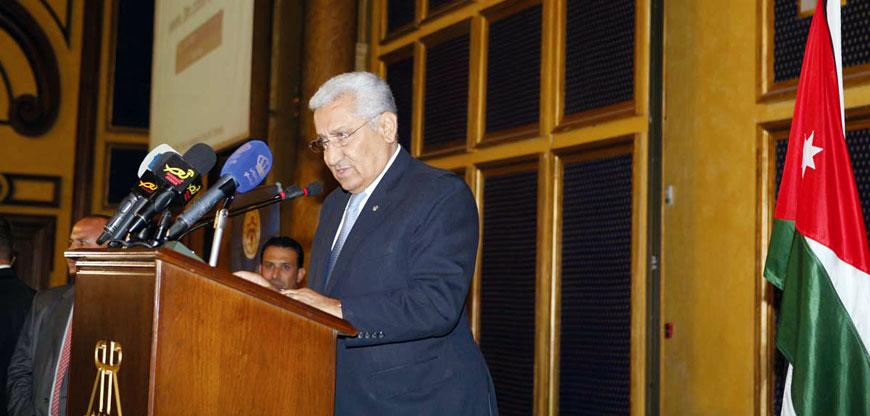 Prime Minister Abdullah Ensour delivers an address at the Educational Development Conference 2015 in Amman on Saturday (Petra photo)
AMMAN — No student passed Tawjihi at 338 public schools and 11 private schools this summer session, Mohammad Abu Ghazleh, head of the technical committee of the Educational Development Conference 2015, said Saturday.
In a paper he presented at the conference, he noted that the number of students who could not pass the General Secondary Education Certificate Examination (Tawjihi) dropped to 1,137, compared to 1,549 students from 325 and seven public and private schools who did not pass the exam last year, the Jordan News Agency, Petra, reported.
A total of 49,972 students sat for the academic stream of this summer session, among whom 20,521 students passed, marking a pass rate of 41.1 per cent, while 7,105 students sat for the vocational stream of the examination, 3,851 of whom passed, at a rate of 54.2 per cent.
Abu Ghazleh, who also heads the educational planning department at the Education Ministry, reviewed some characteristics of schools where no student could pass Tawjihi, such as having few students and not enough qualified teachers, according to Petra.
Abu Ghazleh said that the ministry announced some procedures to improve students' academic performance at these schools, including opening centres for extra classes offered by specialised teachers and hiring qualified teachers for middle school, Petra added.
Related Articles
Jul 29,2015
AMMAN — The Education Ministry on Tuesday announced the results of the 2015 summer session of Tawjihi (General Secondary Certificate Examina
Jul 29,2015
AMMAN — No student at 50 out of 75 schools in the Northeastern Badia District passed the General Secondary Education Examination's (Tawjihi)
Aug 12,2015
AMMAN — A total of 28,275 seats will be available for Tawjihi students for the 2015-2016 academic year at the Kingdom's public universities,