You are here
Over 2,000 Jordanian students pre-registered online to attend Study in Europe Fair
By Sara Gharaibeh - Oct 12,2017 - Last updated at Oct 12,2017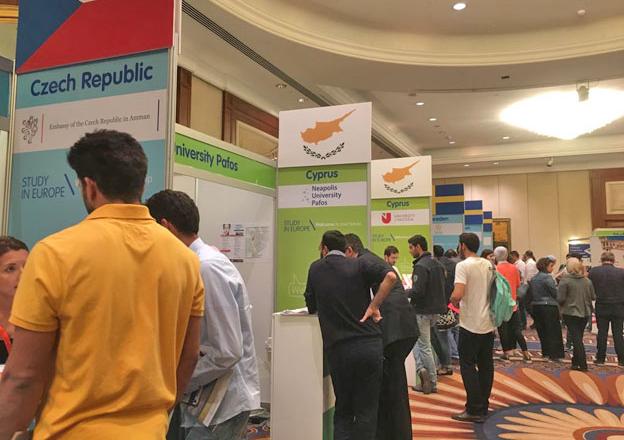 Over 2,000 Jordanian students pre-registered online to attend the Study in Europe Fair to find study abroad opportunities through around 30 educational institutions from 14 European countries, which congregated at the Meridien Hotel on Wednesday (Photo courtesy of Study in Europe Fair)
AMMAN — Over 2,000 Jordanian students pre-registered online to attend the Study in Europe Fair to find study abrood opportunities through around 30 educational institutions from 14 European countries, which congregated at the Meridien Hotel on Wednesday.
"We believe that exchanges, and in this case student exchanges are important to foster peace, stability and international cooperation," EU Ambassador to Jordan Andrea Mateo Fontana told The Jordan times at the event.
Organised by the EU and Erasmus+, the idea of the fair is to give Jordanian students access to the information that they need about universities, the types of programmes and degrees offered, how to get recognised, and secondly the opportunities that exist in order to co-fund or fund their studies, according to Fontana.
"There are different levels of scholarships, European [through the EU or Erasmus+], national [offered by member states] or universities," Fontana said.
Adrian Veale, policy officer at Erasmus+, said that one of the key aims of the fair is to show that "Europe is not just about the big countries that are well known like the UK, Germany and France; we have a whole range of high-quality universities with long traditions".
He spoke about the quality of education in lesser known European countries: "Universities in small countries, as well, have a very international outlook and are welcoming students from all over the world to take part in high quality courses".
The 30-year-old organisation was established by the EU to develop education and training for youth by offering exchange and study abroad opportunities on a global scale.
According to Veale, since the organisation started running in Jordan three years ago, around 1,300 Jordanians, both students and teaching staff, have gone to Europe through Erasmus+ funding.
With fields of IT and engineering developing quickly in Estonia, and the wide spread trend of startups, many tuition-free opportunities are offered for Jordanian students for master's and PhD degrees since the country is in need of experts in these fields, said Kaidi-Kerli Karner, a representative from Study in Estonia.
"So a Jordanian student would get a tuition-free [spot], scholarship and wonderful job opportunities. For example the Skype office is right next to Tallinn University of Technology, and they work together a lot," so an international student at the university would get the chance to be hired at Skype while studying, since a lot of startups and high tech companies are working with the universities to bring in international talent, Karner added."We have over 160 programmes in English for international students, and actually Estonians are choosing those programmes more and more," Kerner added, noting that most Estonians below the age of 40 speak English as a second language, so Jordanian students would not need to worry about language barriers.
In bigger and more recognised booths such as France, students are also wary of the language barrier, and are less likely to explore opportunities, but Salwa Nakouzi, the universities cooperation attatchee at the French embassy, said that it is important for Jordanians to know that more than 700 programmes in France are taught in English, seven of which were available at the event on Wednesday in fields like business, management and aerospace engineering.
"What Jordanian students do not know is that the fees are very low... it's subsidised by the government in all public universities. So for a bachelor's degree, a year would cost about 300 euros, which is less than you would pay to get your file ready, for a PhD or master's degree it is about 400 euros, which includes health insurance," said Nakouzi.
"What is also interesting about France is that the Campus France agency is here in Jordan… it is a public agency which means that students can come, prepare their papers and ask questions for free."
Currently, around 250 Jordanians are studying in France for a full degree. Two hundred students are on exchange and another 20 on full scholarship, according to Nakouzi.
Petr Hladik, the Czech ambassador, was present at the fair and spoke about educational opportunities in the Czech Republic. The country currently hosts a few Jordanian students but is looking for more applicants to benefit from their English courses. This year, they are offering six scholarships to Jordanians.
"We think this is a great opportunity to introduce the possibilities we are offering when it comes to medicine and agriculture, which can be fruitful for Jordanian students," Hladik told The Jordan Times at the event.
Ameerah Batayneh, a 22-year-old pharmacy student at Yarmouk University, has found "interesting opportunities" in Slovakia and Hungary for a master's degree in her field, and says she was surprised to find "good scholarship opportunities".
Another student attending the event, 20-year-old Hamzeh Mehyar, is "hoping to find an exchange opportunity to the United Kingdom", to study a semester or more in a country he admires.
Related Articles
Oct 04,2015
AMMAN — The German Academic Exchange Services (DAAD), in collaboration with the German Agency for International Cooperation (GIZ) and the Ge
Nov 08,2017
AMMAN — "The HOPES project truly carries the meaning of hope itself for us.
Oct 01,2014
The Hungarian government increased the number of scholarships allocated for Jordan from 226 to 400, Higher Education Minister Amin Mahmoud and Jordanian Consul in Budapest Zeid Naffaa said Wednesday.
Newsletter
Get top stories and blog posts emailed to you each day.