You are here
Princess Basma praises Jordanian women's resilience under economic hardship
By Rana Husseini - Mar 20,2018 - Last updated at Mar 20,2018
HRH Princess Basma addresses the audience on the occasion of International Women's Day in Amman on Tuesday (Petra photo)
AMMAN — HRH Princess Basma on Tuesday praised Jordanian women for their persistent endeavours to achieve a better life for themselves, their families and their country.
Princess Basma also paid tribute to Arab women who "bear enormous challenges and face very real dangers", under conditions of fear, killing, destruction and displacement.
"I salute Arab women for their commitment to uphold family cohesion during a time when they are forced to be resilient in order to protect their families from separation and loss. I pray that, within the near future, Arab women will celebrate International Women's Day in peace and security," HRH said.
She was speaking at the Jordanian National Commission for Women's (JNCW) event to commemorate International Women's Day (IWD), under the theme "Time is Now: Rural and Urban Activists Transforming Women's Live".
Princess Basma said that the present economic and political situation in Jordan can be reflected in the economic and social reality of Jordanian families from both rural and urban areas within the Kingdom.
"Problems relating to poverty, unemployment and disparity in opportunities have become exacerbated and are a heavy burden on Jordanian families, especially women," Princess Basma told an audience of over 500 people.
Although it is crucial for women to work in the context of this economic environment, the Princess added, "the economic participation of women in Jordan is amongst the lowest in the world".
Therefore, she continued, this year's theme for the IWD "is very relevant to our present-day economic situation, which led the JNCW and its partners to address the fields of information technology [IT] and tourism as prospective sectors for employment of women that should be explored".
"Looking at the information technology sector, we find that it is an attractive and promising sector for women. It is not exclusive to men. Here in Jordan, women make up to 29 per cent of the IT workforce, which is impressive compared to other countries," Princess Basma said.
JNCW Secretary General Salma Nims also addressed the gathering, saying that 2017 witnessed women empowerment in the fields of legislation and economy as well as socially.
"It is of extreme importance to eliminate any barriers that could stand in the way of women wanting to join the technology and tourism sectors," Nims stressed.
The audience then listened to several stories by leading Jordanian women who spoke about the challenges they faced to become business owners or pursue their education.
In a recent statement, UN Women said that this year's IWD focused on empowering women in all settings, rural and urban, and on celebrating the activists working relentlessly to claim women's rights and realise their full potential.
People across the world were also encouraged to make commitments to improve gender equality in their markets, by signing the Women's Empowerment Principles, improving diversity in senior management and on the boards of directors, developing more gender-friendly policies, developing a gender-themed investment product, or improving transparency on gender policies and practices, the UN Women statement said.
Related Articles
Mar 08,2017
By AMMAN — The Jordanian National Commission for Women (JNCW) on Wednesday celebrated International Women's Day, which coincided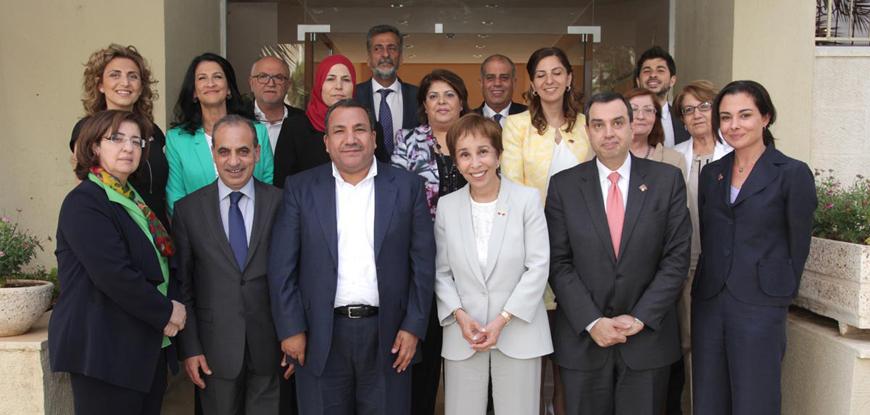 Jun 13,2015
AMMAN — HRH Princess Basma on Saturday chaired the first meeting of the Jordanian National Commission for Women (JNCW) since its re-formatio
Mar 07,2015
Jordan marks International Women's Day this week with multiple activities that highlight achievements and what still needs to be done to promote women's rights.
Newsletter
Get top stories and blog posts emailed to you each day.