You are here
Protesters want full rights for children of Jordanian women married to foreigners; picket Prime Ministry
By Rana Husseini - Mar 29,2016 - Last updated at Mar 29,2016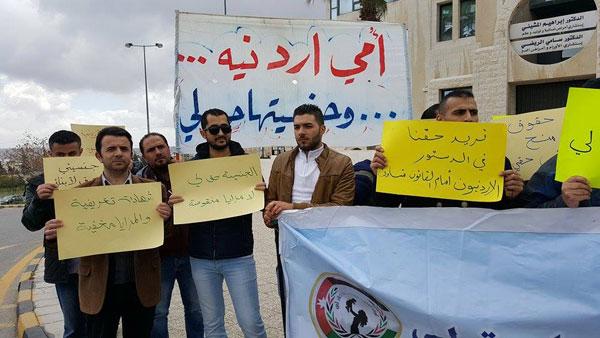 Protesters hold placards calling for granting full rights to children of Jordanian women married to non-Jordanians during a sit-in near the Prime Ministry on Tuesday (Photo by Rana Husseini)
AMMAN — Around 100 people staged a sit-in in front of the Prime Ministry on Tuesday demanding full rights for the children of Jordanian women who are married to non-Jordanians.
The demonstrators, including women, men and children, stood for three hours waving placards demanding their full rights as Jordanian citizens.
Some of the banners read: "Jordan's name is in my heart. How do they say I am a foreigner when Jordanian blood runs through my veins,"; "we do not want to attack anyone… we just want our rights that are granted to us by the Constitution"; and "when are you going to look at us equally?"
The majority of the demonstrators complained of their inability to obtain work permits or driving licences, or own property and said the identification documents that were issued by Civil Status and Passports Department (CSPD) are "useless".
The CSPD said on Sunday that the documents, called identification certificates, are required for the issuance of IDs for children of Jordanian women.
By December 2015, the CSPD had issued 56,000 identification certificates to children of Jordanian women married to foreigners.
The department said it will start issuing the IDs within the coming few days.
The government had said in the past that the IDs will help these children obtain driving licences and benefit from other government services such as free healthcare and education, as well as being able to obtain work permits, own property and invest in Jordan.
"I went to apply for a driver licence for my son and the employee there told me this [identification certificate] was a useless document not worth the paper it is printed on," one protester told The Jordan Times.
Samira Amad, the mother of four children who is married to a Palestinian, said all the "privileges that the government announced are ink on paper".
"Whatever we apply for, we have to obtain a security clearance or visit the General Intelligence Department, and most of the time, our requests are declined without any justifications," Amad told The Jordan Times.
Sabah Tahawi, who is married to an Egyptian, agreed.
"These promises by the government to ease our lives are all attempts to pacify us, because in reality, nothing is happening in our favour and we are only suffering more," Tahawi charged.
She expressed fears for her children when she dies. "Now while we are alive, we cannot give our rights to our children. What will happen to our children when we die?"
Zamam Ahmad, who is married to a Syrian, said her son was denied entry into Jordan when they were returning from Turkey two months ago.
"My 20-year-old son was forced to return to Idlib in Syria awaiting approval to enter Jordan, but he died of a rocket attack before anything could happen. My son was killed because his father is not Jordanian," Ahmad said.
The demonstrators also complained of having to enrol in the more expensive parallel programmes at public universities, enduring almost double the cost of regular students.
They also said they are unable to donate blood to their loved ones because they do not carry a national number.
"If someone needs blood in my family, I cannot donate for them," said Abdullah Ahmad with tears in his eyes.
Rasha Darwish said many government employees blamed her for choosing to marry a non-Jordanian.
"Several government employees I had to deal with for official papers told me this was all my fault because I did not marry a Jordanian," Darwish added.
She expressed anger over these remarks, questioning "how Jordanian men are free to choose four wives from any nationality they please".
"I believe I am free to choose my husband. Let the government admit to us that we are second class citizens, then we will be quiet and stop making any demands," Darwish said.
An official at the Prime Ministry who met with the demonstrators told The Jordan Times that their demands will be examined.
"We have met with some of the representatives and received a list of demands. We will issue orders to the concerned public agencies to ease up the procedures," the official, who preferred anonymity, said.
The rights of Jordanian women's children are of utmost importance to the government, he added.
"We will follow up with the concerned agencies to make sure that the Cabinet decisions regarding their rights are implemented properly."
The government, he said, wants to safeguard the human rights of everyone.
Rami Wakeel, who organised the event on behalf of "My Mother is Jordanian and her nationality is a right for me" campaign, confirmed meeting with the government official.
"He was very cooperative and promised address the relevant authorities in the coming week to help us and ease the procedures," Wakeel told The Jordan Times.
If no changes are made on the part of the government agencies, he added, "then we will demonstrate every Tuesday until our demands are met".
In 2014, the government announced that it was granting children of Jordanian women married to foreigners certain privileges.
The privileges are granted provided that their mothers have been residing in Jordan for a minimum of five years, including 180 days every year, according to the CSPD.
Government officials have said in the past that there are 88,983 Jordanian women married to non-Jordanians and these families have 355,932 children registered with the CSPD.
Women's rights activists have for years been demanding that Jordanian women be allowed to pass on their citizenship to their children and spouses, a right that only men enjoy.
Individuals and entities who oppose granting citizenship to family members of these women, particularly those with Palestinian husbands, say such a measure will only work to ensure "Israel's ultimate plan of creating a substitute homeland for Palestinians in Jordan".
Palestinian refugees after the 1948 Arab-Israeli war and those who were living in the West Bank when it was occupied by Israel in 1967 have been given citizenship.
Related Articles
Mar 27,2017
AMMAN — Activists on Sunday welcomed Parliament's decision to limit the authority of issuing residency to children of Jordanian women m
Jul 16,2017
AMMAN — Families of Jordanian women married to non-Jordanians are due to hold a new sit-in demonstration at the Prime Ministry on July 26 to
Mar 22,2017
AMMAN — Over 150 men, women and children on Tuesday staged a sit-in demonstration in front of Parliament, calling on the government to grant