You are here
Public schools working full capacity, no room for additional refugees — minister
By JT - Aug 02,2015 - Last updated at Aug 02,2015
AMMAN — Deputy Prime Minster and Education Minister Mohammad Thneibat said on Sunday public schools cannot absorb any new students whether from UNRWA schools or Syrian students not yet enrolled.
In remarks to the Jordan News Agency, Petra, the minister said the country is making a humanitarian effort on behalf of the international community in dealing with the Syrian crisis, Thneibat said, adding the country should not be left alone in the face of this challenge.
The minister urged donor countries and international institutions to provide help and shoulder the increasing burdens on the Kingdom because of the Syrian crisis.
Moreover, he stressed that it is the responsibility of the donor countries to handle such a crisis as well as help UNRWA overcome its financial difficulties, which might lead to a complete shut-down of the agency's services to five million Palestinian refugees, including around 2 million in Jordan alone.
There are 130,000 Syrian students in Jordan as well as 120,000 Palestinian students in UNRWA schools, the minister said, adding that UNRWA schools in the Kingdom are staffed by 7,000 educators.
In a related development, Petra quoted Planning and International Cooperation Ministry's Secretary General Saleh Kharabsheh as saying that the education costs of Syrian students at public schools stand at $193 million for 2015.
Speaking on the sidelines of the Educational Development Conference 2015 hosted in Amman over the past two days, Kharabsheh told Petra that Jordan offers free-of-charge elementary and secondary education to Syrian students at public schools.
He highlighted the fact that there are 96,000 Syrian children in Jordan who are eligible to start school but they have not enrolled in any school.
In a meeting last week between Thneibat and Minister of Planning and International Cooperation Imad Fakhoury, Thneibat said the government has had to build new schools, add classrooms to existing ones and make 98 schools work on the two-shift system.
Deputy Prime Minister and Foreign Minister Nasser Judeh said this week that Jordan stands against any cuts or austerity measures that might affect the quality or scope of UNRWA services, particularly in the education and health sectors.
Moreover he emphasised the agency should continue to offer its services to Palestinian refugees as long as the refugee problem continues to exist.
Related Articles
Jul 26,2015
AMMAN — The UK on Sunday reaffirmed its support for Jordan as it continues to host Syrian refugees despite its limited resources and lack of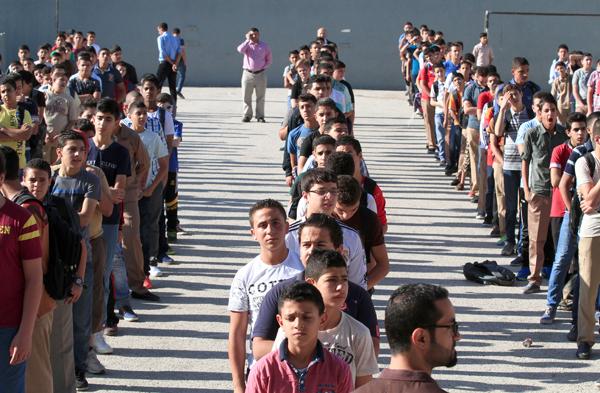 Sep 01,2015
AMMAN –– Around 1.9 million students headed to the first day of school on Tuesday, attending classes at 6,924 public, private, military and
Aug 24,2016
AMMAN — Deputy Prime Minister for Services and Education Minister Mohammad Thneibat on Tuesday said Jordan opened its schools to Syrian chil