You are here
Recruitment agencies under fire for 'demeaning' domestic workers ads
By Sawsan Tabazah - Jan 16,2018 - Last updated at Jan 16,2018
AMMAN — Domestic workers recruitment agencies' marketing campaigns have been under fire of dehumanising the workers by using improper language that treats them as "commodities".
Experts blame the lack of sound editorial judgement as well as inconsiderate behaviour in some of the ads published on social and print media. "Post-purchase services", "delivery in 30 days", "discounts on maids", "Order your helper without an advanced payment and cash on delivery", "We offer you the ability to return and replace your maid under the provisions of law", and "Enjoy a month of discounts on maids" are some of the examples cited.
"These ads depict domestic workers as items rather than as human beings. They are excessively harmful and are a text-book case of commodification of humans," said president of Tamkeen Fields For Aid, Linda Kalash, using the term [commodification] that refers the transformation of goods, services, ideas and people into commodities, or objects of trade.
Citing a recruitment agency's promotional video in which domestic workers introduce themselves and end up saying "choose me", Kalash said that such ads enhance the negative perception towards domestic workers as inferior to other persons, an image inherent in the kafalah (sponsorship) system.
According to the International Labour Organisation Media-friendly glossary, the kafalah system is used as a means to regulate migrant labour in several Arab countries, including Jordan, where a migrant worker's immigration and legal residency status is tied to an individual sponsor (kafeel) through a contract period during which the worker cannot resign from his/her job, transfer employment, or leave the country without first obtaining explicit permission from his/her employer.
Kafalah has often been criticised as creating situations akin to forced labour.
A domestic workers recruitment agency owner, who used the term "post-purchase services" in an ad published on Facebook, said that he has since deleted the ad due to the pressure of critics who accused him of promoting the sale of humans as products.
"These people have nothing to do but criticise others. I sell people contracts, not humans, and I provide them with services like affording a work permit, air tickets, medical tests, which are considered as 'post-purchase services'," the owner told The Jordan Times about labourers recruited from various Asian and African countries.
The Phenix Centre for Economic and Informatics Studies said that newspapers' advertising departments lack editorial policies that respect human rights.
He said that it is crucial to enforce the cybercrimes law on the people who post such ads on social media as they are considered offensive.
Ads using domestic workers' personal photos, passport copies and application forms that include detailed personal information have become a concern for the Domestic Helpers Recruitment Agencies Association (DHRAA).
DHRAA President Khaled Hseinat said that the association condemns these ads, noting that it has sent notices to five recruitment agencies and suspended two from working due to the repetition of this violation.
"The Labour Ministry is not paying attention to this issue although we have requested them to send official letters to recruitment agencies warning them against publishing such ads. The ministry has been a little more responsive lately and has sent one letter," Husseinat noted.
In response, Labour Ministry Spokesperson Mohammad Khatib said: "I believe that ads must be watched by the Jordan Media Monitor [an NGO] and must abide by regulations governing the print and online media work," stressing that people's feelings and dignity must be "respected and protected".
"Not only have domestic workers been described as products, but also women, children and people have been dealt with as commodities in some ads," Khatib noted.
The DHRAA's general assembly meeting next month is expected to discuss proposed amendments to its bylaw to adopt a unified formula for advertisements and impose penalties on violating agencies using "improper" language in their promotional campaigns, Huseinat noted.
Related Articles
Apr 29,2014
The Domestic Helpers Recruitment Agencies Association (DHRAA) on Tuesday presented the insurance policies of foreign domestic helpers to their countries' respective embassies to be applied as of next month.
Jan 08,2017
AMMAN — Tareq Nooti, acting president of the Domestic Helpers Recruitment Agencies Association (DHRAA), said on Sunday that some domestic he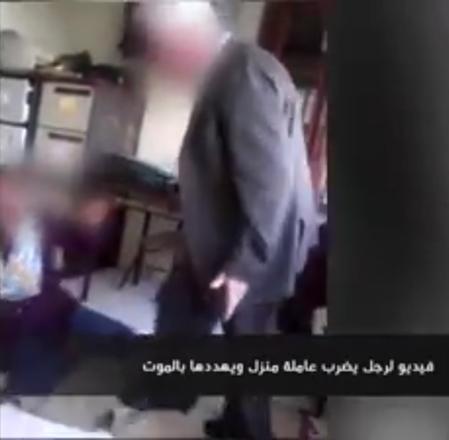 Dec 08,2015
AMMAN — The authorities on Tuesday were questioning a man who allegedly appeared in a video that went viral showing him beating up and abusi
Newsletter
Get top stories and blog posts emailed to you each day.