You are here
'Remittances from Jordanian expatriates encourage growth, benefit economy'
By Ana V. Ibáñez Prieto - Mar 12,2018 - Last updated at Mar 12,2018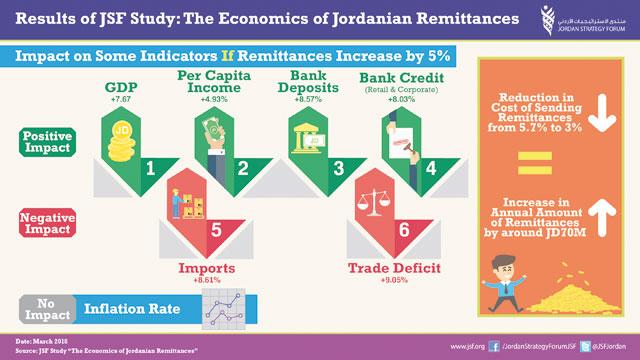 Photo courtesy of Jordan Strategy Forum
AMMAN — The Jordan Strategy Forum (JSF) on Wednesday issued a report calling for decision makers to prioritise policy dealing with Jordanian expatriates, stressing the "urgent need" for all parties to evaluate the needs of Jordanians living abroad and the effect of remitted funds on the Kingdom's economy.
The study, titled "The Economics of Jordanian Remittances: Some Issues We Should Be Happy About and Enhance", examines the impact of funds remitted by Jordanians working abroad on real economic growth and inflation, imports and trade deficit, bank deposits and credit available to the private sector, and bank foreign exchange deposits.
Considering the effects on the analysed macroeconomic and financial development factors, the report concluded that remittances coming from Jordanian expatriates can "bring a myriad of benefits to the Jordanian society and economy while promoting national economic growth and development".
Regarding the individual indicators, the study showed that Jordanian remittances have a "positive impact" on the national GDP and the real GDP per capita, with growth rates by 7.67 per cent and 4.93 respectively when assuming a 5 per cent increase in remittances.
The funds remitted by Jordanian expatriates also appeared to have a positive effect on bank deposits (8.57 per cent growth per a 5 per cent increase on remittances), bank credit available to the private sector (8.03 per cent increase as a result of a 5 per cent growth on remittances) and deposits in foreign exchange (4.82 per cent growth per a 5 per cent increase on remittances).
However, the study also showed that when real remittances increase by 5 per cent, real imports register a growth by 8.61 per cent, implying that "a decent proportion of the remitted funds are spent on durable and luxury imported items, accelerating imports and ultimately widening the trade deficit".
"The impact of remittances on imports and the trade deficit are obviously not encouraging, but this problem is not caused by just remittances," the JSF said on the study, adding that "this is a structural problem that needs solving — a subject matter that warrants a separate paper".
"One way to really appreciate this implication is to survey Jordanians who work abroad and ask them some specific questions about what they do with the remitted funds," JSF Director of Research Ghassan Omet told The Jordan Times when asked about how to further investigate this result.
Economist Khalid Zubeidi commented that "an increase in imports and the trade deficit can only be related to remittances in an indirect way", noting that "families with a higher purchasing power tend to buy goods from the outside rather than local products with a similar price due to taxes".
The economist attributed the trade deficit issue to "the agreements that Jordan has with other Arab and European countries", stressing that "Iraq is imposing a tax on Jordanian exports, and several European countries are stating that some Jordanian products are not good enough to be imported in their markets despite existing partnerships".
In light of the findings, the JSF recommended that "Jordan should seek to reduce the cost of transferring remittances from abroad to the Kingdom", pointing out that "this would not only increase remittances, but also the inflow of official — instead of unofficial — remittances".
"The government needs to involve Jordanians working abroad in any decisions related to economic and political development in Jordan," economist Wajdi Makhamreh told The Jordan Times when asked about the study's recommendations, adding that "the public sector needs to come up with investment programmes capable of attracting Jordanians abroad to invest in their homeland rather than other countries, mitigating the economic crisis that the country is facing right now".
"I believe that the government is lacking good incentives in this regard," Makhamreh added, concluding that "Jordan is not putting its remittances at full priority, and we are missing their potential to increase economic growth in the Kingdom".
up
59 users have voted, including you.
Related Articles
Jul 05,2018
AMMAN — Jordanian stakeholders must give the Saudi labour market their priority, according to a study issued by the Jordan Strategy Forum (J
May 31,2017
AMMAN — Expatriates' remittances increased by 2.4 per cent to $1.168 billion during the first third of 2017, compared with $1.140 billion in
Jul 22,2015
AMMAN – Remittances of Jordanian expatriates rose by $27 million or 1.5 per cent during the first half of this year compared with the same p
Newsletter
Get top stories and blog posts emailed to you each day.