You are here
Sama Sarhan schools empty in protest against overcrowding
By Laila Azzeh - Oct 26,2014 - Last updated at Oct 26,2014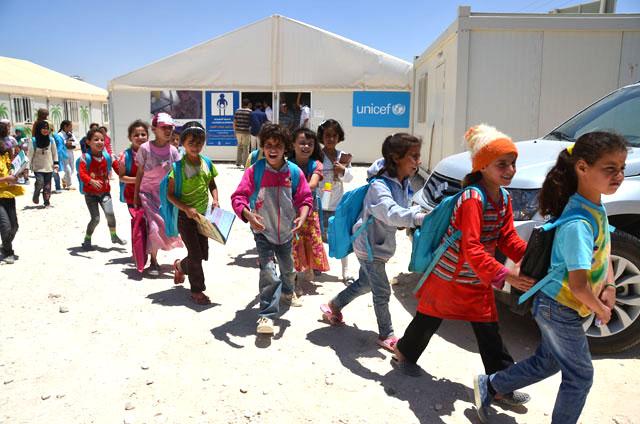 AMMAN — Families in Sama Sarhan, located in Mafraq Governorate, have decided not to send their children to the district's schools until a solution is found to accommodate 420 Syrian students residing in the area, according to the mayor.
With more than 5,000 Syrians living in the area, classified by the government as a poverty-pocket in 2005, the overcrowding of classrooms has become "fatal", Sama Sarhan Mayor Ali Sarhan told The Jordan Times over the phone on Sunday.
"Some classes have more than 60 students, while the minimum number of pupils per classroom in the area stands at 50," Sarhan said.
He noted that the district's schools were empty on Sunday, even of Syrian students, who are also harmed by the overcrowding.
"The Education Ministry has received the needed funding to enable the area's eight schools to operate evening shifts to accommodate the Syrians, but the scholastic year has started and no decision was taken," Sarhan said.
One school in Sama Sarhan, some 90km northeast of Amman, is fully equipped to receive Syrian students in the evening, but the ministry has not yet designated the required staff, the mayor added.
He said parents are complaining about the "deteriorating" quality of education their children are receiving.
Sama Sarhan Education Department Director Sayel Khreisha, who estimated the number of Syrian students in the area at 278, said the department has notified the ministry.
"There are already three schools operating on the two-shift system in Sama Sarhan, but this is not enough," he said over the phone, noting that the department is awaiting a reply from the ministry.
Sama Sarhan Municipality is among the areas hit hardest by the influx of Syrians due to its location near the Jordanian-Syrian border, according to the mayor.
Meanwhile, the director of private education at the ministry, Farid Khatib, noted that the number of Syrian students in Jordan stands at 130,000, of whom 8,000 are in private schools.
"The number of students in the northern region has reached 800 in one school, with around 40 students in one classroom," he said.
The ideal global average of students in a classroom is 25.
Related Articles
Oct 30,2014
Education Minister Mohammad Thneibat on Thursday said the ministry will soon float a tender to build a new school in Sama Sarhan to replace rented school buildings in the Northeastern Badia town. 
Nov 03,2014
Classes resumed at Sama Sarhan schools on Monday after an agreement was reached between the Education Ministry and Sama Sarhan Municipality to address overcrowding.
Oct 23,2014
Preparations for four new schools in Khaldieh, Sarhan, Zaatari and Thughret Al Jub have concluded and the institutions will soon be ready to receive students, the region's education department said on Thursday.