You are here
Scenes for TV drama series 'Misaeng' shot around Kingdom
By Abeer Numan - Sep 23,2014 - Last updated at Sep 23,2014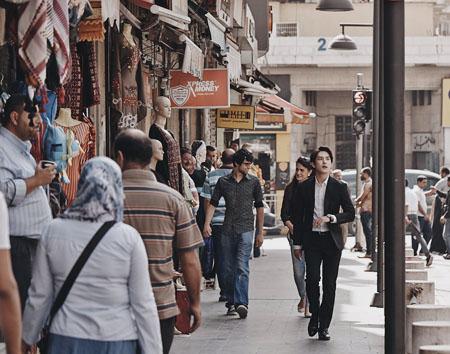 AMMAN — Several scenes of a South Korean drama series titled "Misaeng" or "Incomplete Life" were shot on location around the Kingdom this week, including a chase in downtown Amman and other scenes at the Citadel, Petra and Wadi Rum.
After a couple of visits to Jordan in the summer and in November last year, the producer decided to shoot parts of the drama in the Kingdom, especially as Jordan is a commercial partner of South Korea, Lee Min Ho, deputy director of the Korea Business Centre in Amman
(KOTRA), told The Jordan Times on Monday.
In the drama series, based on a serialised webtoon by Korean cartoonist Yoon Tae Ho, main character Jang Gurae, played by actor Yim Siwan, joins a small business for used cars and exports as an intern. There he meets his mentor, Oh Sangsik.
"When the bad guys get involved in car stealing, the good guys chase them in downtown Amman…" the KOTRA official said.
"Jordan is the biggest importer of Korean used cars, forwarded to different countries," he said, adding that the producer and writer found information about this in a KOTRA report, so they used it.
Misaeng, which literally means "not alive yet", is in line with the story's depiction of not being satisfied at work and feeling lost in the workplace, he said, adding that in real life, businessmen face similar experiences, which were originally depicted by Yoon in his popular web cartoons.
"The most important theme depicted in the drama is that the people in it actually do not know what they want," Yim, who is better known by his stage name Siwan, told The Jordan Times.
"Now, I am doing what I want," Yim noted after a long day of shooting in Wadi Rum, in which around 40 crew members took part.
Lee Soungmin, who plays the role of Gurae's mentor, explained that his character is good, but the organisation Oh Sangsik works in never perceived him as good.
The actors were happy with their location shooting experience in Jordan.
"First of all, I was very surprised with Petra. Especially Al Khazneh [the Treasury], it was amazing and I want to recommend it to my friends, fans and everybody," Siwan said.
As for Wadi Rum, "it was spectacular," Lee and Yim said.
"There were crowds when we were shooting… and people were cooperative and acted very well. They were very kind to us. We hope Arab people and Jordanians will watch the series via the satellite channel or maybe watch excerpts online."
"Our TV drama wants to go a step further with Jordan, which means not only portraying Jordan as a trading partner or a country to study about, but a country with a great cultural heritage and mystic beauty that cannot be found anywhere else," a KOTRA statement said.
The comic series creates a favourable impression of Jordan,
KOTRA added, noting that the series begins airing on tvN television on October 17.
Related Articles
Oct 12,2016
AMMAN — For Sarah Atmeh, an interest in Korean drama series and K-pop music that she found online led her on a journey into Korean culture.&
Nov 22,2016
AMMAN — A Korean delegation, which concluded a visit to the Kingdom on Monday, has had the chance to examine means to boost joint Jordanian-
Mar 22,2018
AMMAN — Wadi Rum tour guide Hussein Suweilheen, who took part in the acclaimed Jordanian film 'Theeb' said many tourists have been asking hi
Newsletter
Get top stories and blog posts emailed to you each day.