You are here
Secure and a few pennies richer, Syrian refugees enjoy benefits of work permit
Syrians in camps fear work permits may come at the cost of aid as sector insiders call for awareness
By Mohammad Ghazal - Feb 28,2017 - Last updated at Feb 28,2017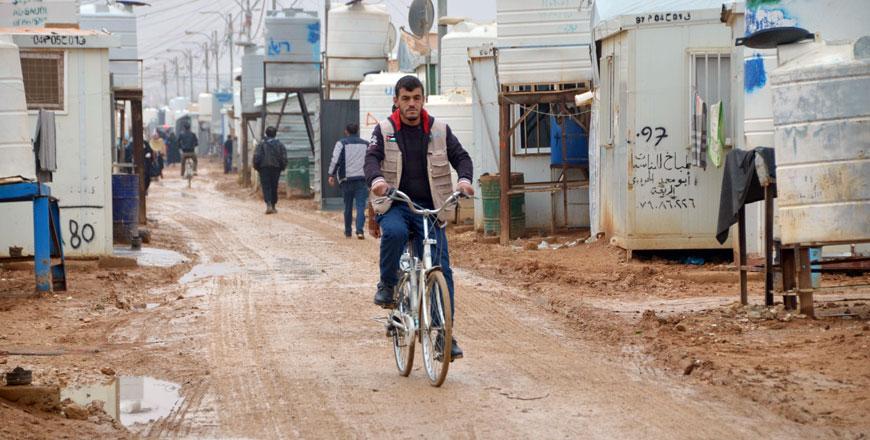 Free-of-charge work permits granted to Syrian refugees have made life better for many, but awareness of benefits still lacking (File photo)
AMMAN — Syrian refugee Odai Mahmoud, 19, feels safe when he leaves his trailer home in Zaatari camp to work in Amman.
He even started to earn more money. This all started to happen when the young man obtained a work permit.
Mahmoud used to work in farms near Zaatari Camp in Mafraq, 80km northeast of Amman, picking crops in return for JD5 to JD6 per day to support his parents and four siblings.
His work was seasonal and he had to seek security permits from the camp's administration.
Two months ago, Mahmoud was told by some of his friends that he could get a work permit, which enables him to work legally in Jordan. He applied and received it; no sweat.
"The best thing about having a work permit is that I feel safe and I am not worried if anyone asks me for my work permit anywhere any time. Before having it, I was afraid all the time," Mahmoud told The Jordan Times in a recent interview.
"I currently work in construction in Amman and I earn about JD250 to JD300 per month. I stay in Amman for 15 days and then return to the camp for a few days and go back to work,"
Mahmoud said.
"When in Amman, I also ask around for better jobs which is something I was not able to do as all my work was limited to farms near the camp," Mahmoud added.
Mahmoud is one of more than 39,000 Syrians who have been issued work permits, according to Mohammad Khatib, spokesperson of the Ministry of Labour.
These permits are issued for Syrians who live in or outside refugee camps.
According to Khatib, Syrians who live in refugee camps are granted permits to work outside and then return.
"This helps ensure that their status is legalised," he told The Jordan Times, stressing that work permits for Syrian workers are limited to professions that are only open for guest workers and within the allowed ratio.
There are 19 professions that are off-limit to guest labour and there are set quotas for foreign labour, including, for example, 40 per cent in gas stations.
Work permits are issued free of charge for Syrian refugees at present, according to Khatib.
Not many refugees are aware of the benefits of having a work permit and they have "serious" concerns, said Mahmoud.
"When I got the work permit, many friends and relatives at the camp blamed me and told me that my family might lose aid it gets from NGOs. So far nothing changed, but people have real fears that they might lose aid," Mahmoud recounted.
"I encouraged many of my friends to get the work permit as it is free, but not many people know that and many are afraid to take it," he added.
His friend Ahmad, 23, said he has not applied for a work permit yet but is planning to.
"Odai told me it was very easy to get it… no one at the camp told us about how we can get work permits and why it is important," he told The Jordan Times.
"Word of mouth in the camp is very powerful and many people here base their decisions on what they hear from others. Therefore, NGOs working here should be more active telling us about the benefits and disadvantages as well," said Ahmad, who still works in nearby farms picking crops for JD5 per day.
"One thing that I know for sure is that it is easier for Odai to leave the camp and work outside and that is something I want to do soon, but I don't know where to start," Ahmad added.
"I think there is a need for holding meetings inside the camps to inform the young Syrians that they can get it for free and how they can do that…There are plenty of rumours about this issue and some are afraid that if they get it they will lose many benefits. I trust Odai and will follow in his steps," Ahmad, who hails from Sheikh Maskeen in the southern Syrian province of Daraa, said.
'Training and awareness are crucial'
Fathallah Emrani,the president of the General Trade Union of Workers in Textile, Garment and Clothing Industries, said a large number of refugees are still concerned about getting work permits, blaming the misconceptions amongst them on "weak" campaigns to raise awareness about the benefits.
"It is insufficient to take a good decision of giving work permits to Syrians for free. This needs to be followed up with effective campaigning and action on the ground to educate them about the benefits and how they can get them," Emrani told The Jordan Times.
"This is very important if we want to maximise the benefits of the rules of origin deal between Jordan and the EU," he said.
Under the deal, the EU has allowed made-in-Jordan products to utilise more than 70 per cent of production inputs from non-local materials.
A total of 18 industrial and developmental zones are included in this plan, while the relaxed rules will also be applied to other industries across the Kingdom once 200,000 jobs for Syrian refugees are created and when those Syrians are issued work permits.
As work in the textile and garment sector and the industrial sectors require technical skills, more training is also needed, he noted.
"It is not just about the number of work permits issued. We need programmes to train Syrian refugees on skills in the garment and textile sector. We need training that focuses on women who in many cases support their families and are willing to work in factories for a minimum wage to support their families," said Emrani.
"Advantages of getting work permits should be greatly highlighted, especially since many Syrians still refuse to obtain work permits and some earn good income working illegally," Emrani added.
Abu Ahmad, a 48-year -old Syrian plumber, sometimes earns about JD15 to JD20 per day.
"I have experience in this business for more than 25 years in Syria. When I came to Jordan in 2013, I started working in construction and in my free time I do work in houses in the area where I live in Amman," Abu Ahmad told The Jordan Times.
"Work is good. I do not have a work permit. If I have assurance that I will not lose the aid I get from charities and that I will not pay taxes, I will get it, otherwise, I will continue to work here and there," Abu Ahmad, a resident of an eastern Amman neighbourhood, said.
As allowing Syrian refugees to have work permits is likely to affect the employment of Jordanians and guest workers of other nationalities, Ahmad Awad, director of the Phoenix Centre, called for increased investments for the enhancement of vocational skills of young Jordanians.
"There is certainly an impact on the available opportunities for Jordanians. However, the impact is greater on guest workers of other nationalities, mainly Egyptians," said Awad.
"Syrians at present are competing with Egyptian workers in the construction sector and other fields as they also have skills in working as plumbers, blacksmiths and carpenters," said Awad.
To lessen the impact on Jordanians and increase their chances of employability in such fields, there is a need to train them on skills required in these professions.
"More training in vocational jobs is needed so Jordanians can compete with skilled guest workers in these areas… there is certainly a competition as Syrians are paid less and sometimes are more skilled in such professions," he explained.
More incentives need to be offered to Jordanians to join vocational trades, where guest workers earn "decent income", to help reduce unemployment among Jordanians, which stood at 15.8 per cent during the third quarter of 2016, he added.
Related Articles
Feb 22,2016
AMMAN — As the government vowed to allow Syrian refugees to join the Kingdom's labour market if the world helps with encouraging sufficient
Jun 13,2017
AMMAN — Improving working conditions for guest workers and refugees in the local job market has a positive impact for job creation that can
Mar 12,2014
From his precious savings, Syrian Khaldoun Al Ahmad decided to spend JD20 to buy a tent and transform it into a school for fellow refugees at a makeshift camp located in the Northern Jordan Valley.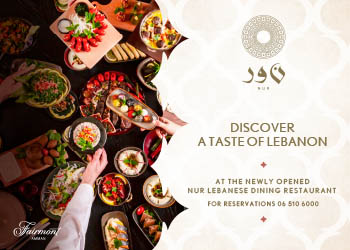 Newsletter
Get top stories and blog posts emailed to you each day.