You are here
Six detained in attempt to smuggle 1m Captagon pills
By Rana Husseini - Jul 21,2014 - Last updated at Jul 21,2014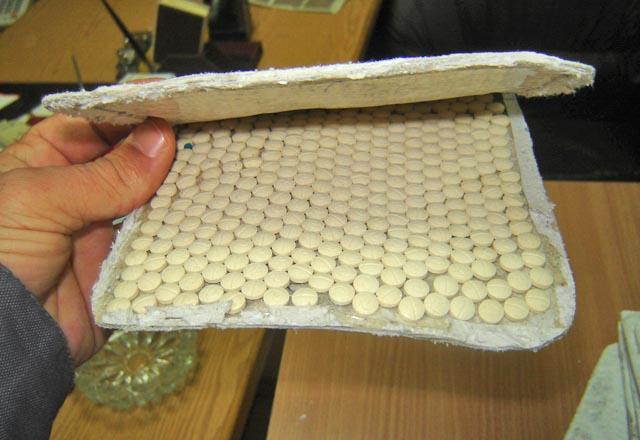 AMMAN — Anti-Narcotics Department (AND) agents last week arrested six people who were allegedly attempting to smuggle one million Captagon pills to a neighbouring country, official sources said.
AND agents received a tip almost three weeks ago that the suspects, all Jordanian, were collecting illegal pills and storing them in an apartment in Amman to smuggle to a Gulf country, a senior official source said.
"A special force monitored the six suspects for almost two weeks and when the men were about to move the pills to a different location for exporting we arrested them," the source said.
They were arrested without any major incidents, he told The Jordan Times.
The official explained that the drugs were from a "neighbouring country".
"We closely monitor our borders and abort many attempts to smuggle illegal drugs. Nevertheless, some individual still manage to succeed in smuggling illegal drugs into the country," the source explained.
The six arrested suspects all have previous criminal records related to drug smuggling, according to a statement by the Public Security Department (PSD).
A senior official told The Jordan Times in a recent interview that Jordan is still considered a transit country when it comes to Captagon smuggling.
These pills are usually manufactured and transported from neighbouring countries in the north via Jordan to rich countries on the southern borders, the official said.
Drug smugglers, he added, target rich countries "because one Captagon pill there is worth JD7, while its market value in Jordan does not exceed JD1 per pill".
Captagon (fenethylline) is a synthetic stimulant similar to amphetamine.
Although banned in most countries in the 1980s, illegally produced and smuggled Captagon — sometimes containing amphetamine instead of fenethylline — is a common drug abused in the Middle East, according to web sources.
A total of 8,945 suspects were involved in around 6,504 drug cases last year, according to official figures. The authorities seized over 22 million Captagon pills, 444 kilogrammes of hashish and 5,007 kilos of marijuana in 2013.
Related Articles
Dec 19,2018
AMMAN — The Anti-Narcotics Department (AND) on Wednesday arrested four Arab nationals who were allegedly attempting to smuggle half-a-millio
May 20,2019
AMMAN — The Anti-Narcotics Department (AND) on Sunday announced the arrest of an Arab national who reportedly attempted to smuggle over 1 mi
Dec 14,2016
AMMAN — The Anti-Narcotics Department (AND) on Wednesday announced the arrest of 14 suspects in two separate raids over the past two days.In