You are here
Syrian refugee women still struggle to access employment — report
Despite training programmes like Oxfam's seamstress project, women still face various cultural, societal and economic barriers which remain hard to overcome
By Camille Dupire - Sep 06,2018 - Last updated at Sep 06,2018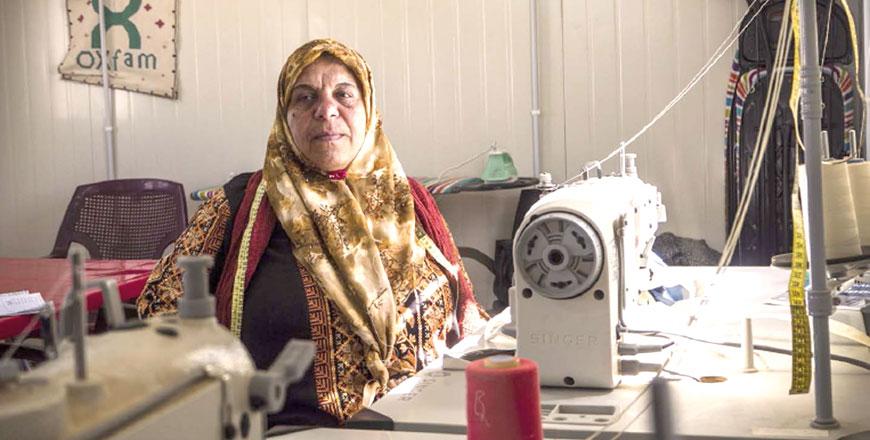 Zaatari resident Fatima, 59, is a skilled seamstress from Daraa, Syria (Photo courtesy of Oxfam/Alix Buc)
AMMAN — In Jordan's refugee camps, where the number of work opportunities remains largely disproportional to the number of working age residents, the competition for job opportunities is fierce, with women often relegated to the background.
Zaatari refugee camp, which hosts nearly 79,000 Syrian refugees, 42 per cent of whom are of working age, is no exception to the rule, according to UNHCR August 2018 figures.
While the humanitarian organisations operating around the camp provide some 5,000 cash-for-work positions, these short-term jobs remain insufficient to allow various groups of women to access the labour market.
Work competition detrimental to women
A skilled seamstress from Daraa in Syria, Fatima said her age has been the greatest hindrance to her job search.
The 59-year-old noted: "Maybe employers won't let me work because I'm older; they worry I might get sick while I'm at work. I'm tired of sitting alone at my house. I need to work. It's sad to see my talents fade as the years go by."
Like many other skilled women, Fatima has been struggling to find work, even since the Jordanian government's recent commitment to "consider expanding the sectors and occupations open to Syrian refugees… with a particular focus on women's participation", as pledged during the second Brussels conference on "Supporting the Future of Syria and the Region" in April 2018.
In February 2017, the government announced that Syrian refugees living in camps were entitled to obtain work permits and be employed in urban areas, with over 108,000 permits delivered by the Ministry of Labour as of August 2018, according to official figures.
However, women have remained largely excluded from employment opportunities, both inside and outside the camps, an Oxfam report titled "Tailor Made" showed.
"I feel like I'm a captive because of my age. If women of all ages were given opportunities to work, it would help us to heal and grow after all the destruction and loss we suffered," Fatima pointed out, stressing "working with others would keep us occupied."
Launched in April 2017, Oxfam's Lel-Haya project aimed to tackle this issue, providing vocational and soft skills training to Syrian refugee women who seek to enhance their employability and increase their self reliance.
Since then, Lel-Haya ("For Life" in Arabic) has provided 280 women with professional seamstress training, where they learned how to produce fashionable tote bags from old UNHCR tents.
Deeply rooted challenges
However, such programmes do not reduce women's many barriers to employment, as many of these trainees' experiences demonstrate.
After the training, a job fair organised by the International Labour Organization and UNHCR at the Zaatari Office for Employment gave these women the opportunity to work at a garment factory based in Irbid, some 70km away from the camp.
Despite great financial incentives, very few women signed up for the job, which Oxfam found to be due to a number of societal, technical and familial challenges, including childcare and family responsibilities.
"Women who decided not to enrol at the factory complained that because they had older children, they were ineligible for the childcare allowance that women with younger children would receive [JD25 per month for each child under the age of four]," the Oxfam report showed, noting that "the women who did take on the work had only young children, or no children".
For 29-year-old Amina, who has two children under four years old, the solution was to leave them with an informal child-carer, whom she paid with the childcare allowance provided by the factory. Meanwhile, Sawsan, 20, left her kids with her in-laws.
"These women are able to access full-time jobs outside the camp by benefitting from their existing informal networks," the report indicated, pointing out that other Syrian women who cited childcare as an obstacle to working made no mention of these networks, "suggesting that they are unable to access them".
Public perception of women's work also had a negative effect on women's access to the local labour market.
Due to the far location of the factory, workdays were considerably lengthened by transportation times, with over two hours of travel to and from the workplace, which added up to the standard eight-hour day.
Mariam, 26, said: "The bus route keeps getting longer and more tiring. My parents are starting to get upset about this and I think they might start to take issue with the lateness."
"Social norms dictate that women's work is often considered unnecessary; in Mariam's case it is not vital to meet her family's needs. Because their work is considered non-essential, working outside the camp is only acceptable for women under certain conditions," the Oxfam report pointed out, noting that late returns are "only seen as acceptable for male family members, since they are expected to work".
Rumours and word of mouth have also hindered women's enrolment in the factory. "We all talk to each other. We hear that the conditions at [the factory] are not very good. They treat the workers there very badly, [there is] constant criticism and orders," stated Sara, a Zaatari resident.
"Women who accepted a job at the garment factory generally reported positive experiences of working there, and expressed interest in staying long term," the Oxfam report indicated, stressing however that "these women do not represent the majority of women in the camp. While they have found their own solutions to common challenges to taking on formal work in Jordan, the gender-based barriers that prevent the majority of Syrian refugee women from entering the workforce remain".
The international NGO called for greater consideration to sustainable approaches in livelihood policy for refugees in camps by improving the mobility of Syrian refugee women, ensuring provision of affordable and safe transportation while incentivising provision of childcare facilities, in addition to integrating social dynamics around women's economic participation in humanitarian organisations' programming.
Newsletter
Get top stories and blog posts emailed to you each day.