You are here
Tafileh ministerial meeting shut down upon citizens' angry outbursts
Session on income tax law abruptly interrupted as locals voice frustration to officials
By Maram Kayed - Sep 16,2018 - Last updated at Sep 15,2018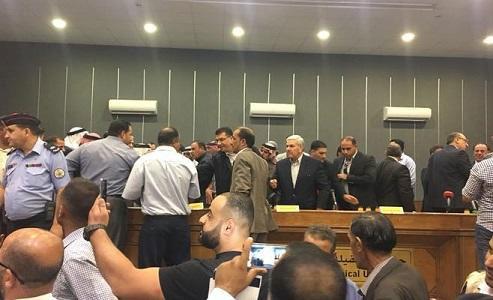 Citizens in Tafileh on Saturday angrily interrupted various ministers during a discussion session held at Tafileh Technical University over the controversial new income tax law (Photo courtesy of Facebook)
AMMAN — Citizens in Tafileh on Saturday angrily interrupted various ministers during a discussion session held at Tafileh Technical University over the controversial new income tax law, drawing the session to a forced close when the ministers abruptly left the stadium.
Among the ministers present were Minister of Health Mahmoud Sheyyab, Minister of Agriculture Khaled Hneifat, and State Minister of Legal Affairs Mubarak Abu Yamin, who were seen in a video that went viral on social media being subjected to angry remarks by locals.
In the video, the three ministers were interrupted by a group of citizens, after which Hneifat was heard saying "message received. We will carry your comments back to the Prime Ministry" before leaving the premises with the other ministers.
Most of the remarks expressed by the protestors did not seem to concern the income tax law itself, while some were made with a seemingly lack of understanding of it.
"I can't buy my children clothes, your excellencies. My salary is JD300!" a citizen shouted in the session.
"We will never accept any version of any income tax law!" another person shouted as a reply to ministers' remarks about the International Monetary Fund pressuring the government to pass a tax law in exchange for a loan.
In remarks to the Jordan News Agency, Petra, Hneifat said that the government had started field visits to discuss the bill with the public and reach understandings on means to overcome the economic crisis of the Kingdom.
Yamin, who voiced the government's keenness to hear all points of view on the draft law, said "arguments during the meeting were expected, especially as citizens live under difficult economic conditions".
During the session, which was aired live on Facebook by various news outlets, comments were mostly in support of Tafileh citizens' actions, in addition to being mostly critical of the ministers' explanation of the law, calling it "unclear" and "unorganised" in manner.
"The government has to stop these useless discussions. The Jordanian people are much wiser now and will not be taken for granted," Jamal Masri commented on Facebook.
"When you say the law will only affect the upper class, who are in charge of businesses, it means that the upper class will in return raise prices. Long story short, the average citizen will still be the one who's negatively affected," Mohammad Kassasbeh wrote in another comment.
After the discussion, Yamin was recorded as saying, "the citizens have every right to be angry. We respect their points of view and they will be taken seriously," adding "this only means that the trust between the government and the people needs serious reform."
Related Articles
Sep 16,2018
AMMAN — A group of citizens in Tafileh on Saturday angrily interrupted three ministers during a discussion over the controversial income tax
Sep 17,2018
AMMAN — Cabinet members resumed their tour around Jordan's main cities to discuss the new income tax law with citizens, but faced a reaction
Dec 04,2018
AMMAN — Minister of State for Legal Affairs Mubarak Abu Yamin on Monday said that the government is open to amending the articles of the ele