You are here
Treasure hunting takes toll on Eastern Badia archaeological site — Dutch scholar
By Saeb Rawashdeh - Sep 15,2019 - Last updated at Sep 15,2019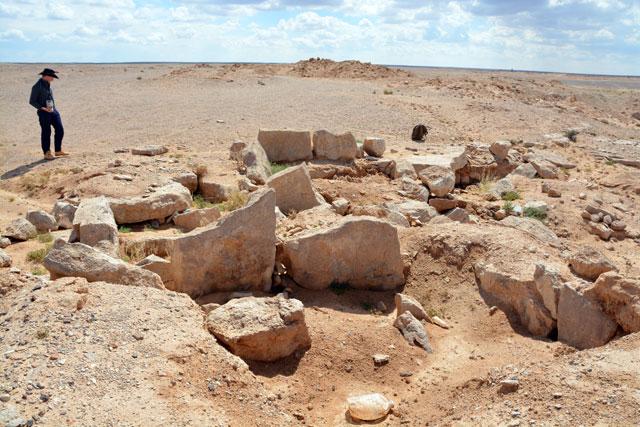 Plundered Early Islamic house remains at Khirbet Al Umari in summer 2019 (Photo courtesy of Peter Akkermans)
AMMAN — Khirbet Al Umari is an archaeological site, located 25km southeast of Azraq. It was already in a sadly ruined state when famous archaeologist Nelson Glueck visited it in the 1940s, and was severely disturbed in more recent years by looting and vandalism, noted a Dutch archaeologist.
"The degree of destruction makes it very difficult to recognise the original structure of the settlement at the site," said Professor Peter Akkermans from Leiden University.
Khirbet Al Umari is an Early Islamic settlement. On its surface, archaeologists have found many pottery shards and some glass fragments, which undoubtedly date to the late Byzantine and, in particular, Ummayad periods, Akkermans noted, adding that the site was extensively occupied in the 7th and 8th centuries AD.
Sites from the Early Islamic period are rare in the Eastern Badia of Jordan, he continued, noting that the unique relevance of the site makes the ongoing illicit search for treasure, and the massive destruction that comes with it, all the more sad.
"Detailed study of aerial photos and subsequent survey work at the site revealed a number of rectangular houses with one or more rooms, made of mud brick on stone foundations," Akkermans said.
"Water must have been a constant concern for people trying to make a living in the dry Wadi Sirhan," the professor noted.
The largest building at Khirbet Al Umari was some 400 m2 in extent, he continued, highlighting that the structures were free-standing, with large, open yards between them.
"Although the site with its 20 hectares is quite substantial, the relatively few buildings suggests that the number of people once living there must have been restricted; probably we should think of a few hundred people at the most," Akkermans said.
In the 1940s, Glueck believed that Khirbet Al Umari originally was not simply a settlement for civilian use but that it was predominantly a caravanserai in the Early Islamic period, serving the needs of travellers and merchants to and from Arabia," Akkermans elaborated.
"He may very well have been right in considering the site as a trade post, the more so because of the nearby wells," Akkermans said.
There is no evidence of military installations at Khirbet Al Umari, Akkerman noted, adding that people at the site must have felt safe in an area largely devoid of settlement.
"The nearest settlement, Azraq and its fortifications, were at a distance of one or two days' travel by camel. It appears that the Ummayad administration was very well able to provide the required protection, even at sites and regions at the fringes of its empire," Akkermans emphasised.
Related Articles
May 17,2022
AMMAN — Systematic aerial surveys carried out in Jordan's Eastern Badia region since 1998 and about 10 years of simplified satellite image a
Jul 27,2021
AMMAN — Recent fieldwork at the vast desert region in north-eastern Jordan has revealed an immensely rich heritage of an area that is diffic
May 30,2023
AMMAN — Jordan has lost many microsites over the past 20 years due to a lack of protection and urban expansion, said Jihad Haroun from the A