You are here
UNRWA schools to open 'on time' despite unprecedented financial crisis
Commissioner says agency 'by no stretch of imagination out of the woods financially'
By Ana V. Ibáñez Prieto - Aug 16,2018 - Last updated at Aug 16,2018
Palestinians pass by the gate of an UNRWA-run school in Nablus in the occupied West Bank on Monday (Reuters photo)
AMMAN — During an extraordinary session of the UNRWA Advisory Commission in Amman on Thursday, the UN agency's Commissioner General Pierre Krähenbühl announced that all UNRWA schools in East Jerusalem, Gaza, Jordan, Lebanon and Syria will open on time for the start of the school year "despite the financial challenges".
Over 526,000 Palestinian students and their teachers will be able to return to the 711 schools in these areas of operation "because it is crucial to protect the fundamental right to education for Palestinian refugee girls and boys, and the community's unwavering attachment to learning and the development of skills", Krähenbühl stated during the meeting.
The official also stressed the challenges faced the agency since the beginning of its financial crisis, expressing that "while announcing the opening of the school year, I wish to be clear that UNRWA is by no stretch of the imagination out of the woods".
The agency's crisis began after US President Donald Trump cut $350 million in US aid to the humanitarian organisation in January this year.
Although not officially declared by the US administration, the cuts come after the Palestinian leadership refused to meet US Vice President Mike Pence during his visit to the region and rejected any future role for the US in the peace process following Trump's decision to recognise Jerusalem as the capital of Israel.
The agency has mobilised a total of $238 million of additional funding since the start of the financial crisis, according to Krähenbühl, who warned that "however, we only have funding to run the agency's services until the end of September, and we need a further $217 million to ensure that our schools not only open but can be run until the end of the year".
"This requires the resolute continuation of the collective mobilisation that has been under way since January," the commissioner general said, calling on all member states of the United Nations that "have pledged but not yet transferred their contribution to do so as soon as possible", and on other countries that are still considering providing additional money to "join this remarkable and unprecedented effort to preserve UNRWA's vital services to a very anxious Palestinian refugee community".
For Director of UNRWA operations in Jordan Roger Davies, "at stake is the education of 122,000 children enrolled in 171 schools around the country, as well as the education of around 4,000 young men and women enrolled in our two vocational centres and teachers training college".
"They will not be able to attend schools and colleges if we are unable to pay the teachers," Davies stressed.
"The international community must keep on supporting UNRWA, because it is the only true witness to the Palestinian cause," representative of the UNRWA student parliament in Jordan Ahmad Ibrahim Baker told The Jordan Times, expressing the students' joy over the decision to open the schools on time for the beginning of the scholastic year.
"We thank all those who support us to continue to foster knowledge," Baker continued, adding that "we [members of the student parliament] are all refugee students in Jordan, and we feel fear and discomfort at the thought of not seeing our schools open to the Palestinian community, because knowledge is the basis of life and the way of the future."
For his part, Krähenbühl confirmed that UNRWA will "take ongoing robust measures to safeguard the financial situation of the agency by focusing on reform initiatives and the identification of efficiencies," reaffirming UNRWA's "deep commitment to preserving the dignity of Palestine refugees, its services and its important mandate."
Related Articles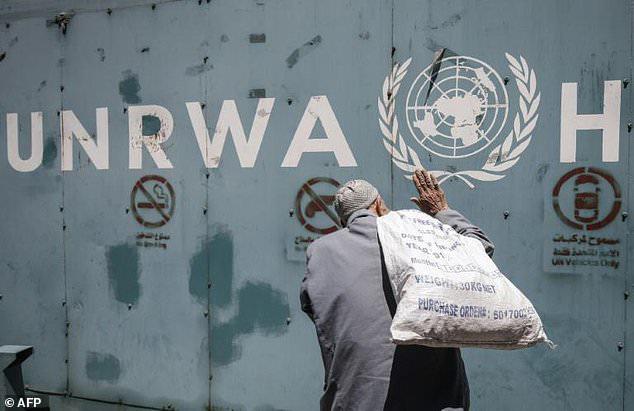 Feb 16,2019
AMMAN — The international community's support and the Jordanian efforts have helped UNRWA overcome its financial crisis in 2018, director of
Dec 14,2018
AMMAN — To commemorate the 70th Human Rights Day, a group of volunteers and young artists on Monday transformed the facade of the UNRWA scho
Nov 19,2018
DEAD SEA — UNRWA Commissioner General Pierre Krähenbühl on Monday announced that the UN agency has managed to slash its budget deficit despi