You are here
Webinar explores ancient way of life in Jordan's Black Desert
By Saeb Rawashdeh - Sep 14,2020 - Last updated at Sep 14,2020
A view of Wadi Qataffi, some 130km east of Amman (Photo courtesy of Eastern Badia Archaeological Project)
AMMAN — Climate change, particularly drought, created societal shifts in the Black Desert in eastern Jordan, according to a British scholar.
Winter rains that came from the Mediterranean turned the area into a fertile ground for agriculture and animal domestication, Matthew Jones from the University of Nottingham said during a recent webinar.
Some years in the Eastern Badia were very dry, while others were characterised by increased precipitation, he noted during the webinar titled "Was Jordan's Black Desert green during the Late Neolithic?" organised last week by the British Institute in Amman and the Palestine Exploration Fund from London.
"The timing of heavy rains is not very consistent", which affected vegetation and livestock of the Black Desert, Jones said.
"The Eastern Desert is a volcanic field," said Professor Emeritus from Whitman College Gary Rollefson at the webinar.
Compared with surrounding areas during the Late Neolithic period, the Black Desert had more diverse flora and fauna, and diverse sources, particularly basalt and flint, he added.
"From the Late Neolithic period [6,500-5,000 BC] we can witness the massive increase in the population that simply can't be by the normal population growth," Rollefson said, noting that migrations occurred from the west, southern Syria and Mesopotamia to the Black Desert.
The research team found 300-400 buildings near Wisad Pools and 600 buildings near Wadi Qataffi, around 130km east of Amman, excluding animal pens, which attested to the population growth, Rollefson elaborated
The reasons for the population explosion are multiple: Wetter climate, lusher vegetation, seasonal aggregation and human-made traps for game animals (so-called desert kites), Rollefson added.
Talking about the origin and expansion of the Black Desert Neolithic culture as well as its ties with the Arabian, Mesopotamian and Levantine regions, Alexander Wasse from Yedipe University (Istanbul) said that the culture of that area was "distinctive".
In 2019 season archaeologist discovered tabular flint knives at Wisad Pools, around 100km east of Azraq, as well as desert camps and hundreds of hunting traps.
Regarding cultural similarities, Wasse drew the parallel between Yarmoukian culture from Ain Ghazzal, near Marka Shamalia, and Samarran figurines from Iraq, dating from 5,500 to 4,800 BC, indicating the population shift towards the Black Desert where local culture was a transition between Levantine and Mesopotamian cultures.
"Great majority of the structures found in the area of Wisad Pools contains standing stones which indicate cultic use," Wasse continued.
"One of the possibilities is that those standing stones supported the roof of buildings", but it's not the only use of standing stones, as the team found a huge stash of animal bones near them which directs to the conclusion that they were places of worship of ancient inhabitants of the Black Desert," Wasse said.
Related Articles
Oct 29,2015
AMMAN — Ain Ghazal (Spring of the Gazelles), near Marka in the capital, was "the Manhattan of the Neolithic period", according to an anthrop
Jan 04,2018
AMMAN — When a group of scholars in 2008 began to work together in the Black Desert (eastern Jordan), they found many piles of rocks that on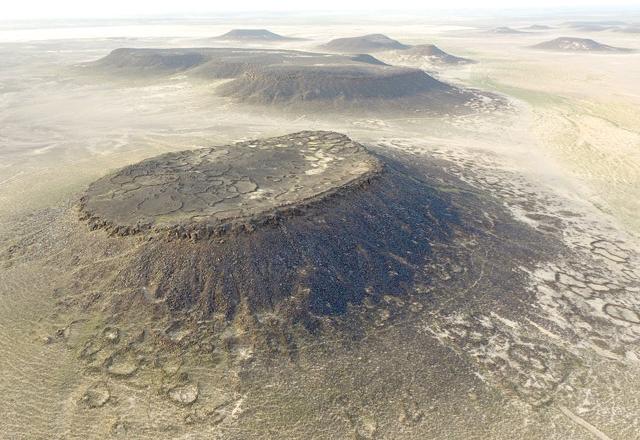 Jul 10,2017
AMMAN — After the sharp decrease of precipitation around 7000BC, all of the known large Neolithic sites such as Basta, near Pet