You are here
Women entrepreneurs present their innovations at Amman seminar
Projects cover variety of sectors, including health, ICT
By Suzanna Goussous - Aug 28,2016 - Last updated at Aug 28,2016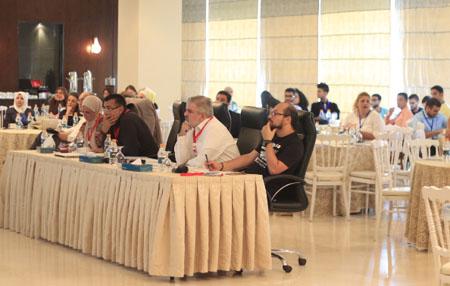 Members of a jury panel attend a seminar in Amman on Sunday to view innovations by women entrepreneurs and award funding to some of the projects (Photo courtesy of Applied Scientific Research Fund)
AMMAN — Jordanian women presented innovative projects in engineering, technology, business, medicine and fashion for a chance to win JD9,000 in funding at a seminar in Amman on Sunday.
The "Women Innovators in Charge" seminar was organised by the Applied Scientific Research Fund in cooperation with USAID, biotech company MonoJO and the US-based development organisation FHI 360.
Project Director Alaa Abu Leil said the seminar aimed to promote women's participation in innovative projects, and increase the number of companies run by women.
Shireen Nusair, a university professor, said her project to develop a breathalyser to detect cannabinoid JWH018 was inspired by a recent study that found over 2.4 per cent of school and university students use and sell drugs.
"Joker, for instance, is common among young people. It is cheap and available, according to the latest study by the crime and drug department," Nusair said. "I thought of something that can be a quick detector."
"Joker" is the street name in Jordan for synthetic cannabis.
Nusair's device ensures quick results, is non-invasive and could be easily used to detect drug use by motorists, for example, she said.
Civil engineer Lubna Baqain presented the "BIMensions" project, a construction management tool that can be customised to an individual project.
The 27-year-old and her teammates have been working on the project for around seven months, she told The Jordan Times.
"BIMensions is a building-information modelling system, reflecting 2D to 7D management techniques. It focuses on construction management tools to customise projects according to the local market," Baqain said.
Participant Khansa Essa from Irbid said her project focuses on treating wastewater using the magnetite technique to absorb heavy metals.
"The solution includes recycling wastewater to make it fit for industrial and agricultural purposes, or to create an absorbent that is safe, aimed at removing heavy metals from water, at the lowest cost possible," Essa explained
Eman Bushnaq used to work at a bank and had a hard time finding the correct business terms when managing projects.
She created MeemApp which offers a brief definition with each translated term.
Another participant, Rola Fayyad, presented her idea for an app that manages trips from every aspect.
"Friendture is an application for friends to create and manage their offline activities…. We're trying to eliminate the need to have multiple applications just to go out," she told The Jordan Times.
Users can find others with similar interests in their location and arrange outings through the app, Fayyad said.
Architect Maysoon Khreisat, creator of Adaa, a sustainable architecture consultancy, said her project aims to assist architecture consultants at small- and medium-sized companies in progressing from sketches to a sustainable energy resource.
"The project requires technical skills and knowledge, in addition to specialised software programmes and an understanding of the engineering sector over the years," she said.
Amal Hijazi, a member of the competition's jury panel, said the participants presented "impressive project ideas", voicing hope that more support would be provided to projects founded and organised by women entrepreneurs.
"In Jordan, we take pride in our people as the main resource we have. The participants today proved that people who innovate are the best source of new projects," she told The Jordan Times.
Entrepreneur Rami Karmi, who was also on the jury, said interesting models and prototypes were presented at the workshop.
"Today we are talking about women innovators in charge. I was impressed by the quality of projects presented," he told The Jordan Times.
Khreisat received the award for the engineering sector, while the health prize went to Sondos Samara, and the fund for financial innovation was awarded to Bushnaq.
Samara created "Sanady.me", a website to allow patients across the region to discuss the psychological consequences of chronic diseases confidentially and to talk about their problems freely.
Related Articles
May 08,2018
AMMAN — Youth development NGO INJAZ and the Canadian embassy in Amman on Sunday inaugurated the Launching Economic Achievement Programme for
May 18,2017
AMMAN — The World Economic Forum (WEF) on the Middle East and North Africa 2017 is an opportunity to discuss means of supporting innovation
Oct 17,2017
AMMAN — Five Jordanian women participating in the TechWomen 17, the biggest gathering for women in technology in the world, held in the US,
Newsletter
Get top stories and blog posts emailed to you each day.