You are here
12 Saudis killed in recent Yemen border fighting
By AFP - Feb 14,2017 - Last updated at Feb 14,2017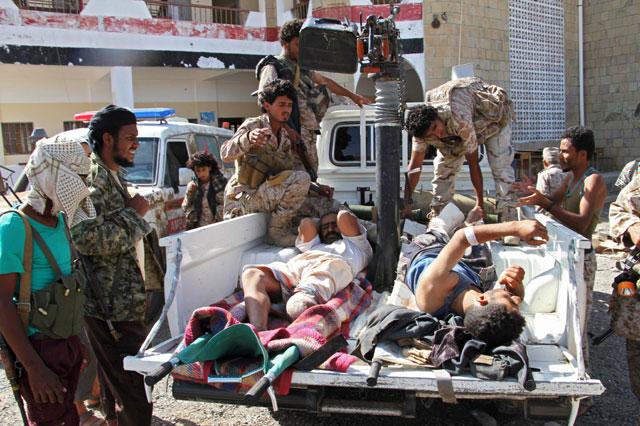 Fighters loyal to Yemeni president carry injured men onto the back of a pick-up truck in the western Yemeni coastal town of Mokha as they advance in a bid to try to drive the Shiite Houthi rebels away from the Red Sea coast on Saturday (AFP photo)
RIYADH — At least 12 Saudi soldiers have died on the southern border since early February, according to an unusual series of official reports released as the country fights Yemeni rebels.
In separate dispatches since February 5, the Saudi Press Agency (SPA) has carried photographs of funerals for the "martyrs" it said died "defending the southern borders."
The most recent report, published late on Monday, named Jaber Haroubi as the latest soldier to be killed.
SPA also quoted the father of another military casualty, Mohammed Al Manjahi, as saying he was proud of his son.
A Saudi-led coalition began air strikes over Yemen in March 2015 to support the internationally recognised government of President Abed Rabbo Mansour Hadi in the fight against Iran-backed Houthi rebels.
The Houthis, allied with former members of the security forces loyal to ex-president Ali Abdullah Saleh, have carried out retaliatory rocket strikes and engaged in firefights along the border.
They have also launched ballistic missiles further into the kingdom.
An earlier AFP tally of reports by the Saudi interior ministry and civil defence department found that at least 115 civilians and soldiers had been killed on the southern border since coalition operations began.
That total has now reached at least 127.
A Western diplomat told AFP last week that more than 100 members of the Saudi armed forces had likely been killed since the coalition intervened nearly two years ago.
The coalition's spokesman could not immediately be reached for comment on the tally.
Villages mourn
Official media have previously reported on funerals for dead troops.
But this month's series of dispatches, including photographs of slain soldiers' families bearing coffins, is unusual.
SPA said the Director of the Border Guards Awad Al Balwi last Wednesday paid tribute to two of his men killed in the Jazan region on the frontier.
"They were among the best," SPA said he told the dead men's families while conveying condolences in their villages.
The Saudi interior ministry regularly gives details of casualties among its Border Guard troops but other military services normally do not.
SPA on Monday reported that separate funeral prayers were held for five other soldiers killed on duty in the south.
There were no details of how they died.
The rebels' Almasirah television website said on Monday that insurgents killed an unspecified number of Saudi soldiers during an advance "towards the mountains surrounding Jazan".
The latest losses came as Yemeni government forces claimed full control of the Red Sea coastal town of Mokha on Friday and prepared a push further north into rebel-held territory.
Medical and military sources in Yemen on Monday reported renewed clashes in Mokha as well as the coastal town of Midi, which is just over the border from Jazan.
They reported eight rebels and three pro-government troops dead in fighting on Monday evening.
Six loyalist troops died on Tuesday when a coalition air strike hit their convoy north of Mokha in "error", a military source said.
The war in Yemen has left thousands dead and millions struggling to feed themselves, a toll which UN Secretary General Antonio Guterres said in Riyadh on Sunday left him heartbroken.
Seven ceasefires brokered between government and rebel forces by the UN have failed, while UN-backed peace talks have repeatedly broken down.
Related Articles
Dec 31,2015
RIYADH — A Bahraini fighter jet taking part in the Saudi-led coalition battling rebel forces in Yemen crashed Wednesday in Saudi Arabia due
Aug 25,2015
RIYADH — Three Saudi soldiers have been killed by artillery fire from Yemen, and another died when his patrol vehicle crashed along the bord
Jan 26,2017
ADEN — Yemeni rebels are putting up fierce resistance in a key Red Sea port city where they are encircled by pro-government forces, military