You are here
Egypt, Qatar at loggerheads over Morsi-era espionage case
By AP - Jun 20,2016 - Last updated at Jun 20,2016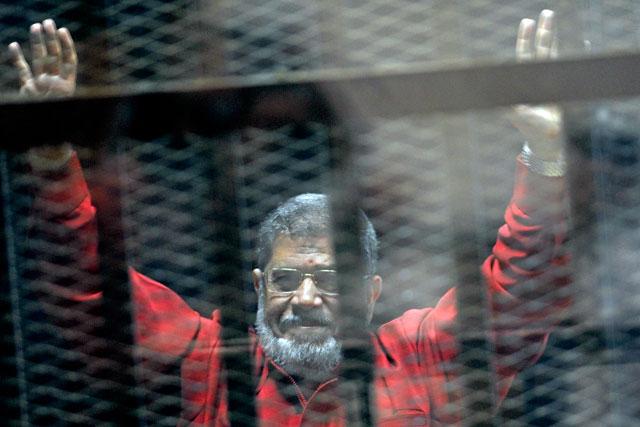 In this June 21, 2015 file photo, former Egyptian president Mohamed Morsi, wearing a red jumpsuit that designates he has been sentenced to death, raises his hands inside a defendants cage in a makeshift courtroom at the national police academy, in an eastern suburb of Cairo, Egypt (AP photo)
DUBAI — Regional adversaries Qatar and Egypt have renewed their animosity, trading harshly worded statements over the sentencing to death by a Cairo court of six people, including two Al Jazeera employees, for allegedly passing Egyptian documents related to national security to Qatar and the Doha-based TV network during the rule of president Mohamed Morsi.
Relations between Egypt and Qatar have been fraught with tension and suspicion since the ouster by the military in 2013 of Islamist Morsi, who enjoyed the support of the tiny but super-rich Gulf nation throughout his one year in office. Egypt claims that Qatar endangers its national security by supporting Islamist groups, including Morsi's Muslim Brotherhood, which is now banned in Egypt and has been declared a terrorist group by the government.
Cairo also accuses the Doha-based Al Jazeera network of bias in favour of the Brotherhood and other Islamist groups.
Saturday's verdicts, which can be appealed, have further enflamed tensions between the two countries.
In a statement on Qatar's state news agency late Saturday, the foreign ministry said the verdicts lacked a "proper sense of justice" and did not help in consolidating ties between the two countries.
"The verdict is unfounded, goes against truth and contains misleading claims," said Ahmed Al Rumaihi, who heads the information office at the foreign ministry. He said the charge of espionage involving Qatar is both "surprising and unacceptable".
Egypt's foreign ministry fired back, saying the country's judiciary was independent and professional.
Spokesman Ahmed Abu Zeid also said it was not surprising to see such comments from a government that had "devoted resources and efforts over the past years to mobilise its media mouthpieces to be hostile to the people of Egypt and its state and institutions".
The case involved a total of 11 defendants, of whom seven, including Morsi, are in custody.
Morsi, the top defendant, and two of his aides were sentenced to 25 years in prison for membership in the Brotherhood but were acquitted of espionage, a capital offence. Morsi and his secretary, Amin El Sirafy, each received an additional 15-year sentence for leaking official documents. El-Sirafy's daughter, Karima, was also sentenced to 15 years on the same charge.
Egypt's first freely elected leader, Morsi has already been sentenced to death. That death sentence and another two — life and 20 years in prison — are under appeal.
Former Al Jazeera news producer Alaa Omar Mohammed and former director of news Ibrahim Mohammed Hilal were sentenced to death in absentia along with Asmaa Al Khateib, who worked for Rasd, a media network widely suspected of links to the Brotherhood. Others sentenced to death include a documentary producer, an EgyptAir employee and an academic.
The verdicts drew widespread criticism from rights groups, including Amnesty International, which described the outcome as "appalling". Al Jazeera condemned the verdicts, saying they were part of a "ruthless" campaign against freedom of expression, and called on the international community to show solidarity with the journalists.
Related Articles
Aug 28,2014
Egypt's ousted and jailed Islamist President Mohamed Morsi refused to answer a prosecutor's questions about allegations that he leaked classified documents — some related to the army's budget — to Qatar via the Doha-based Al Jazeera broadcaster, Egypt's official news agency reported Thursday.
May 07,2016
CAIRO — An Egyptian court on Saturday recommended the death penalty for three journalists and three others charged with endangering national
Apr 23,2016
CAIRO — An Egyptian court postponed on Saturday its verdict and sentence in the trial of ousted Islamist president Mohamed Morsi, who is cha
Newsletter
Get top stories and blog posts emailed to you each day.