You are here
Israel nuclear reactor defects spark secrecy dilemma
By AFP - Apr 28,2016 - Last updated at Apr 28,2016
This file photo taken on September 8, 2002, shows a partial view of the Dimona nuclear power plant in the southern Israeli Negev Desert (AFP photo)
OCCUPIED JERUSALEM — Growing safety fears surrounding Israel's largest but ageing atomic research centre have provoked fresh questions over its future and a dilemma over the secrecy of the country's alleged nuclear arsenal.
Israel, believed to be the Middle East's sole nuclear power, has long refused to confirm or deny that it has such weapons.
The Haaretz newspaper reported on Tuesday that a study had uncovered 1,537 defects in the decades-old aluminium core of the Dimona nuclear reactor in the Negev desert of southern Israel.
The defects at the centre, where nuclear weapons were allegedly developed, were not seen to be severe and the risk of a nuclear outbreak is very limited, the report said.
However, there are growing calls for new safeguards and even a new research centre — which could present the country with a decision on whether to acknowledge for the first time that it has nuclear weapons.
The US-based Institute for Science and International Security estimated in 2015 that Israel had 115 nuclear warheads.
At the same time Israel has strongly opposed other regional powers, most notably its archfoe Iran, obtaining nuclear weapons.
Israeli Prime Minister Benjamin Netanyahu was also one of the most vociferous critics of the nuclear deal between Iran and world powers that was implemented in January, leading to the lifting of international sanctions on Tehran.
Officially the Dimona centre focuses on research and energy provision.
But in the 1980s nuclear whistle-blower Mordechai Vanunu, a former technician at the centre, alleged to a British newspaper that it was also used to create nuclear weapons.
He was later jailed for 18 years for the revelations.
'Waiting for disaster'
The core of the Dimona reactor was provided by France in the late 1950s and went online a few years later.
Common practice is that such reactors are used for only 40 years, though this can be extended with modifications.
Uzi Even, a chemistry professor at Tel Aviv University who was involved in the creation of the reactor, is concerned about the safety of the site and has campaigned for a decade for it to be closed — "so far, to no avail".
He called for it to be shut off for security reasons. "This reactor is now one of the oldest still operating globally," he said.
Michal Rozin, a lawmaker with the left-wing Meretz Party, has called for a radical shakeup in policy in the light of the safety worries.
"The nuclear reactor has no supervision besides the body that runs it, the Israel Atomic Energy Commission," she wrote in a letter, seen by AFP, to the parliamentary foreign and defence committee.
"We don't need to wait for a disaster to make a change."
Israel's atomic energy agency said in a statement that the country had the "highest international standards" of security and safety, adding that many reactors can last for far longer than 40 years.
'Political matter'
While a challenge, safely closing a nuclear reactor and opening a new one is far from impossible, Arthur Motta, chair of Nuclear Engineering at Pennsylvania State University, told AFP.
"Technically it is not a difficult problem," he said. "Nuclear energy is so dense, the volume of a reactor that provides a whole city with energy is just [the size of] a building."
"It is more a political matter."
And there are a number of political reasons why the site has remained open, not least the thousands of jobs at risk, Even said.
Building a new site could also see Israel pushed to officially declare its nuclear capabilities.
While Israel is widely believed to have nuclear weapons, officials do not formally confirm or deny the claims — a policy often dubbed deliberate ambiguity.
As such, the country has yet to sign the Nuclear Non-Proliferation Treaty — which would require its sites to undergo regular inspection of its facilities by the International Atomic Energy Agency (IAEA), Motta explained. The IAEA declined to comment.
"I don't think we have the capability to build a new reactor [alone]," Even said. "And no one will sell us a reactor before we sign the non-proliferation agreement."
Writing in the Israeli daily Ma'ariv, investigative journalist and security specialist Yossi Melman called it a "strategic dilemma of the first order".
"If it were to sign the treaty [Israel] would be able to obtain nuclear reactors."
"But it would also have to declare and reveal what it has, nuclear-wise, and the monopoly it allegedly has on this in the Middle East."
Related Articles
Nov 21,2015
DUBAI — Six world powers will help Iran redesign its Arak heavy water reactor so that it cannot produce weapons-grade plutonium, according t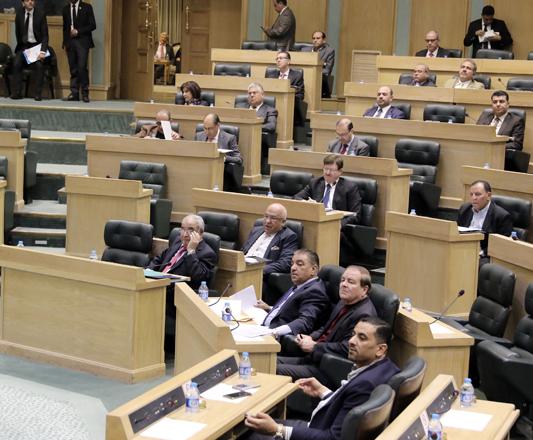 Apr 05,2017
AMMAN — Allegations of leaks from Israel's Dimona nuclear reactor were raised during a Lower House oversight session on Tuesday. MPs en
Apr 02,2015
After marathon negotiations, the United States, Iran and five other world powers announced a deal Thursday outlining limits on Iran's nuclear programme so it cannot lead to atomic weapons, directing negotiators toward a comprehensive agreement within three months.
Newsletter
Get top stories and blog posts emailed to you each day.