You are here
Israeli NGOs allege routine abuse of Palestinian detainees
By AFP - Feb 25,2016 - Last updated at Feb 25,2016
A Palestinian teacher leads a class of Palestinian bedouin children from the Abu Anwar community near the Jewish settlement of Maale Adumim (background), in the West Bank city of Al Azariya, east of Jerusalem, on Wednesday (AFP photo)
OCCUPIED JERUSALEM — Israel's Shin Bet domestic security agency abuses Palestinians under interrogation in a manner so systematic it points to official endorsement, two Israeli NGOs said in a report published on Wednesday.
The 70-page joint study by rights groups B'Tselem and Hamoked is based on accounts by 116 suspects interrogated at Shikma prison in the southern Israeli city of Ashkelon between August 2013 and March 2014.
The report, a third in a series on interrogations of Palestinians, said there are marked similarities with other facilities.
"Time and again, the detainees interviewed described unlawful conduct by the authorities," said the report, entitled "Backed by the System".
"The descriptions bear a striking resemblance to accounts previously provided by detainees held at other interrogation facilities. Taken together, it would seem that this conduct constitutes official interrogation policy."
The Shin Bet called the data in the report "misleading and distorted", and said in a statement that all its interrogations were carried out "in accordance with the law and to prevent activities aimed at harming the security of the state".
The report said that practises in the Shin Bet detention block at Shikma included sleep deprivation for long periods, being bound hand and foot to a chair for hours on end and exposure to extreme cold and heat.
"Being denied the possibility to shower or change clothes for days and even weeks; incarceration in a small, foul-smelling cell, usually in solitary confinement, for many days...are some of the standard features," it added.
A 1999 ruling by Israel's high court of justice forbade interrogators to use violence during interrogations except in the case of a "ticking bomb" when measured physical pressure could be used, but the report accuses the Shin Bet of torture.
"The combination of conditions both in and outside the interrogation room constitutes abuse and inhuman, degrading treatment, at times even amounting to torture," it read.
The report also noted that 39 of the Palestinians interrogated by Israel had been arrested and tortured by the Palestinian Authority prior to their interrogation at Shikma.
Some of them said that the questioning by Israeli agents implied that the PA had shared its information with the Shin Bet.
Daniel Shenhar, who was part of the team that compiled the report, lamented the lack of response of Israeli legal authorities to the allegations arising from the testimonies.
"No investigations lead to no accountability, and de facto immunity to investigators and human rights breachers," he told reporters.
Related Articles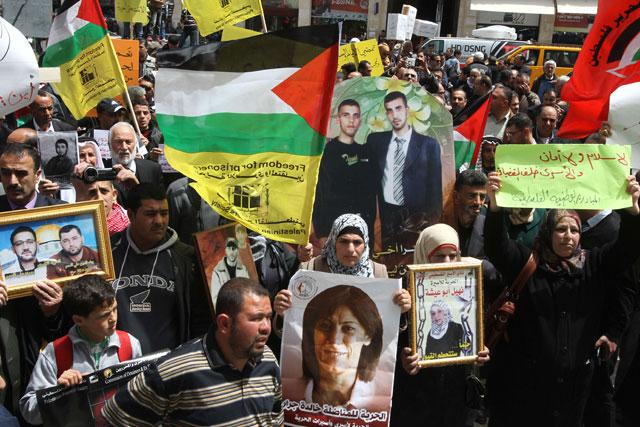 Apr 15,2015
Israeli security forces arrested 29 Hamas activists overnight during a major sweep in the northern West Bank, the army said on Wednesday.
Feb 06,2016
OCCUPIED JERUSALEM — Palestinian journalist Mohammed Al Qiq will keep up his hunger strike despite Israel's suspension of a detention withou
Jun 13,2016
OCCUPIED JERUSALEM — Israel has extended the detention without trial of Palestinian clown Mohammad Abu Sakha for another six months, his cir
Newsletter
Get top stories and blog posts emailed to you each day.