You are here
Jewish extremists suspected in West Bank village fire — NGO
By AFP - Aug 13,2015 - Last updated at Aug 13,2015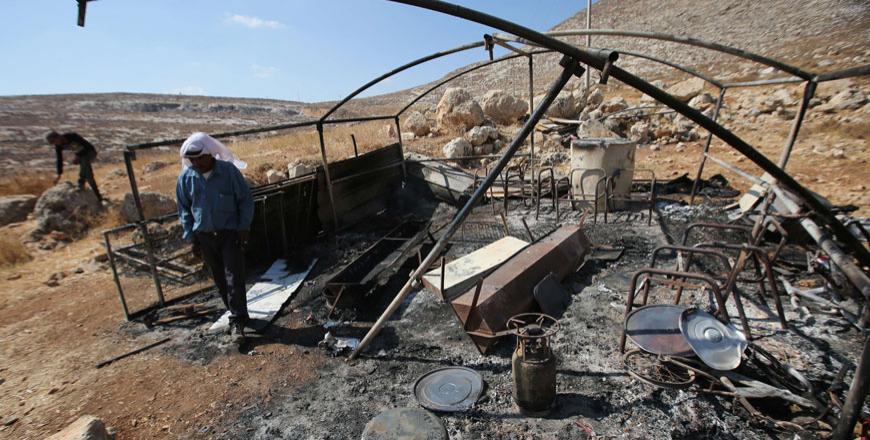 A Palestinian bedouin checks a torched tent in Ein Samiya, a village in the Israeli-occupied West Bank, on Thursday after a reported attack by Jewish extremists during which they also sprayed graffiti in Hebrew reading, 'administrative revenge' (AFP photo)
EIN SAMIYA, Palestinian Territories — A tent was torched and Hebrew-language graffiti was sprayed Thursday at a Palestinian bedouin village in the occupied West Bank in what residents and an NGO said was a suspected attack by Jewish extremists.
Villagers and Israeli NGO Rabbis for Human Rights said no one was inside the tent, which was housing food for livestock.
Graffiti sprayed in red paint read "administrative revenge" alongside a crudely drawn Star of David. Villagers blamed the attack on Israeli settlers and said the fire occurred at around 3:00 am.
Ayed Kaabneh said 10 people usually slept in the tent, which belonged to his cousin.
"Fortunately, three days ago because of the heat they went up (the mountain)," he said as he examined the charred remains.
Another resident said the assailants fled when a villager awoke and started shouting.
Israeli forces said in a statement that they had received a report on the graffiti and were investigating but did not immediately confirm any arson attack.
The graffiti seemed to refer to the internment without charge — known as administrative detention — of three alleged Jewish extremists following a July 31 arson attack in the West Bank village of Duma that killed 18-month-old Palestinian Ali Saad Dawabsheh and his father Saad.
The suspects have not been publicly accused of the Duma firebombing, but of unspecified links to a "Jewish extremist organisation".
The village hit by the overnight fire is located near a wildcat Jewish settlement outpost where Israeli forces detained several people at the weekend in raids linked to the firebombing. Those detained were later released.
Three other Israelis were detained on Thursday for questioning related to criminal acts in the West Bank, Israeli forces said. They were held in a settlement outpost near the village where the firebombing occurred.
There has been a series of nationalist hate crimes, known as "price-tag" attacks, by suspected Jewish extremists.
Extremists in the past warned that there would be a price to pay for any action by Israeli authorities they regard as hostile to the Jewish settlement movement or to far-right religious beliefs.
Related Articles
Sep 07,2015
DUMA, Palestinian Territories — The mother of a Palestinian child killed when their family home was firebombed was buried Monday after dying
Aug 10,2015
OCCUPIED JERUSALEM — Israel has released all suspects detained in raids as part of a probe into the firebombing of a Palestinian home that k
Aug 09,2015
OCCUPIED JERUSALEM — Israel arrested several suspects Sunday in raids linked to the deadly firebombing of a Palestinian home and placed two