You are here
Libya orders 8 officials arrested after flood disaster
Officials are suspected of 'bad management'
By AFP - Sep 25,2023 - Last updated at Sep 25,2023
A boy watches as rescue teams search through the rubble in the eastern city of Soussa on Thursday, following deadly flash floods (AFP photo)
TRIPOLI — Libya's prosecutor general has ordered the arrest of eight officials as part of his inquiry into the recent flood disaster that killed thousands, his office said on Monday.
The flash flood, which witnesses likened to a tsunami, broke through two ageing dams on September 10 after a hurricane-strength storm lashed the area around Derna, a port city in Libya's east.
The officials are suspected of "bad management" and negligence, among other offences, a statement from the prosecutor general's office said, adding that seven of them served currently or previously in offices responsible for water resources and dam management.
"The mistakes that they made" and their "negligence in the matter of disaster prevention" contributed to the catastrophe, the statement charged.
Derna's mayor Abdulmonem Al Ghaithi, sacked after the flood, is among the detainees.
Almost 3,900 people died in the disaster, according to the latest official toll, and international aid groups have said 10,000 or more people may be missing.
After opening a probe, Libya's Prosecutor General Al Seddik Al Sur said more than a week ago that the two dams upstream from Derna had been cracked since 1998.
Years of conflict
But repairs begun by a Turkish company in 2010 were suspended after a few months when Libya's 2011 revolution flared, and the work never resumed, the prosecutor said, vowing to deal firmly with those responsible.
According to his office, the investigation is focused on a dam maintenance contract reached between the Turkish firm and Libya's water department.
Libya is now divided between an internationally-recognised Tripoli-based administration in the west, to which Sur belongs, and another in the flood-struck east backed by military strongman Khalifa Haftar.
Eastern forces years ago launched a failed assault on the capital which ended in a 2020 ceasefire. Since then a period of relative stability has held and allowed war-ravaged Libya to try to rebuild.
After the flood, hundreds of protesters rallied in Derna on September 18, accusing eastern authorities of neglect and calling for "a speedy investigation and legal action" against those responsible for the disaster.
Protesters later torched the home of Derna's mayor, Ghaithi, and the eastern administration dissolved Derna's municipal council.
'Abuse of power'
The prosecutor general's statement said the mayor is suspected of "abuse of power and bad management of funds allocated to city development".
Politicians and analysts say the chaos in Libya since 2011 has left much of its vital infrastructure dilapidated.
The first dam to collapse in the disaster was the Abu Mansur dam, 13 kilometres from Derna, whose reservoir held 22.5 million cubic metres of water.
The deluge then broke Al Bilad, the second dam, which had a capacity of 1.5 million cubic metres and is just a kilometre from the coastal city.
The wall of water and debris swept through the normally dry riverbed or wadi that cuts through the city centre.
Both dams were built by a Yugoslav company in the 1970s, "not to collect water but to protect Derna from floods", Sour said earlier.
In a 2021 report from the Libyan audit bureau, officials criticised "procrastination" on resuming repair work at the two dams.
In November 2022, engineer and academic Abdel Wanis Ashour warned in a study that a "catastrophe" threatened Derna if authorities did not carry out maintenance on the dams.
Related Articles
Sep 22,2023
DERNA, Libya — Libya's flood disaster, which killed thousands in the city of Derna, also displaced more than 43,000 people, the Internationa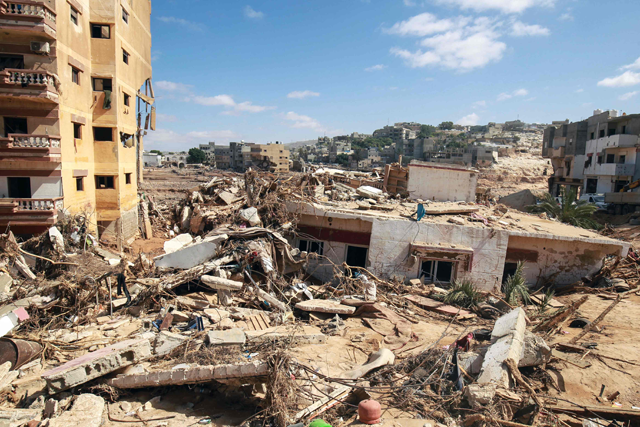 Sep 16,2023
DERNA, Libya — Shipments of international aid began to arrive in Libya on Saturday, offering a lifeline to thousands despite dwindling hopes
Sep 12,2023
BENGHAZI, Libya - At least 2,300 people were killed in Libya and thousands more were reported missing after catastrophic flash floods broke