You are here
Mattis in Oman to meet with Sultan Qaboos
By AFP - Mar 11,2018 - Last updated at Mar 11,2018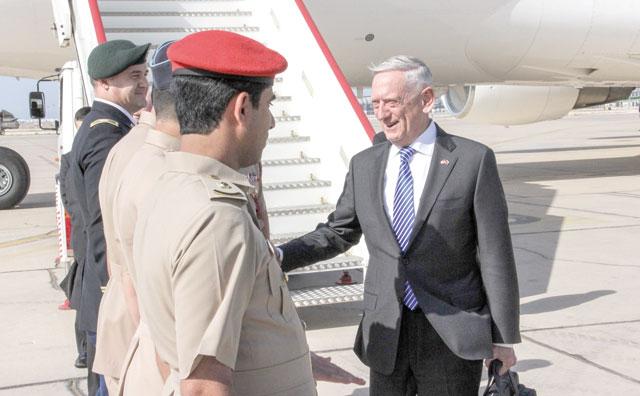 US Secretary for Defence Jim Mattis (right) shakes hands with Omani officials upon his arrival in the capital Muscat on Sunday (AFP photo)
MUSCAT — US Defence Secretary Jim Mattis arrived in Oman on Sunday ahead of a meeting with Sultan Qaboos to discuss ongoing security concerns, including the situation in neighbouring Yemen.
Mattis's visit, his first as Pentagon chief, comes amid regional strains over the Yemen conflict and a diplomatic rift between Qatar and a bloc of countries led by Saudi Arabia.
"The unity of the [Gulf Cooperation Council] has been strained, to put it mildly, so I am also wanting to hear what the sultan says can be done about that, as well as the situation on his border in Yemen with the various factions that are fighting there and certainly the civil war," Mattis told reporters accompanying him on the trip.
"The Gulf's cohesion is critical we believe to maintaining stability in the region."
Qaboos, an elusive figure who is the longest-serving ruler in the Arab world, has kept a low profile on regional disputes, and has carved out a niche for Oman as a diplomatic back-channel, notably between the West and Iran.
Under Qaboos, Oman has maintained good ties with countries outside the six-country Gulf Cooperation Council bloc to which it belongs, including neighbouring Yemen.
In March 2015, the sultanate was the only GCC country not to join the Saudi-led coalition air war on Iran-backed Shiite rebels in Yemen, but also maintained solid relations with Riyadh.
Muscat hosted talks with Yemeni rebels towards resolving the war, as well as discussions between Iran and Western powers that led to a landmark July 2015 deal to curb the Islamic republic's nuclear programme.
Mattis is also slated to meet with Oman's defence minister on Monday and other senior Omani officials.
up
74 users have voted, including you.
Related Articles
Feb 15,2017
BEIRUT — Iranian President Hassan Rouhani said his country sought good relations with its Gulf Arab neighbours as he began a one-day trip to
Feb 14,2017
TEHRAN — Iranian President Hassan Rouhani is to visit Oman and Kuwait on Wednesday, state television reported, amid efforts by Kuwait to men
Aug 08,2015
DUBAI — The release of a French hostage held in Yemen with the help of Oman has once again highlighted the tiny sultanate's unique role as a
Newsletter
Get top stories and blog posts emailed to you each day.