You are here
Rival Libya factions agree on steps to end deadlock
By AFP - Dec 06,2015 - Last updated at Dec 06,2015
TUNIS — Libya's warring factions said Sunday they had reached an agreement on how to move forward on ending the country's political deadlock but it faces significant hurdles including approval by rival parliaments.
Delegates from the internationally recognised House of Representatives and the Tripoli-based General National Congress (GNC) had been holding secret talks, without the United Nations, in the suburbs of Tunis since Friday.
Officials said they reached a deal late on Saturday on a joint "declaration of principles" aimed at resolving a crisis that has endured since the 2011 overthrow of dictator Muammar Qadhafi.
"This is a historic moment the Libyans were waiting for, the Arabs were waiting for and the world was waiting for," Awad Mohammed Abdul Sadiq, the GNC's first deputy head, said at a press conference on Sunday.
Abdul Sadiq called on Libyans to support what he called "a historic opportunity".
"If this solution receives real Libyan support — from the people and institutions — we will surely arrive in no more than two weeks or a month to a solution to solve the political crisis," he said.
Amna Emtair from the GNC delegation told AFP the agreement would set up a new representative body that would choose a committee to nominate a prime minister within 15 days, while another committee would conduct a review of Libya's constitution.
"It is a major breakthrough," Emtair said.
The agreed document, a copy of which AFP obtained, states that the prime minister is to have two deputies — one from each rival authority.
The proposal is likely to face difficulty being approved by the rival parliaments, with some lawmakers saying they were not even aware it was being negotiated.
Essam Al Jihani, a lawmaker with the internationally recognised parliament, told AFP there had been no discussion during its sessions about sending a delegation to Tunis.
"What happened does not represent the House of Representatives," he said.
'Train has left station'
Libya descended into chaos after the October 2011 ouster and killing of longtime dictator Qadhafi, with two governments vying for power and armed groups battling for control of its vast energy resources.
A militia alliance including Islamists overran Tripoli in August 2014, establishing a rival government and a parliament that forced the internationally recognised administration to flee to the country's remote east.
Veteran German diplomat Martin Kobler last month became UN special envoy for Libya, taking on his predecessor Bernardino Leon's task of brokering an agreement between Libya's rival authorities to form a national unity government.
Kobler on Sunday stressed that the UN-brokered Libyan Political Agreement was the only way towards peace in Libya.
"The country needs peace in unity, it is divided now," he was quoted by his office as telling Al Jazeera. "It is now time for a rapid endorsement of the Libyan Political Agreement, the train has left the station."
After almost a year of arduous negotiations, Leon in early October proposed a power-sharing deal under which Libya would be governed by a nine-member presidential council made up of a prime minister, five deputy premiers and three senior ministers.
But lawmakers from the internationally recognised parliament and its Tripoli-based rival balked at the deal and the names put forward.
The latest announcement comes as experts and sources in Libya say that the Daesh terror group has strengthened its grip in its Libyan stronghold Sirte.
Daesh first appeared in Libya in 2014 when a group of Libyan Daesh militants returned from Syria and reorganised in the port city of Derna, declaring eastern Libya to be a province of the "caliphate".
Italian Foreign Minister Paolo Gentiloni said Wednesday that Rome would host an international conference on Libya on December 13 aimed at stopping the country from falling apart and containing Daesh.
NATO chief Jens Stoltenberg said in an interview published just hours before the announcement out of Tunisia Sunday that the alliance was ready to help a future national unity government in Libya.
But NATO, which backed the anti-Qadhafi uprising with air strikes, is "not discussing a major new military operation in Libya, and I will not be recommending it", Stoltenberg told Italy's Repubblica and several other European newspapers.
up
4 users have voted, including you.
Related Articles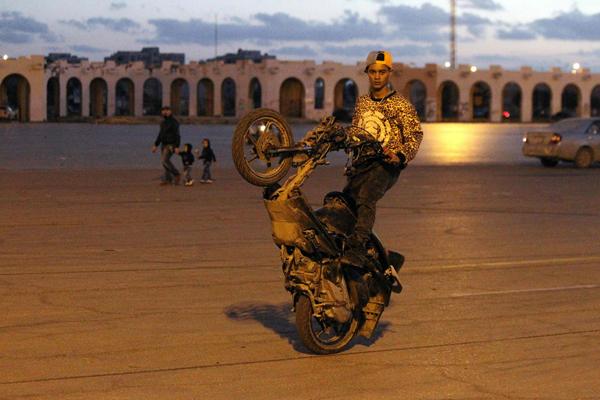 Feb 03,2016
TRIPOLI — Libya's unrecognised Islamist-backed parliament on Tuesday dismissed 10 lawmakers who signed a UN-brokered deal to set up a nation
Dec 20,2015
TRIPOLI — UN envoy Martin Kobler said on Sunday his team is in contact with security officials in Tripoli to ensure that Libya's new unity g
Dec 07,2015
TRIPOLI — An agreement towards ending strife-torn Libya's long political crisis has been hailed as a breakthrough but does not address key i
Newsletter
Get top stories and blog posts emailed to you each day.