You are here
Turkey enters Syria to halt Kurds — analysts
By AFP - Aug 25,2016 - Last updated at Aug 25,2016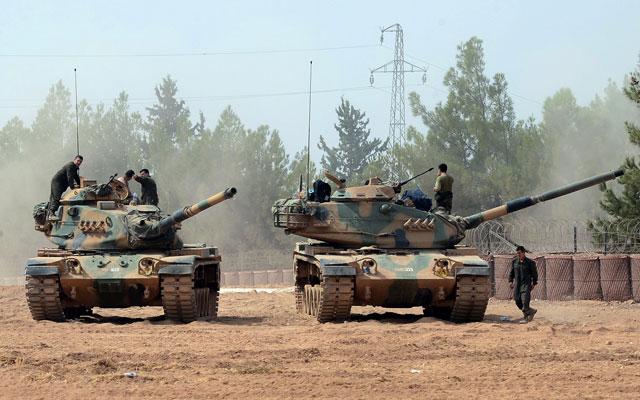 Turkish army tanks are stationed near the Syrian border in Karkamis, Turkey, Thursday (AP photo)
BEIRUT — Turkey's decision to send troops into Syria is a last-ditch bid to prevent the realisation of its worst nightmare: the creation of a "Syrian Kurdistan", analysts say.
On Wednesday, Ankara launched operation "Euphrates Shield", dispatching tanks and special forces to fight alongside pro-Turkish Syrian rebels to capture the town of Jarabulus from the Daesh terror group.
The extremist group abandoned the border town almost immediately, but experts said Ankara's operation was directed less at Daesh and more at preventing further advances by Syrian Kurdish forces that control large swathes of the Syria-Turkey border.
Turkey considers the Kurdish People's Protection Units (YPG) a branch of the Kurdistan Workers Party (PKK), which it deems a "terrorist" organisation, and it has long warned against the creation of an autonomous Kurdish region in northern Syria.
"The Kurdish issue now seems to be topping [Turkish President Recep Tayyip] Erdogan's list of priorities in Syria," wrote Aron Lund, a Syria expert with the Carnegie Endowment for International Peace.
"The prospect of an oil-funded and US-backed PKK statelet on its southern border is a nightmare for Ankara," he wrote.
Kurds, who make up about 15 per cent of Syria's population, have largely avoided fighting alongside either the government or opposition since the country's conflict began in March 2011.
Instead, they have focused on building semi-autonomous institutions, in March declaring a "federal region" composed of three "cantons" in north and northeast Syria.
Targeting Daesh and Kurds
Backed by the US-led coalition against Daesh, the YPG has battled the jihadist group to secure territory equal to 18 percent of Syria, home to some two million people, about 60 per cent of them Kurdish.
But two of its "cantons" remain separated from the third by territory under Daesh control, and Turkey has warned it would not allow advances by the YPG to create a single contiguous entity.
That ultimatum was put to the test by the June 23 capture of Manbij by the Syrian Democratic Forces (SDF), a US-backed coalition of Arab fighters and the YPG.
After the success, the Kurds announced their plan to advance on the Daesh-held town of Al Bab in a bid to link the cantons of Kobane and Afrin.
"What is obvious that SDF's liberating Manbij bothered Turkey very much and since then they were in some efforts to counter that move," said Kurdish affairs analyst Mutlu Civiroglu.
"If IS [Daesh] was really the target, Turkey should have done an operation a long time ago because IS has been controlling the city for a long time," he told AFP.
Turkey's intervention serves more than one purpose, said Aaron Stein of the Atlantic Council's Rafik Hariri Centre for the Middle East.
"The Jarabulus plan achieves two interrelated goals: it pushes Daesh from your border, while denying Kurds the freedom to take Jarabulus and link up with Afrin," said Stein.
Civiroglu said he did not expect Turkey's intervention to halt Kurdish ambitions, and YPG spokesman Redur Xelil said Ankara had no right to intervene.
"The YPG are Syrians and the Turks cannot impose restrictions on the movement of Syrians on their land," said Xelil
Regime ambivalent
Turkey has been a staunch backer of the Syrian opposition since the uprising against President Bashar Assad began in 2011.
But Civiroglu said Ankara could count on relative ambivalence from Damascus now because Assad's government views "Kurds as threat, and Kurdish gains... have bothered them deeply."
"They know that except for a 'symbolic condemnation' there will be no reaction from Assad," he added.
Fabrice Balanche, a Syria expert at the Washington Institute think tank, said Turkey would have to go further if it wanted to prevent the Kurds from creating contiguous territory.
"The Kurds can still connect Afrin to Manbij by a small corridor if they take the town of Al Bab from Daesh," he said.
"The capture of Jarabulus will not prevent the connection of the cantons unless Turkey sends its tanks further south to Al Bab," he told AFP.
But he added that Assad ally Russia, which has recently patched up relations with Turkey, was unlikely to bless such an operation.
Stein said Turkey's force inside Syria remained small "so it appears, for now, there are no plans to take more territory".
Washington has also warned the Kurds against pushing west.
"The YPG could push for Al Bab, but it is unclear if they would do so without US air support," Stein said.
Related Articles
Feb 23,2017
ISTANBUL — The Syrian town of Al Bab was for three years a key extremist stronghold in northern Syria, whose capture Ankara hopes will give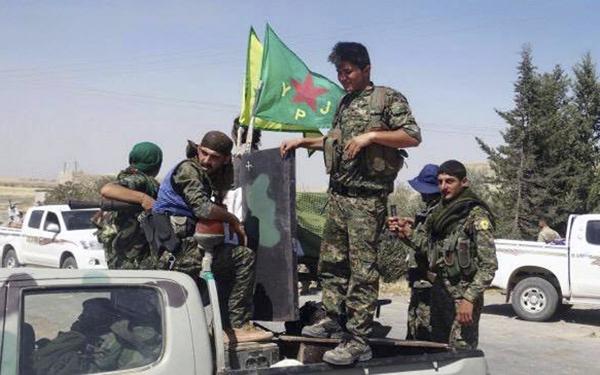 Oct 22,2016
ANKARA — Turkey hit Kurdish militia targets in northern Syria for the second time in less than 72 hours, the military said on Saturday, as A
Feb 23,2017
AL BAB, Syria — Turkish-backed Syrian rebels said on Thursday they had fully captured the town of Al Bab from the Daesh terror group, markin
Newsletter
Get top stories and blog posts emailed to you each day.