You are here
Turkey says some Muslim countries did not reply to summit invitation
By Thomson Reuters Foundation - Dec 12,2017 - Last updated at Dec 12,2017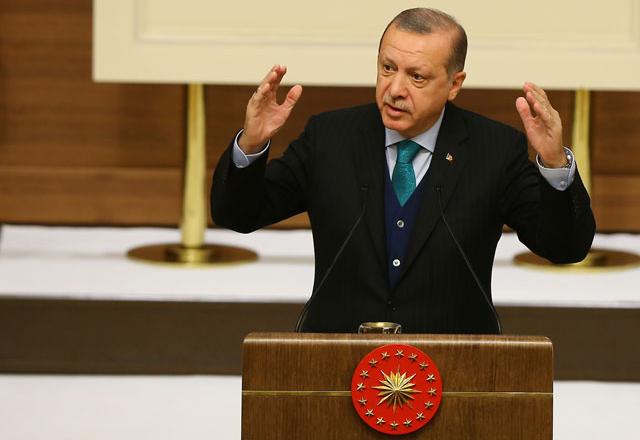 Turkish President Recep Tayyip Erdogan makes a speech during Turkish Academy of Science, TUBA, awards at presidential complex in Ankara, Turkey, on Tuesday (Anadolu Agency)
ANKARA/ISTANBUL — Turkey criticised what it said was a feeble Arab reaction to the US decision to recognise Jerusalem as Israel's capital, saying on the eve of Wednesday's Muslim summit in Istanbul that some Arab countries were scared of angering Washington.
President Recep Tayyip Erdogan, who has accused the United States of ignoring Palestinian claims to Israeli-occupied East Jerusalem and "trampling on international law", has invited leaders from more than 50 Muslim countries to agree to a response.
Jerusalem, revered by Jews, Christians and Muslims alike, is home to Islam's third holiest site and has been at the heart of Israeli-Palestinian conflict for decades.
US President Donald Trump's announcement last week recognising the city as Israel's capital angered many Muslim countries, but few governments have matched Turkey's warning that it would plunge the world "into a fire with no end".
Several countries had still not said who they would send to Istanbul, a Turkish minister said.
"Some Arab countries have shown very weak responses [on Jerusalem]," Foreign Minister Mevlut Cavusoglu said. "It seems some countries are very timid of the United States."
He said Egypt and the United Arab Emirates would send foreign ministers while Saudi Arabia had yet to say how it would participate. All three countries have delicate ties with Turkey, seeing links between the policies of Erdogan's Islamist-rooted ruling AK Party and regional Islamist movements they oppose.
Other countries had also not said who they would send, Cavusoglu said, adding that the meeting of Organisation of Islamic Cooperation countries must stand up to what he called Washington's "I am a super power, I can do anything" mentality.
"We will make a call for countries that have so far not recognised Palestine to do so now," he said. "We want the United States to turn back from its mistake."
Protests and clashes
Trump's announcement triggered days of protests across the Muslim world and clashes between Palestinians and Israeli security forces in the West Bank, Gaza and East Jerusalem.
Israel captured Arab East Jerusalem in the 1967 Middle East war and later annexed it, an action not recognised internationally.
On Monday, tens of thousands of demonstrators took to the streets in Beirut to protest at a march backed by Hizbollah, the heavily armed Iran-backed Shiite group whose leader called last week for a new Palestinian uprising against Israel.
Iranian President Hassan Rouhani, who is expected to attend the Istanbul summit, said his country supported a new uprising against Israel to "safeguard the Palestinian people's rights".
Rouhani said Muslim countries would "undoubtedly voice their protest to the world" at Wednesday's meeting.
The Trump administration says it remains committed to reaching peace between Israel and the Palestinians and its decision does not affect Jerusalem's future borders or status.
It says any credible future peace deal will place the Israeli capital in Jerusalem, and ditching old policies is needed to revive a peace process frozen since 2014.
up
27 users have voted, including you.
Related Articles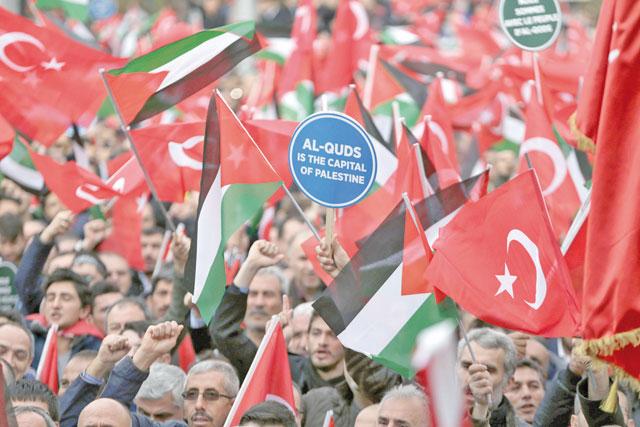 Dec 18,2017
ISTANBUL — President Recep Tayyip Erdogan expressed hope on Sunday that Turkey would soon be able to open an embassy to a Palestinian state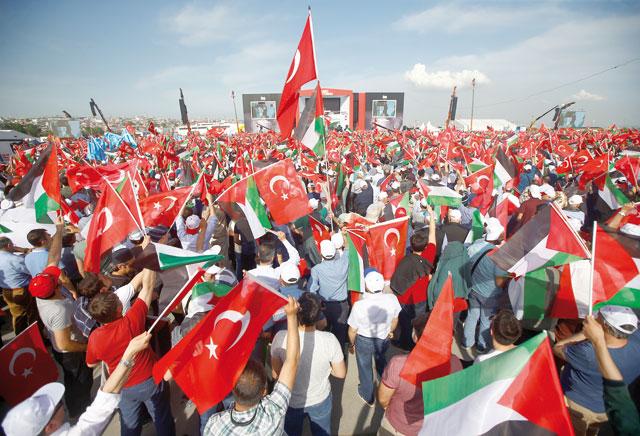 May 20,2018
ISTANBUL, Turkey — Turkish President Recep Tayyip Erdogan said on Friday he would raise the violence in Gaza at the United Nations General A
Dec 13,2017
ISTANBUL — Islamic leaders on Wednesday urged the world to recognise occupied East Jerusalem as the capital of Palestine, as Palestinian Pre
Newsletter
Get top stories and blog posts emailed to you each day.