You are here
UN sounds alarm over falling imports at crucial Yemen port
By AFP - Nov 27,2018 - Last updated at Nov 27,2018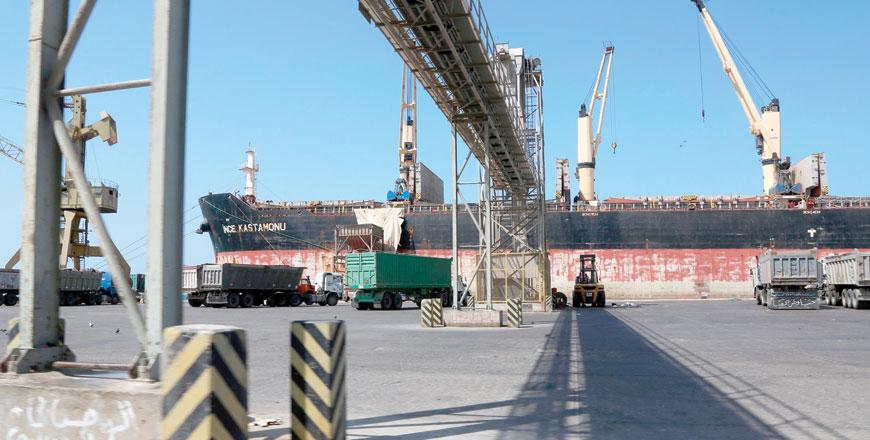 This photo taken on November 22 shows a partial view of the port of the Red Sea city of Hodeida (AFP photo)
GENEVA — Operations at the Yemeni port of Hodeida, a vital lifeline for the embattled country, have fallen by nearly 50 per cent over the past two weeks, the UN said Tuesday.
Yemen's Saudi-backed government had been waging a fierce offensive to retake the city of Hodeida from Iran-backed Houthi rebels.
Under heavy international pressure, pro-government forces suspended hostilities in Hodeida but the World Food Programme warned that imports had fallen substantially "because of the high levels of insecurity in the city".
"Operations at Hodeida Port have decreased by 47 per cent over the past two weeks," WFP spokesman Herve Verhoosel told reporters in Geneva.
"If this situation persists or further deteriorates, it would have [a] drastic impact on food availability and prices in the markets and [would make] it increasingly difficult for Yemeni families to afford their basic needs," he added.
The UN estimates that 70 per cent of all imports come through Hodeida, a port in western Yemen on the Red Sea.
Humanitarian shipments into Hodeida have remained steady over the past two weeks, but falling commercial imports could force more families to rely on food aid.
WFP is currently supporting some eight million people in Yemen, but another 20 million rely entirely on commercial food imports.
UN agencies say 14 million Yemenis are at risk of starvation.
According to the World Health Organisation, nearly 10,000 people have been killed since the Saudi-backed coalition launched an offensive against Houthi rebels in March 2015, though some rights groups estimate the toll could be five times higher.
Newsletter
Get top stories and blog posts emailed to you each day.