You are here
Jordan runners top Dead Sea Ultra Marathon
By Roufan Nahhas - Apr 04,2015 - Last updated at Apr 04,2015
DEAD SEA — Jordan runner Mithqal Abbadi clocked 2h58m19s in the ultra marathon 50km on Friday to reign over 7,000 runners and seal another win at the 22nd edition of the Porto Dead Sea Ultra Marathon.
After the marathon Abbadi expressed his happiness saying that it was a well organised event.
"The feeling was great and I enjoyed the marathon due to the challenge represented by other professional runners. It is so great to see the Jordanian society participate in the marathon which means that many members of the society understand the importance of living a healthy lifestyle through sports," he said.
Jordanian runners ruled the 50km ultra marathon with Yousef Hasan (3h03m27s) coming second, followed by Motasem Akkawi (3h04m35s).
Lina Kurd, Run Jordan deputy general manager, told The Jordan Times that it was a very successful family-themed event.
"We as Run Jordan are satisfied with the outcome of the event. We can confidently say that it was successful and entertaining for all participants. It was great to see runners representing all age groups taking part in the event and making their mark and in a way promoting healthy lifestyle by running," she said.
"The society is aware by engaging in various sport activities, including marathon, they are promoting and encouraging sports for a healthy living and fighting obesity. More than 7,000 runners from different countries and backgrounds carried a message of doing sport for a better life and we thank them for that and thank all sponsors and volunteers in addition to the media which is playing a big role in promoting our message," Kurd added.
Meanwhile, Fakhri Fouad, CEO of Porto Dead Sea, said: "Porto Dead Sea is committed to the cause of Run Jordan and we are privileged to be contributing to it through this community outreach activity, it also emphasises our vision of creating a vibrant destination."
A family oriented entertainment activity and fun programme accompanied the event held under the patronage of HH Prince Firas and organised by Run Jordan.
Deputising for the prince, HH Princess Dana Firas and Amman Mayor Aqel Biltaji presented trophies and awards to winners at a special ceremony held at the Amman Tourist Beach.
Marathon results:
Male overall 50km
Mithqal Abbadi 2:58:19
Yousef Hasan 3:03:27
Motasem Akkawi 3:04:35
Female overall 50km
Hanoia Hasaballa 3:38:36
Chris Peeters 4:01:59
Debbie Tai 4:26:51
Male overall 21km
Raafat Zboun 1:05:39
Ayman Saradi 1:05:51
Bashar Irheil 1:07:39
Female Overall 21km
Safaa Nemer 1:26:12
Amanda Marie 1:27:15
Naheda Ali 1:32:04
Male wheelchair 21km
Ali Sawalmeh 0:50:58
Mohamamd Abu Hasouna 1:02:14
Raad Kasaema 1:22:51
Visual Impaired Male 21km
Suhail Nashash 1:22:20
Male Overall 10km
Defalla Matar 0:30:42
Fabian Downs 0:31:14
Abdulla Dahamsheh 0:31:33 M
Female Overall 10km
Sojood Khatba 0:38:32
Sabreye AL Maradate 0:40:47
Hanan AL Maradate 0:43:25
Male wheelchair 10km
Mohammad Abu Hasoon 0:36:05
Bilal Abu Mansi 0:41:49
Ahmad Mahasneh 0:53:56
Visually impaired Male 10km
Nabeel Magableh 0:31:38
Abdel Rauoof Khateeb 0:42:26
Visually impaired Female 10km
Jumana Zoaby 01:20:17
Marwa Hamad 01:32:56 H
Male 21km age groups
(40-49) Mohammad Matary 01:20:13
(50-59) Riyad Banat 01:36:52
(60-69) Terry Cook 01:49:33
Female 21km age groups
(40-49) Jasicka Pender 02:05:28
Related Articles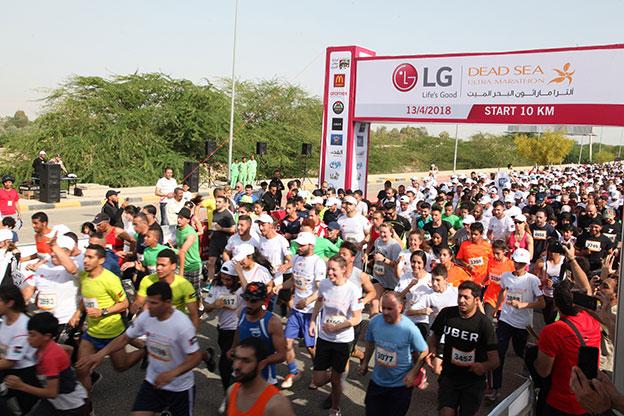 Apr 14,2018
AMMAN — The 24th edition of the LG Dead Sea Ultra Marathon concluded on Friday on a high note with Jordanian runners taking top positions in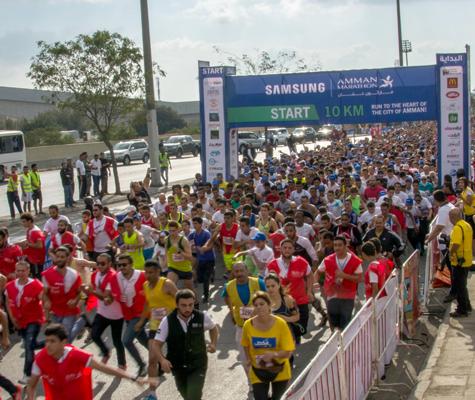 Oct 11,2015
AMMAN — The 7th edition of the Samsung Amman Marathon concluded on Friday with the participation of more than 8,000 runners from around the
Apr 05,2017
AMMAN – The LG Dead Sea Ultra Marathon Children's race kicks off on Friday at the King Hussein Park with the participation of hundreds of st
Newsletter
Get top stories and blog posts emailed to you each day.