You are here
EU's top diplomat 'encouraged' by Rohingya talks with Suu Kyi
China suggests resolving crisis through ceasefire, refugee repatriation and poverty alleviation
By AFP - Nov 20,2017 - Last updated at Nov 20,2017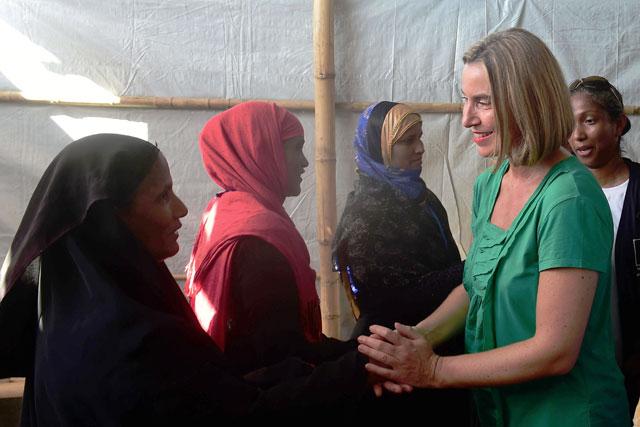 EU's foreign policy chief Federica Mogherini (right) shakes hand with Rohingya refugees at the Kutupalong refugee camp in the Bangladeshi district of Ukhia on Sunday (AFP photo)
YANGON — The EU's foreign policy chief on Monday hailed "extremely encouraging" talks with Myanmar's leader Aung San Suu Kyi on the Rohingya crisis, welcoming steps towards the repatriation of Muslims driven into Bangladesh.
Federica Mogherini joined a stream of diplomats to meet Suu Kyi in recent days as efforts intensify to resolve a crisis that has pushed 620,000 members of the Muslim minority into Bangladesh.
China has made a "three-phrase" proposal to resolve the crisis — involving a ceasefire, refugee repatriation and poverty alleviation — with a Beijing foreign ministry spokesman on Monday saying its plan had won approval of leaders in both Bangladesh and Myanmar.
China has pumped billions of dollars into both countries as it widens its regional infrastructure and trade networks.
But the increasing expressions of optimism appeared sharply at odds with the realities on the ground.
Deadly attacks by Rohingya militants in Myanmar's Rakhine state on August 25 sparked a massive backlash from security forces which the UN says may amount to "ethnic cleansing".
Rohingya refugees now in Bangladesh have described a campaign of rape, murder and arson by the army and militias.
Large numbers of Rohingya are still fleeing violence, fear and hunger in mainly Buddhist Myanmar every day.
Myanmar denies any abuse, saying it is ready and willing to take back refugees if they can "verify" they belong in Rakhine.
But rights groups say a speedy and safe repatriation of significant numbers is highly unlikely.
The EU's Mogherini, who visited refugee camps in Bangladesh's Cox's Bazar over the weekend, emerged from Monday's talks with Suu Kyi in a positive mood.
"I found it [the talks] extremely encouraging," she told reporters in Myanmar's capital Naypyidaw at a meeting of Asian and European foreign ministers.
"I am very much encouraged by the possibility — that I believe is real and concrete — of Myanmar and Bangladesh" reaching an agreement for the repatriation of refugees.
The two countries have agreed in principle to repatriate the refugees but have yet to strike a binding deal.
China plan
Nobel winner Aung San Suu Kyi has faced intense criticism outside Myanmar for her perceived failure to speak up for the Rohingya.
But visiting Naypyidaw on Monday, France's Foreign Minister Jean-Yves Le Drian praised her for "taking the initiative" to resolve the crisis.
The status of the Rohingya remains highly emotive in Myanmar, where they are denied citizenship and labelled "Bengalis", or illegal immigrants from Bangladesh. Few want them to return.
Rohingya villages have in any case been razed and rice fields commandeered or left to rot, raising major questions over what they could return to.
Hundreds of thousands of Rohingya, pushed out of Myanmar in several previous army-backed operations, have also yet to return despite decades-old repatriation deals with Bangladesh.
Safety is also an immediate concern, with reports emerging of the Rohingya still in Rakhine coming under intense pressure to flee.
Myanmar has found itself at odds with supporters of its democratic transition over its treatment of the Muslim minority.
Washington's top diplomat Rex Tillerson last week cited "credible" reports of atrocities since late August.
But Myanmar's diplomatic isolation has been eased by China, which has helped shield it from censure at the UN Security Council.
Beijing covets access to Myanmar's west coast for ports and pipelines including in Rakhine state, where Chinese businesses are spending billions of dollars.
The Chinese plan to end the crisis would start with a ceasefire in Rakhine "so that local residents can no longer be displaced", Chinese foreign ministry spokesman Lu Kang told a briefing in Beijing on Monday.
Related Articles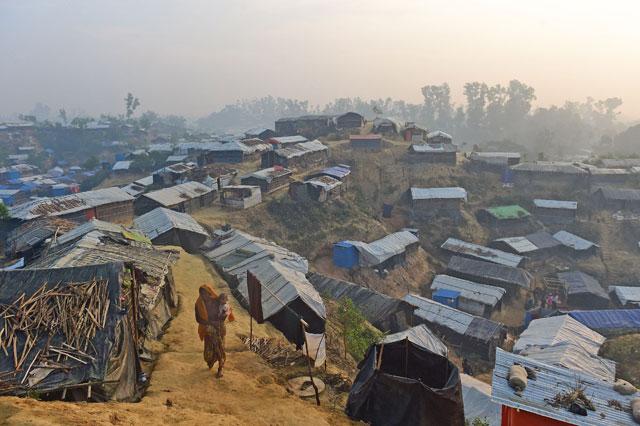 Nov 25,2017
DHAKA — Bangladesh and Myanmar have agreed to take help from the UN refugee agency to safely repatriate hundreds of thousands of Rohingya Mu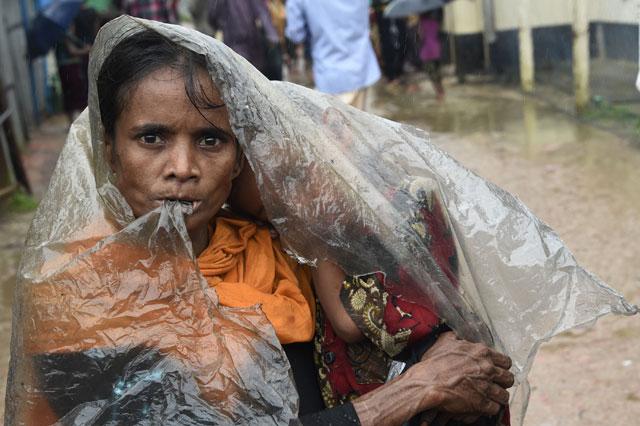 Sep 19,2017
NAYPYITAW — Myanmar leader Aung San Suu Kyi on Tuesday condemned human rights violations in Rakhine state and said violators would be punish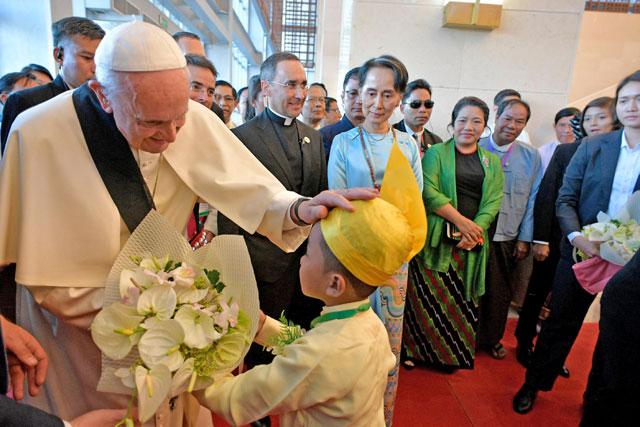 Nov 28,2017
NAYPYITAW — Pope Francis on Tuesday urged the leaders of majority-Buddhist Myanmar, mired in a crisis over the fate of Muslim Rohingya peopl
Newsletter
Get top stories and blog posts emailed to you each day.