You are here
Pakistan mourns 148 killed in Taliban school massacre
By AFP - Dec 17,2014 - Last updated at Dec 17,2014
PESHAWAR, Pakistan — Pakistan on Wednesday mourned 148 people — mostly children — killed by the Taliban in a school massacre that prompted global revulsion and put the government under new pressure to combat the scourge of militancy.
Across the country many schools closed as a mark of respect, while others held special prayers for those killed in Tuesday's bloodshed in the northwestern city of Peshawar.
The assault on an army-run school is the deadliest terror attack in Pakistan's history. It brought international condemnation as well as promises of a decisive crackdown on militants from political and military leaders.
Prime Minister Nawaz Sharif announced that a six-year moratorium on the death penalty would be lifted for those convicted of terror offences, while the army chief travelled to Kabul for talks on improving intelligence cooperation.
The Tehreek-e-Taliban Pakistan (TTP) claimed the attack, in which heavily armed militants rampaged through the school killing indiscriminately, as revenge for an ongoing military operation against their hideouts.
The six-month offensive against militants in North Waziristan has been hailed as a success by the army, but analysts warned that ending militancy would mean rooting extremist attitudes out of Pakistani society — a long and difficult task.
'Do not leave
a single one'
The army's main spokesman General Asim Bajwa told AFP the death toll from the attack had risen from 141 overnight to 148, including 132 students.
Schools, colleges, offices and markets were closed Wednesday across Khyber-Pakhtunkhwa, the northwestern province of which Peshawar is the capital and which has suffered the worst of the TTP's bloody seven-year insurgency.
Across the border in India, Prime Minister Narendra Modi put aside acrimony with Pakistan to ask schools to observe two minutes' silence to honour the dead.
Funerals were held for the victims, many of whose bodies were pulled from the school still wearing their smart green uniforms drenched in blood.
The worst of the bloodshed came in a large auditorium where hundreds of teenage students were attending a lecture. Around 100 bodies were found there, the army said.
Books, ties, sweaters, notepads and spectacles lay scattered amid pools of blood, the walls pockmarked with bullet holes.
Survivor Ahmad Faraz, 14, described the carnage.
"There were kids under the desks. One gunman spoke and the other replied: 'Do not leave a single one alive'," Faraz told AFP from hospital.
"And then they begin killing us one by one, under the desks and under the benches. I was watching them with one eye and one came closer to me, it was like a nightmare."
"He shot me in the shoulder and I thought 'This is the end'. Then he turned to another desk. I heard the screaming with every bullet they fired."
Poisonous ideology
The attack has caused revulsion even in a country as inured to violence as Pakistan and major political leaders met in Peshawar to discuss the response to Tuesday's attack.
Sharif, reading a joint statement, said they "vowed to continue this war with all our strength until elimination of the last terrorist from this land".
But previous terror attacks have also been hailed as watershed moments and drawn promises of action, only to be followed by more violence.
"Vows to crush militancy in the aftermath of a massive attack are quite meaningless," leading English daily Dawn said in an editorial.
"Military operations... amount to little more than firefighting unless there's an attempt to attack the ideological roots of militancy."
Analyst Raza Rumi, a journalist and senior fellow at the United States Institute of Peace, warned that ending militancy would mean also putting an end to attitudes deeply ingrained in Pakistani society.
"Three decades of Islamisation and the espousal of Islamic ideology as the national ideology has resulted in a widespread acceptance of acts committed in the name of Islam," he told AFP.
Pakistan has long been accused of playing a "double game" with militants, supporting groups it thinks it can use for its own strategic ends.
Sharif said there "would not be any distinction between good and bad Taliban at any level" and the army has vowed this year to wipe out militants "of all hue and colour".
But security analyst Hasan Askari doubted there was the political will to follow through.
"Many parties fear that an across-the-board action against extremist groups may affect their vote banks, because support for militants is so deep rooted in the society," he told AFP.
TTP spokesman Muhammad Khorasani claimed the school attack as revenge for the army operation, saying they wanted the army to "feel the pain" they had felt at losing loved ones.
Related Articles
Dec 16,2014
Taliban insurgents stormed an army-run school in Pakistan on Tuesday, killing at least 141 people, almost all of them children, in Pakistan's bloodiest ever terror attack.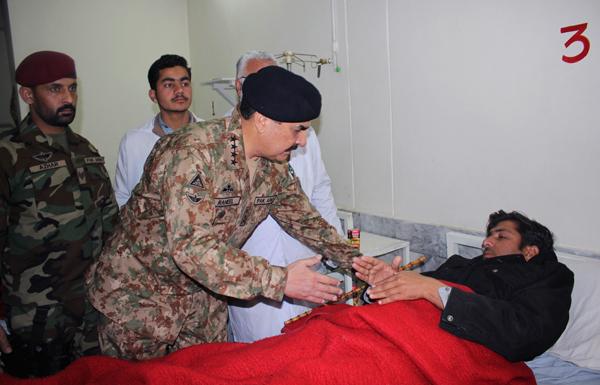 Jan 21,2016
Charsadda, Pakistan — At least 21 people died when gunmen armed with grenades and Kalashnikovs attacked a university in Pakistan Wednesday,
Jan 17,2015
Afghan security forces have arrested five men suspected of involvement in last month's massacre at a school in the Pakistani city of Peshawar, an Afghan security source said Saturday.
Newsletter
Get top stories and blog posts emailed to you each day.