You are here
Mercedes-Benz AMG GT-S Edition 1: Sophisticated, fluent successor
By Ghaith Madadha - May 30,2016 - Last updated at May 30,2016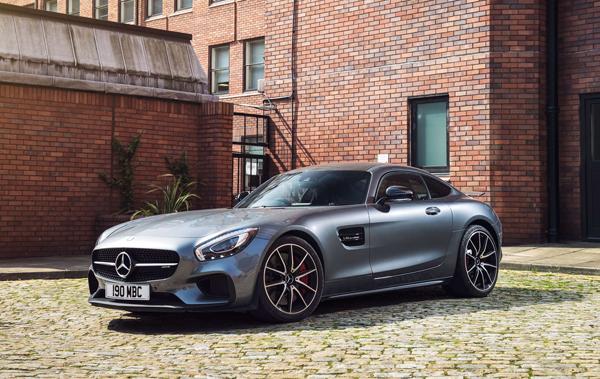 Photo courtesy of Mercedes-Benz
The second ever car fully developed by Mercedes-Benz's in-house high performance AMG tuning wing, the AMG GT is an altogether tighter, tauter and more focused sports car. Retaining its AMG SLS predecessor's classic front-midship engine and transaxle gearbox layout, the GT is a smaller but more committed and rewarding sports car, rather than swaggering exotic car.
A more accessible and dynamically capable halo car, the AMG GT is powered by a new 4-litre twin-turbo V8 engine in place of its predecessor's charismatic big displacement 6.2-litre naturally aspirated V8. Offered in standard 456BHP and 503 GT-S guise, as driven, the lighter, more advanced GT loses little outright performance, but gains significant mid-range flexibility and efficiency.
Athletic aesthetic
Launched as 2015 model, the AMG GT strikes a similar silhouette to its predecessor, owing to the same cabin-back layout, with engine mounted behind the front axle and gear box on the rear axle for near ideal slightly rear-biased within-wheelbase weighting. Built largely using aluminium and some magnesium elements, and with lighter engine, the GT-S version sheds 80kg over its SLS GT predecessor.
In terms of design, the new GT's lines a more rounded rather than sharp and uses freer form shapes for the headlights, wide grille and side intakes and twin bonnet ridges to create a more visceral and urgently pouncing demeanour. At the rear, the GT's strong shoulders and tapered hatchback boot are more fluently incorporated into the overall design than its predecessor.
Fluently descending, broad and rounded, the GT's rear features a standard discreet integrated rising spoiler that deploys at speed, or optionally in GT-S Edition 1 guise, a more aggressive fixed rear wing for more down force. Designed with less theatrical detail, the GT features more discrete side vents, while its predecessor's gorgeous dramatic up-swinging gull-wing doors are replaced by better-packaged conventional doors.
Volcanic V8
Charismatically crackling and howling, the GT engine's bi-turbos are located in between its two cylinder banks for more compact packaging and shorter induction and gas flow paths to significantly reduce low-end lag and improve responsiveness. Meanwhile, a dry sump design reduces engine height and allows it to be mounted lower for less lateral weight transfer, and allows for improved cornering oil circulation.
Developing 503BHP at 6250rpm and
479lb/ft throughout 1750-4750rpm, the AMG GT-S is brutally swift and benefits from a broad accessible torque band and seamless transition to urgent power accumulation. Rapid off-the-line, the AMG GT-S can rocket through the 0-100km/h benchmark in just 3.8 seconds and onto 310km/h, while an optional AMG Dynamic Plus package extends the GT-S' torque band to 5000rpm and allows for a maximum power plateau at 6000-6500rpm.
If not as gloriously rumbling and progressive as its big displacement naturally aspirated predecessor, the GT-S smaller twin-turbo is nevertheless a brilliantly accomplished and more seamlessly fluent motor with wider range than past AMG twin-turbos. Responsive at low speed, effortless in mid-range and volcanic at top-end, the GT-S has an urgent delivery, urging one to reach for its peak power than rely on mid-range torque.
Agile and fluent
Driving the rear wheels through a 7-speed dual clutch gearbox the AMG GT-S snappily fires of gear changes in several gearbox modes of escalating responsiveness. An improvement on its predecessor, the GT-S' gearbox is quickest in Sport+ mode and features a manual paddle shift. For improved efficiency, it can also automatically disengage between 60-160km/h when one lifts off the throttle.
Riding on sophisticated double wishbone suspension better suited for cornering manoeuvres, the GT-S also features adaptive multi-mode dampers that firm up for corners and soften for straights. Directing power through corners is an electronically controlled limited-slip differential allocating power between the rear wheels for best traction and agility, while a Curve Dynamic Assist system can predict when to apply selective inside wheel braking for tidier, more controlled and agile cornering.
Driven at the same Yas Marina Circuit in Abu Dhabi as its SLS predecessor was for these pages on three previous occasions, the GT-S' improved dynamic prowess is almost immediately evident. With slightly shorter bonnet and seemingly more direct steering, the GT-S tucks into corners more driver connection with front wheels biting harder into a corner and rear wheels gripping with more tenacious and reassuring commitment.
Stealth, space and sophistication
A more intuitive and fluent drive through corners, the GT-S feels more agile and nimble than the previous SLS, with both chassis set-up and electronic management and assistance systems more finely tuned and nuanced for improved handling. In addition to its stealthily deployed Curve Dynamic Assist, the GT-S' three mode electronic stability systems seem to be more subtle and less intrusive in operation.
Stable, committed and reassuring at speed, the GT-S rides in a settled and sure-footed manner with resiliently effective six-piston front disc brakes. Inside, the GT-S slightly taller roof and use of conventional doors rather than a thicker gull-wing door set-up provides noticeable better headroom. For taller drivers using a helmet during circuit driving, the added headroom is crucial for much improved visibility and driving position.
With supportive, well-adjustable seats, improved driving position and visibility one feels a greater sense of control in the GT-S' luxuriously appointed cabin. Featuring quality metals, leathers and metals, the GT-S has a sportily sophisticated ambiance with chunky flat bottom steering and quad circular motifs for centre vents and buttons. Extensively well-kitted the GT-S comes with numerous standard and optional convenience, infotainment, safety and driver assistance systems.
TECHNICAL SPECIFICATIONS
Engine: 4-litre, twin-turbo, front-mid, dry sump V8 cylinders
Bore x stroke: 83 x 92mm
Compression ratio: 10.5:1
Valve-train: 32-valve, DOHC, variable timing, direct injection
Boost pressure: 1.2-bar
Gearbox: 7-speed automated dual clutch, transaxle, rear-wheel-drive, limited-slip differential
Gear ratios: 1st 3.4:1; 2nd 2.19:1; 3rd 1.63:1; 4th 1.29:1; 5th 1.03:1; 6th 0.84:1; 7th 0.63:1
Reverse / final drive: 2.79:1 / 3.67:1
0-100 km/h: 3.8-seconds
Maximum speed: 310km/h
Power, BHP (PS) [kW]: 503 (510) [375] @6250rpm
Specific power: 126.3BHP/litre
Power-to-weight: 305.7BHP/tonne
Torque, lb/ft (Nm): 479 (650) @1750-4750rpm
Specific torque: 163.2Nm/litre
Torque-to-weight: 395.1Nm/tonne
Combined fuel urban / extra-urban/consumption: 12.2 / 7.8/ 9.4l/100km
CO2 emissions, combined: 219g/km
Fuel capacity: 75-litres
Length: 4,546mm
Width: 1,939mm
Height: 1,289mm
Wheelbase: 2,630mm
Overhang, F/R: 900/1,016mm
Aerodynamic drag co-efficiency: 0.36
Headroom: 1003mm
Boot capacity, min/max: 285-/350 litres
Kerb weight: 1,645kg
Weight distribution, F/R: 47/53 per cent
Steering: Power-assisted, rack and pinion
Turning circle: 11.5 metres
Suspension: Double wishbones, adaptive dampers
Brakes: Ventilated discs, F/R, 390 x 36mm / 360 x 26mm
Brake callipers, F/R: 6-/1-piston
Tyres, F/R: 265/35ZR19 / 295/30ZR20
6000-6500rpm, 1750-5000rpm, with optional AMG Dynamic Plus package
Related Articles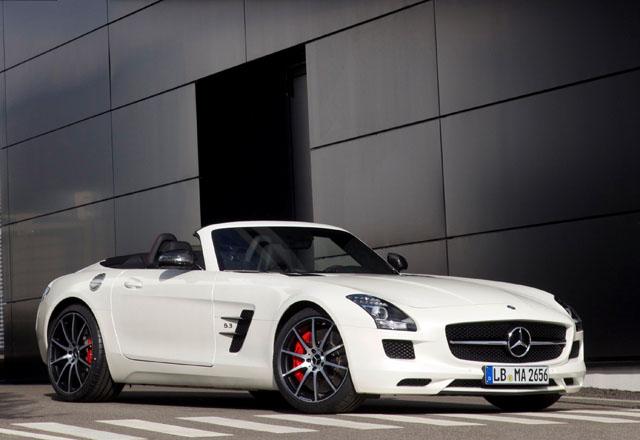 Feb 17,2014
Introduced one year after its coupe sister, in 2011 in entry level guise and joined by the featured and upgraded GT version in 2013, the Mercedes-Benz AMG SLS63 Roadster nears the end of the road as production is set to cease this year, to give way for an anticipated smaller sports car. While the new model is expected to be a more powerful and modern turbocharged rival for the Jaguar F-Type and Porsche 911, the outgoing SLS is flamboyant grand touring supercar with a gloriously potent large displacement naturally aspirated V8, at its most glamorously nostalgic in its rag-top Roadster version.
Sep 08,2014
Leading from the forefront of a new era of extreme 300BHP+ hatchbacks, the Mercedes-Benz AMG A45 is the world's most powerful hatchback, whose 355BHP turbocharged four-cylinder engine is the most powerful regular production engine of its size.
May 04,2015
A tough act to follow, the previous 2003-2012 generation Maserati Quattroporte was one of the standout designs of its milieu. 
Newsletter
Get top stories and blog posts emailed to you each day.