You are here
IAF expects to win 15-20 Parliament seats
By Omar Obeidat - Sep 21,2016 - Last updated at Sep 22,2016
Independent Elections Commission staff carry out vote counting on Tuesday night (Photo by Osama Aqarbeh)
AMMAN –– The Islamic Action Front (IAF), the political arm of the Muslim Brotherhood, expects to win between 15 to 20 seats in the 18th Parliament, an IAF official said.
The official, who spoke to the Jordan Times Wednesday afternoon as the vote counting process continued, said his party was certain of claiming three to four seats in Amman's 3rd district, with more seats expected from the capital's 1st and 2nd districts.
The official, who requested to remain unnamed because he was not authorised to speak to the media, said that between 15 and 20 seats are expected to be won by the coalition formed by the IAF around the Kingdom.
The IAF, which represents the older Muslim Brotherhood movement in Jordan, formed 20 lists running under Al Islah Bloc, or the national reform coalition, which includes Christians, members of other political parties and tribal leaders.
Asked if the IAF would be satisfied to claim such number of seats, he said the party gives more importance to the number of voters who supported its lists across the Kingdom as a show of the group's "popularity among Jordanians".
"The number of voters is more important to us than the number of seats," he said.
Around 1.5 million Jordanians took part in Tuesday's general election. Vote counting continued in various parts of the Kingdom on Wednesday, while there was a revote in the Central Badia district because of irregularities reported Tuesday.
Related Articles
Sep 22,2016
AMMAN – Vote counting for parliamentary elections, held on Tuesday, continued throughout Wednesday as the main features of the new legislatu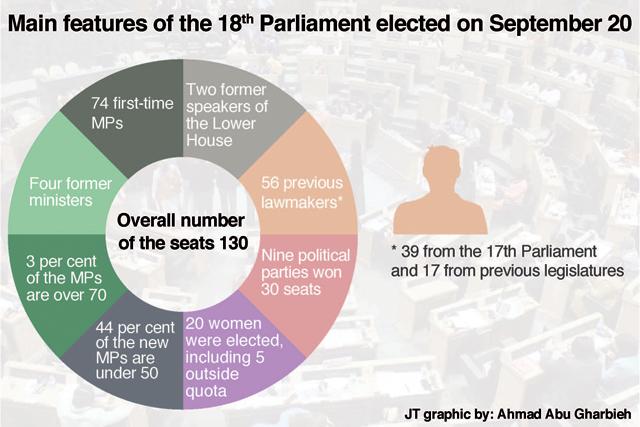 Sep 24,2016
AMMAN — Last week's elections of the 18th Lower House brought 74 first-time MPs and 56 former lawmakers to the Dome, according to informatio
Jun 11,2016
AMMAN — The Islamic Action Front (IAF) on Saturday announced it will take part in the upcoming parliamentary elections slated for September
Newsletter
Get top stories and blog posts emailed to you each day.