You are here
Jordan drops 3 places on press freedom index
By Mohammad Ghazal - Apr 29,2017 - Last updated at Apr 29,2017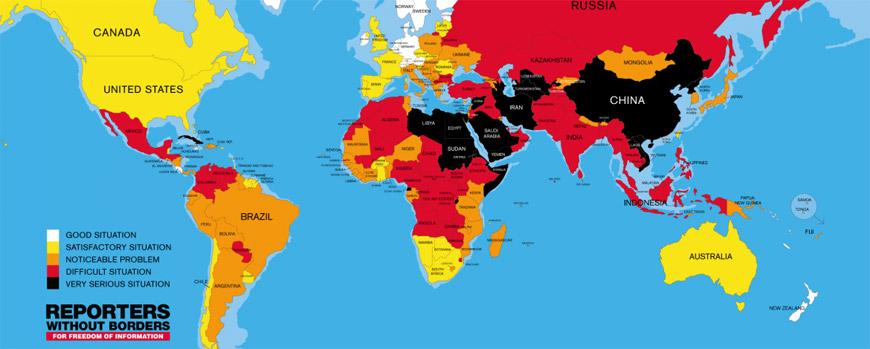 AMMAN — Jordan's press freedom ranking dropped by three places in 2016 compared to 2015, according to the World Press Freedom Index
The index, published by Reporters Without Borders, indicated that Jordan's ranking in 2016 dropped to 138th place compared to 135th place in 2015.
"Jordan's media take care to observe the limitations set by the authorities. The authorities have stepped up control, especially over the Internet, since 2012, when the press and publications law was overhauled," the index indicated.
Hundreds of websites have been blocked since 2013 because they do not have a license, while security grounds are often used to justify the prosecution and sometimes imprisonment of journalists under an extremely vague terrorism law, the index said.
Gag orders issued by the Media Commission restrict public debate and limit journalists' access to information on sensitive issues, according to the report.
Jordan was ahead of Egypt, which came in the 161st place, Saudi Arabia in 168th place, while the UAE came in 119th place.
A recent report by the Centre for Defending Freedom of Journalists showed that the issuance of gag orders was seen by journalist as "pre-censorship".
According to the CDFJ survey, 79.3 per cent of journalists sampled believed that gag orders issued by the Media Commission or other parties prohibiting publication represented "prior censorship" and "harassment" against media freedom.
Such decisions and gag orders banning publishing reinforce self-censorship among journalists and media outlets, in turn curtailing society's right to information, the CDFJ report said.
Results from the CDFJ report indicated that 63.5 per cent of respondents considered these gag orders as measures to reduce the spreading of rumours and false news, while 35 per cent disagreed. While 62.4 per cent described these circulars as measures that reduce hate speech, 36.5 per cent disagreed.
Related Articles
Apr 25,2017
AMMAN — Over 80 per cent of media professionals in Jordan described press freedoms in 2016 as "low, acceptable or medium", according to a re
May 18,2015
Media freedom in the country remained unchanged in 2014 when compared to 2013 and did not witness any significant improvement, according to a report released on Monday. 
May 03,2014
Freedom of the press in Jordan dropped by 12 percentage points to 41 per cent in 2013 compared to 2012, according to the Media Freedom Status in Jordan 2013 Report released on Saturday, which marks World Press Freedom Day.
Newsletter
Get top stories and blog posts emailed to you each day.