You are here
Northern municipalities struggling to cope with Syrian refugee influx
By Muath Freij , Omar Obeidat , Dana Al Emam - Dec 04,2014 - Last updated at Dec 04,2014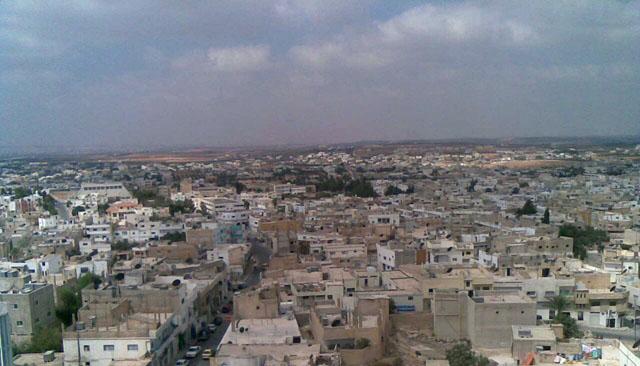 AMMAN — Sanitation services in northern municipalities are under severe pressure due to the "large" numbers of Syrians residing in host communities, local officials said.
In recent phone interviews with The Jordan Times, the mayors of Irbid, Mafraq, Um Al Jimal and Ramtha said their municipalities are struggling to cope with the high demand on sanitation services with "a very limited" number of garbage trucks and trash compactors.
Noting that Irbid's population was 1 million, Irbid Mayor Hussein Bani Hani said the Syrian refugee influx has increased the northern city's population by nearly 25 per cent.
Bani Hani complained about the lack of financial support by international donors to Jordan's second largest city, indicating that the Greater Irbid Municipality needs around JD20 million to purchase garbage trucks.
"What we received in the past two years was only JD3.4 million," he said.
The current fleet of garbage trucks, as well as the number of sanitation workers, cannot keep up with the pressure on sanitation services caused by Syrians, according to Bani Hani.
"The sanitation situation has worsened and is very bad in Irbid," he noted, calling on international donors to offer assistance to host communities and not just focus on refugee camps.
The mayor said certain areas of Irbid have become "Syrian districts", and local residents sarcastically call Al Rabia area "Daraa Al Balad" as most of its inhabitants hail from the southern Syrian city of Daraa.
In Mafraq, 80km northeast of Amman, refugees outnumber local residents, according to Mayor Ahmad Hawamdeh, who said the city is home to around 90,000 Jordanians and 120,000 Syrians. The municipality's six garbage trucks work around the clock, collecting up to 100 tonnes of trash daily, Hawamdeh said.
"Our vehicles are able to collect trash from some neighbourhoods only once a week," he added, noting this causes foul odours and the leakage of liquids down the streets.
The municipality, which covers an area of around 130 square kilometres, has 100 sanitation workers, a number that Hawamdeh described as "not enough to collect trash and clean streets".
The situation is similar in Um Al Jimal Municipality, home to 40,000 Jordanians and around 29,000 Syrians.
Um Al Jimal Mayor Hassan Ruhaibeh said the municipality's 24-kilometre-long border with Syria contributed to the "high" influx of refugees.
Ruhaibeh added that the host community needs further support from international organisations, especially in sanitation services, as 25 tonnes of trash are generated in the area every day.
"The municipality's four trash collection vehicles rotate over 13 villages in a set programme, under which garbage is collected from each neighbourhood once every three or four days," he said, adding that the "haphazard" spread of 20 Syrian refugee communities across the municipality adds to the problem.
Irbid Governate's Ramtha District, where some 96,000 Syrian refugees live among 80,000 Jordanians, has also been under severe pressure since the Syrian crisis erupted, according to Ramtha Mayor Ibrahim Saqqar.
He said the "huge" number of Syrians has a negative impact on the city's financial, social and environmental conditions.
"Our streets, which haven't been renovated for over seven years, have been severely affected by the large number of Syrian cars. There are around 1,200 Syrian cars in the city and their drivers sometimes use them as taxis," Saqqar noted.
The mayor added that that poverty rates have increased due to the violence in Syria.
"The businesses of many Ramtha residents mainly depend on trade with Syria," he said, adding that although many Syrians have opened restaurants and sweets shops, most of them only employ their compatriots.
The sanitation situation is dismal as well, owing to municipality's "limited" number of garbage trucks and workers, according to Saqqar.
Recalling that municipal staff used to collect 60 to 65 tonnes of trash per day around four years ago, he said the amount had more than doubled to between 135 and 150 tonnes daily.
"The municipality has only 55 workers and nine garbage trucks, seven of which have been operating for more than 25 years," he said.
According to the UNHCR website, more than 230,000 of the 620,000 registered Syrian refugees in Jordan live in the northern governorates.
Another 750,000 Syrians reside in the Kingdom, according to the Syrian Refugees Affairs Directorate.
Related Articles
May 18,2014
Residents of Mafraq Municipality, who include over 130,000 Syrian refugees, currently generate 200 tonnes of garbage daily, with sanitation services unable to keep up, Mafraq Mayor Ahmad Hawamdeh said Sunday.
Jun 05,2014
Since the population of the northern city of Ramtha has almost doubled in just three years due to the influx of Syrians, the municipality can barely deal with environmental issues, Ramtha Mayor Ibrahim Saqqar said Thursday.
Aug 18,2016
AMMAN – Mayors of northern municipalities say they are not receiving enough support to cope with the "severe" pressure on services and infra
Newsletter
Get top stories and blog posts emailed to you each day.