You are here
Self-employment programme is about empowering youth, not making profit — PM
Mulki chairs meeting on national recruitment strategy
By JT - Nov 15,2016 - Last updated at Nov 15,2016
Prime Minister Hani Mulki chairs the third meeting of the higher committee of the national recruitment strategy at the Labour Ministry in Amman on Monday (Petra photo)
AMMAN — The projects funded under the mass self-recruitment programme, for which the government has allocated JD25 million, are not to give out jobs employment or to make profit; they are to enable young people to create their own jobs, Prime Minister Hani Mulki said on Monday.
Chairing the third meeting of the higher committee of the national recruitment strategy, held at the Labour Ministry, Mulki stressed that the programme is aimed at promoting self-employment to combat poverty and unemployment.
The premier highlighted the need for the periodic evaluation of the project, which provides loans for young people, the Jordan News Agency, Petra, reported.
Programme beneficiaries must be Jordanian, unemployed and between the ages of 22 and 45, with minimum partner beneficiaries of the mass loan being four members, at least one of whom must have passed the General Secondary Education Certificate Examination.
The loan should not exceed JD5,000 for each partner, or JD30,000 for the collective loan, with an annual murabaha (an Islamic finance and investment instrument) rate of 2 per cent, an allowance period of 12 months and a 10-year maturity period through monthly instalments.
The self-recruitment programme will be developed later to implement and fund small- and medium-sized schemes, the premier highlighted.
He said that the labour market suffers from a structural flaw, which has to be addressed, calling on the private sector to make sure that the guest workers they employ have work permits.
The prime minister also directed the Labour Ministry and the Civil Service Bureau, in coordination with the Social Security Corporation, to review the registration and turn-based system followed in the bureau for public sector employment, and to issue reports showing the actual number of job seekers.
For his part, Labour Minister Ali Ghezawi presented a briefing on the committee's work, results of the mass and individual recruitment programmes funded by the government and the ministry's Development and Employment Fund.
Figures issued by the ministry show that the percentage of Jordanian workforce to the Kingdom's population stands at 22 per cent, while the percentage of non-Jordanian workforce to the total workforce is 45 per cent.
Non-Jordanians' annual remittances to their respective countries stand at around $1.2 billion, while expatriate Jordanians' annual remittances to the Kingdom reach some $3 billion, according to Petra.
Related Articles
Jul 10,2016
AMMAN — Labour Minister Ali Ghezawi on Sunday announced the start of a mass self-recruitment programme that will allocate JD25 million in so
May 04,2016
AMMAN — A fair currently under way at Ras Al Ain Gallery is enabling self-employed women to gain new clientele and make ends meet.The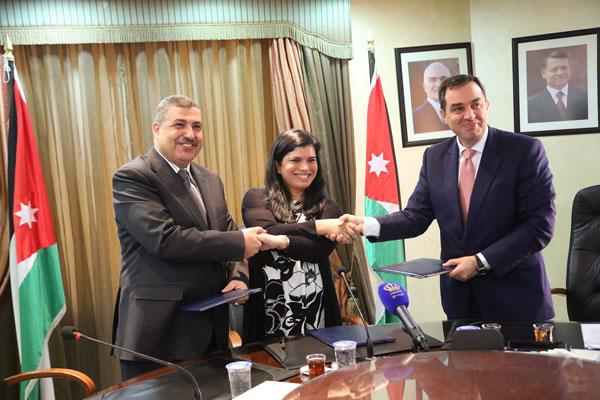 Aug 14,2016
AMMAN — The Royal Scientific Society (RSS), the Labour Ministry's Development and Employment Fund (DEF), and the Ministry of Planning and In
Newsletter
Get top stories and blog posts emailed to you each day.