You are here
Southeast Asian countries discuss enhancing ties with Arab world
Common interests, plans for strengthening relations dominate discussions
By Ana V. Ibáñez Prieto - Nov 01,2017 - Last updated at Nov 02,2017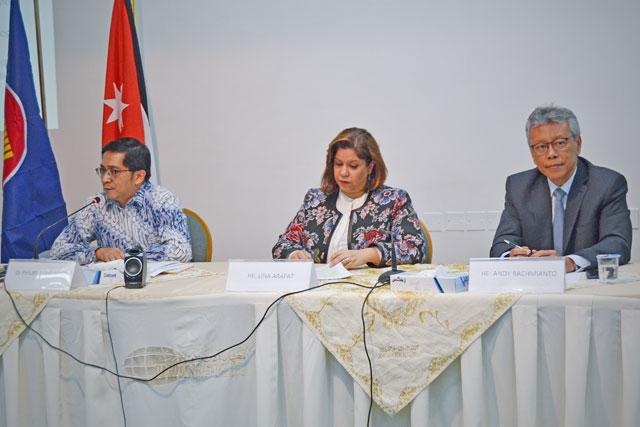 From left to right: Executive director of the Centre for Strategic and International Studies Jakarta Philips Jusario Vermonte, JID Director Lina Arafat and Indonesian Ambassador Andy Rachmianto attend a conference organised by the Committee of the Association of Southeast Asian Nations on Tuesday (Photo by Ana V. Ibáñez Prieto)
AMMAN — The Committee of the Association of Southeast Asian Nations (ASEAN) on Tuesday organised a conference titled "ASEAN and the Middle East: Trajectories for future relations" in Amman, in collaboration with the Jordan Institute of Diplomacy (JID) and the Ministry of Foreign Affairs.
The lecture was delivered by Philips Jusario Vermonte, executive director of the Centre for Strategic and International Studies Jakarta and expert in political science, and conducted by JID Director Lina Arafat and Indonesian Ambassador Andy Rachmianto.
The event, aimed at enhancing the mutual understanding about the geo-political and geo-economic situation in Southeast Asia and the Middle East, was attended by several government officials, ambassadors, businesspeople, scholars and stakeholders.
During the lecture, Vermonte noted that the Middle East and Southeast Asia share a common ground in their religious beliefs, and highlighted the importance of maintaining internal and regional peace and security, and the richness in people-to-people relationships.
The expert also pointed out that countries in both regions have established several cooperations related to security and the fight against terrorism, including the exchange of defence equipment and expertise.
"On the economic side, the trade cooperation between ASEAN and the Middle East has been long established through a multi-commodity, trade-based economy and the food for oil trade framework, as well as the expanded cooperation between the Gulf Cooperation Council and the Arab League with ASEAN," Vermonte said.
"But the economic cooperation can only be strengthened if there are strong practical needs and political will," the expert continued, noting that Jordan "showed a friendly gesture towards the cooperation with ASEAN countries by appointing its ambassador to ASEAN in 2015".
However, Vermonte criticised the fact that only Morocco and Egypt have signed the Treaty of Amity and Cooperation, pointing out that this agreement is "fundamental" to all ASEAN countries.
For her part, Arafat expressed Jordan's keenness "to address all human rights issues, and work towards the assurance of interregional peace and security".
Answering an attendee's question, Rachmianto stressed that "Indonesia sides with the independence of Palestine and shares the Palestinians' struggle."
The ambassador concluded the lecture by expressing his thoughts about the Rohingya crisis, explaining that "this is a key issue for ASEAN, we strongly condemn the situation, and we have been discussing possibilities to increase the humanitarian assistance for the Rohingya Muslims."
Related Articles
Aug 24,2016
AMMAN — A seminar organised by the Foreign Ministry's Jordan Institute for Diplomacy (JID) discussed Jordanian-African relations and possibl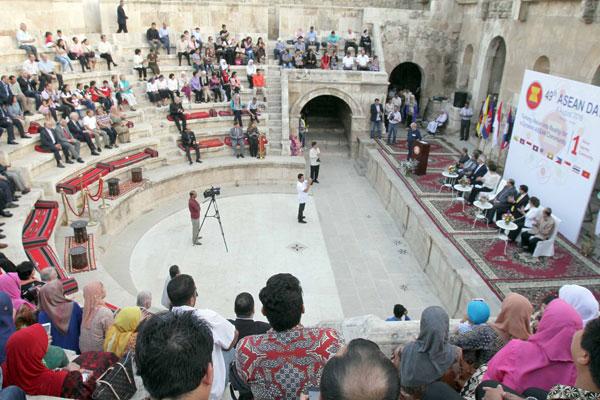 Aug 09,2016
AMMAN – There is a "great" potential for Jordan and Southeast Asian countries to strengthen trade and investment flows, Philippine Ambassado
Sep 20,2017
AMMAN — Indonesian Ambassador to Jordan Andy Rachmianto on Monday called on the Kingdom's business community to "fully utilise the prospecti
Newsletter
Get top stories and blog posts emailed to you each day.